The Atlanta Falcons' Chances Of Winning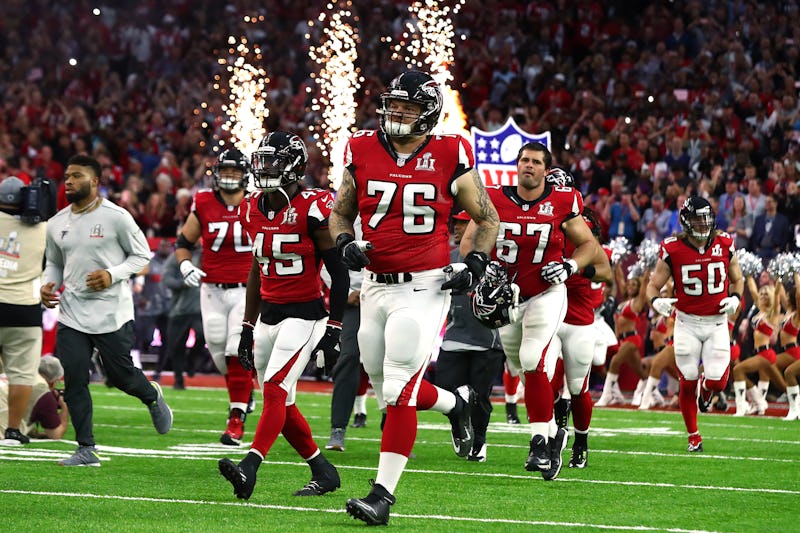 Al Bello/Getty Images Sport/Getty Images
As they went into the Super Bowl LI, the Atlanta Falcons were widely considered to be the underdogs in their battle against the New England Patriots. But as the team claimed a lead of 14-0 one hour into the game, the Falcons' odds shot up to an 86 percent chance of winning, the same chances Hillary Clinton had of claiming victory as she headed into the 2016 election, according to New York Times polling writer Nate Cohn. By 8 p.m. EST, their lead increased to 21-0, raising their odds to a 97% chance of winning.
The Patriots had enjoyed a 7-game winning streak before stepping into NRG Stadium for the big game. They also hadn't trailed a team during in any game since Nov. 27. Their odds of being the Super Bowl's champions were three points higher than the Falcons' weeks prior to the showdown, and these estimations remained unchanged as they headed into the game.
Cohn's choice of positioning the Falcons' odds parallel to Clinton's presidential chances would likely seem like an ominous sign to fans of the Atlanta team, given Clinton's unexpected Election Day defeat. The scenarios were different, however. Clinton's victory seemed like a sure bet until the vote count started; The Falcons' chances started looking good when they started scoring. In this case, their unanticipated likelihood of winning mirrors Donald Trump's sudden rise from his position as the underdog.
Despite the widespread perception of a win for their team being a long shot, neither the Falcons' players nor coach gave felt intimidated by the Patriots. "I don't even pay attention to the underdog or the guy who's supposed to win or lose because those people who decide that are not who's playing and they're not in those locker rooms," said Dwight Freeney, who plays defensive end for the Atlanta team, at Minute Maid Park during a press conference. "They have their reasons why they decide and that's OK. You could have your opinion. That's 100 percent fine. But they can't control the game. The only people who can control it are the people actually playing it. So we really put or energy in that: Staying together and controlling the things that we can control."
The team's general manager, Thomas Dimitroff, also shrugged off notions of being underdogs. "This team doesn't go into the game feeling they are playing the bad-a** Patriots that they can't go toe-to-toe with," he said.
Judging by the strong performance given by the Falcons, they were right not to feel rattled.