The Australian Prime Minister Was Caught Mocking Trump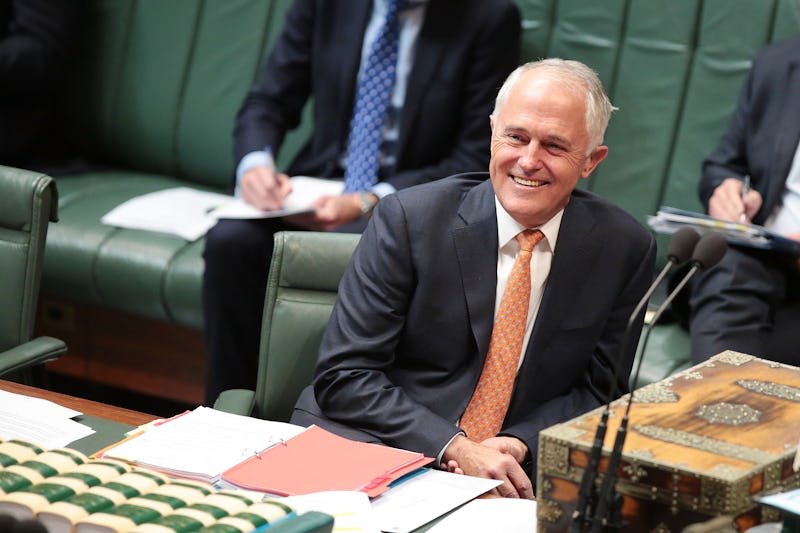 Stefan Postles/Getty Images News/Getty Images
President Donald Trump's singular oratory style has often made for great comedic fodder, but it isn't just for Saturday Night Live. More recently, Trump's speaking style was parodied by Australian Prime Minister Malcolm Turnbull — and it was all caught on audio tape.
While at the Midwinter Ball, Turnbull was recorded mimicking Trump's self-aggrandizing fashion of speaking. In case you didn't know, the Midwinter Ball is the Australian equivalent of the White House Correspondent's Dinner and takes place in the Australian capital of Canberra where top tier political figures, prominent journalists, and consultants convene for the year's main political event. The only difference between the Midwinter Ball and the White House Correspondent's Dinner is that the prime minister's speech is intended to be off the record in the Midwinter Ball.
The recording of Turnbull copying Trump's speaking style was out of international media's sight and mind until Channel Nine, one of the major Australian networks, aired the audio clip.
In the recording, Turnbull can be heard mimicking Trump as he talked about dwindling approval ratings. "Donald and I, we are winning and winning in the polls. We are winning so much. We are winning like we have never won before," Turnbull said. "We are winning in the polls. We are. We are."
In true Trump-ian style, Turnbull goes on to talk about those meddling "fake" polls — possibly referring to Trump's style of deriding news outlets. "Not the fake polls, they're the ones we are not winning. We're winning in the real polls," Turnball said to the roaring crowd.
Hinting at the ongoing Russian probe, Turnbull said in his speech, "You know the online polls. they are so easy to win. I know that. Did you know that? I kind of know that. They are so easy to win. I have this Russian guy. Believe me it's true, it is true."
The recording comes a few months after Trump's heated phone conversation with Turnbull about the two countries' agreement to accept refugees from Australia. Trump reportedly described as the "worst call," and he railed against the agreement on Twitter, calling it a "dumb deal." Later on, the president attempted to diffuse the tension by calling his relationship with Turnball as "fantastic."
While speaking on 3AW, an Australian radio station, Turnbull clarified his digs at Trump as "affectionate" and "light-hearted" while also stating that he was disappointed that the recording had been leaked to the public. Good-natured roasting is common at the Midwinter Ball, as it is at the White House Correspondents' Dinner. Trump hasn't issued a statement on the event, though given the recordings of Trump mocking others himself, it's unclear if he will.
Still, if folks take offense at Turnbull's impersonation of Trump, the Australian leader has a plan for 2018's Midwinter Ball. "I guess what this means is at the Midwinter Ball next year, I will read selected passages from budget paper No. 2," Turnball said. Now that sounds exciting.