The 'Bachelor In Paradise' Cast Is Here & Yes, Your Fave From Becca's Season Will Be There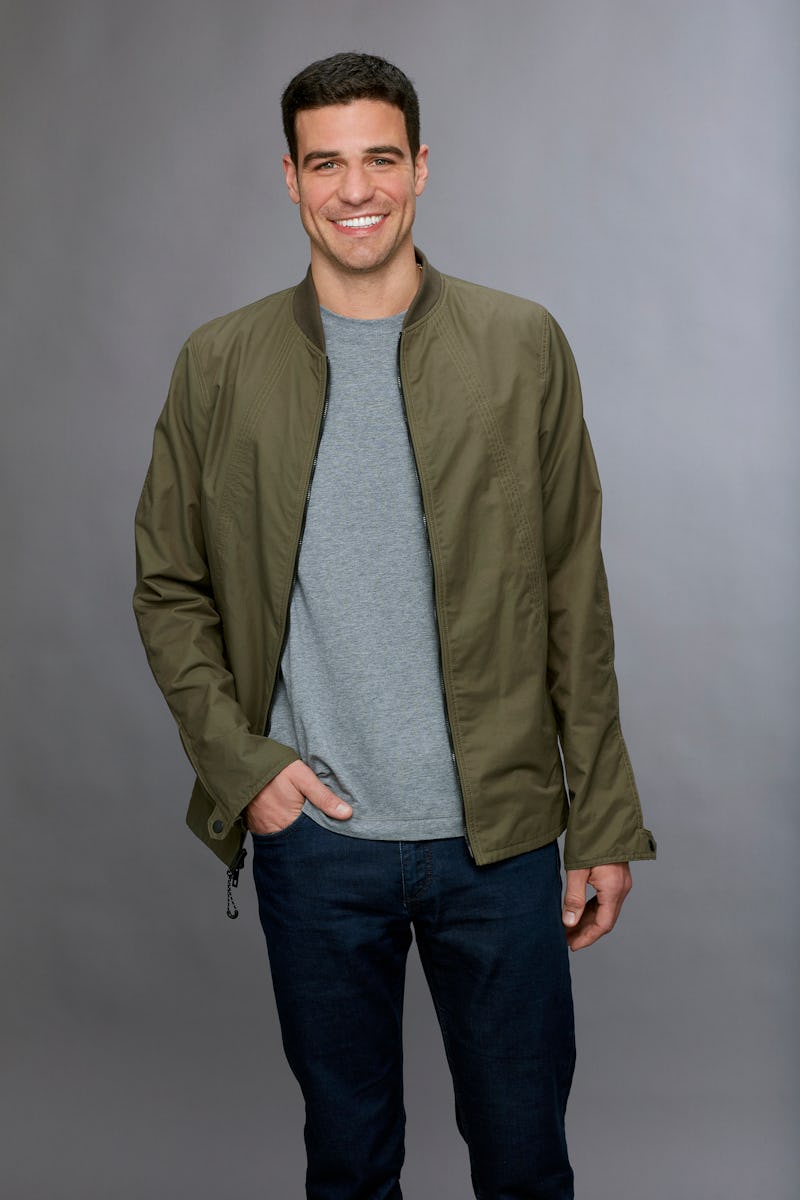 ABC/Craig Sjodin
Praise the gods of Bachelor Nation, because Grocery Store Joe is back! Joe Amabile is heading to Paradise, along with a whole host of Bachelor Nation alums. As reported by People, the 2018 Bachelor in Paradise cast includes Joe, as well as past fan favorites from previous seasons. As always, the BiP cast features a group of Bachelor and Bachelorette contestants who failed to get that final rose. Some came close, others were sent back the very first night (#JusticeForJoe), and others, well, they just brought the drama.
On Bachelor in Paradise, this new cast of seventeen men and women will aim to find love on the beach, or at the very least, find a nice, warm body to spend some time with. BiP has been known to be one of the more dramatic shows in the Bachelor franchise, with many more opportunities for heartbreak and betrayal than the more traditional Bachelor and Bachelorette. And this year's cast should prove to be quite explosive. After all, Season 5 of Bachelor in Paradise will reunite male model Jordan Kimball and human chicken David Ravitz, who were just seen feuding on The Bachelorette before they were both sent home. This cast may be headed for Paradise, but it definitely won't be smooth sailings.
Angela Amezcua
Angela was last seen aiming for Nick Viall's heart on The Bachelor Season 21. Unfortunately, she was sent home on the very first night, but hopefully she'll have better luck in Paradise.
Annaliese Puccini
Fans should remember Annaliese from Arie Luyendyk Jr.'s tumultuous Season 22 of The Bachelor. She was eliminated in Week 3 after famously reliving a childhood bumper car trauma.
Astrid Loch
Astrid competed for Nick's affections on The Bachelor, and became very good friends with fellow contestant Rachel Lindsay. Unfortunately, the following year, Astrid ended up in the news for accidentally — almost — spoiling Rachel's Bachelorette season.
Bibiana Juliana
Bibiana made a splash during Arie's season of The Bachelor as the only contestant willing to really tell it like it is.
Chelsea Roy
Chelsea also competed on Arie's season, in which she was an early front-runner.
David Ravitz
David, of course, was recently seen attempting to sweep Bachelorette Becca off of her feet. Though he made a good (or at least goofy) first impression, emerging from his limo in a chicken costume, he failed to make it past the 2-on-1 date.
Eric Bigger
Bachelor Nation fell in love with Eric when he fell for Bachelorette Rachel Lindsay. After she broke up with him just a few weeks before the final rose, many fans thought he should be the next Bachelor, so hopefully he'll have some luck in love in Paradise.
Joe Amabile
Joe, aka Grocery Store Joe aka Joe the Grocer, became an immediate fan favorite when he showed up at the mansion to compete for Becca's affections on The Bachelorette. Despite being sent home on the very first night, Joe made a huge impression, with fans everywhere begging for him to join the rest of Bachelor Nation in Paradise.
John Graham
John was one of the brains behind Venmo, but despite being one of the rare Bachelorette contestants with a real job, he never really got the screen time he deserved.
Jordan Kimball
Jordan's Bachelorette journey to win Becca's heart can be summarized thusly: pensive, model, underwear, petty feud.
Kendall Long
Kendall, who appeared on Arie's season of The Bachelor, raised a lot of eyebrows when she announced that she loved taxidermy, but her spunky attitude quickly made her a fan favorite.
Kenny Layne
Kenny made viewers everywhere "aw" when he appeared during Rachel's Bachelorette season. The single dad ended up leaving the competition to be with his daughter, so hopefully he has better luck being away from home in Paradise.
Kevin Wendt
Kevin stole the hearts of audiences everywhere when he competed on the Bachelor Winter Games. The Canadian fireman sure is dreamy, and he's definitely ready for love.
Krystal Nielson
Krystal rubbed a lot of the other women on Arie's Bachelor season the wrong way (including Bibiana), so she might be one to watch for fans who love the drama in Paradise.
Nick Spetsas
Nick competed for Becca's heart on The Bachelorette, and his journey for love is clearly still far from over.
Nysha Norris
Nysha, a nurse, went to the Bachelor mansion looking for love, but was sent home on night one of Arie's season.
Tia Booth
Tia was recently caught up in some Bachelorette drama when it was revealed that she dated current contestant Colton Underwood right before he appeared on the show and began wooing Becca. No doubt, she's ready for a fresh start, and where better to start over than Paradise?
Wells Adams
Wells is reclaiming his place behind the bar in Paradise. The Bachelor Nation fave first appeared on Season 11 of The Bachelorette with JoJo Fletcher. He later went to Paradise and then returned to bartend last year.
Yuki Kimura
Yuki joined the Bachelor family when she competed on The Bachelor Japan, but she won hearts in the U.S. when she appeared on Bachelor Winter Games. Now, she'll join Wells behind the bar in Paradise.
Chris Harrison
Of course, it wouldn't be a Bachelor show without longtime host Chris Harrison. Over the years, the man has seen it all — broke hearts, cheaters, lies, drunken hookups, temper tantrums — but maybe this season of Bachelor in Paradise will throw a brand new challenge his way.
May the 2018 Bachelor in Paradise cast find love and happiness, while also making some damn good television.