All The Gowns From Night One Of 'The Bachelor' Point To This 2018 Fashion Trend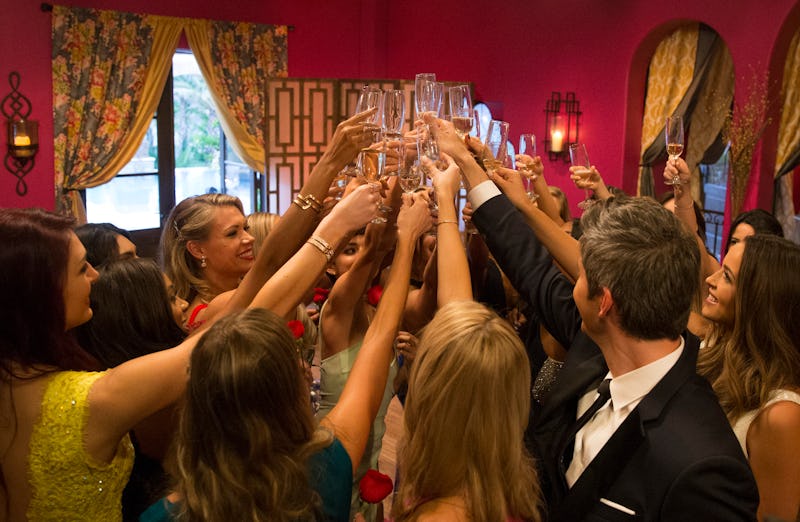 Courtesy of ABC
Season 22 of the cultural phenom known as The Bachelor — and all of its rose ceremonies, first dates, and drama — is upon us, with Arie Luyendyk, Jr. serving as the titular subject looking for love. The Bachelor Nation was stoked to meet the latest group of ladies vying for Luyendyk's heart during the Jan. 1 season premiere.
The contestants all wore gorg gowns on the first night of the show as they competed for the all-important rose from Luyendyk. Generally speaking, most of the gowns were incredibly wearable, featuring a few 2018 fashion trends. But almost all featured strategic flashes of skin that added interest to otherwise modern looks. And that's a trend to watch in the new year.
There were plenty of straight, column silhouettes. There were unique details that showed just a flash of skin, such as the cutouts and the slits. The colors ran the gamut from jewel tones like sapphire and ruby to neutrals, such as black and blush, to Bordeaux-inspired hues, while the necklines and bodices ranged from deep Vs to halters.
Even if you don't plan to follow the weekly dose of drama as Luyendyk inches closer and closer to being engaged to the girl of his dreams, you can still tune in to The Bachelor for the fashion.
Judging from the group shot, Luyendyk has his work cut out for him as he tries to choose which contestant is "the one" for him.
Let's look at each trendsetting gown, just because they deserve to be gawked over.
Chelsea
Chelsea wore a black gown with a halter neck and side cut outs, which was super modern and trendy.
Krystal
This tomato red dress featured a tank-like top. The color absolutely popped.
Rebekah
Rebekah rocked a lime green, spaghetti strap dress, with a short hem and a slit. Her adorbs pixie showed off her gamine features.
Hers was the only short dress of the evening.
Maquel
Maquel's royal blue dress definitely had a shade and a shape ripe for Prom 2018.
And she truly arrived in her sapphire dress, the bottom of which flowed about her like waves.
Jenna
This royal blue dress with cutouts and jeweled side accoutrement was sexy AF.
Rebecca
While dark colors sometimes don't translate on TV, you can appreciate the halter neckline of Rebecca's frock.
Seinne
Seinne's dark frock also featured — wait for it!— cutouts.
Brittany
In addition to cutout designs, dark hues were also popular on the first night, as evidenced by the beautiful Brittany.
Jacqueline
You can never go wrong with a wine-colored dress, as rose receiver Jacqueline soon found out.
It boasted criss-cross back straps and a slit.
Jennifer
Jennifer's blonde curls paired perfectly with her hot pink frock.
Check the front view. Just lovely.
Lauren B.
Metallic sparkles were the order of the day with Lauren B.'s clingy frock.
Tia
Tia's emerald green gown with chain detail was reminiscent of Kendall Jenner's 2015 Met Gala gown.
That green, though.
Valerie
Valerie slayed her canary yellow, strapless gown.
Alison
Alison's metallic dress was quite similar to Lauren B's. Metallics remain a gown trend and one we will likely see at prom.
Bri A.
Bri A. opted for a blush gown with beading.
Marikh
This red dress, worn by Marikh, had a serious slit and she flashed a touch of abdomen.
Kendall L.
Kendall opted for a champagne-colored dress which showed plenty of leg, like Angelinia Jolie at the Oscars.
Bibiana
This olive green gown, with its ruffled train, was aces. As you can see, leg-baring slits were also a trend for the evening.
Lauren G.
While she was obscured by a hug from her potential future mate, Lauren G.'s gown paired a jeweled, metallic top with a black bottom. It was all about balance.
Caroline
You can't see too much of the dress, but Caroline wore cream.
Lauren S.
Here's another hug-obscured dress, but the third Lauren wore black.
Which lucky lady will ultimately end up with Arie? Stay tuned.