The Truth About Those Rumours Of A New BBC 'Great British Bake Off' Show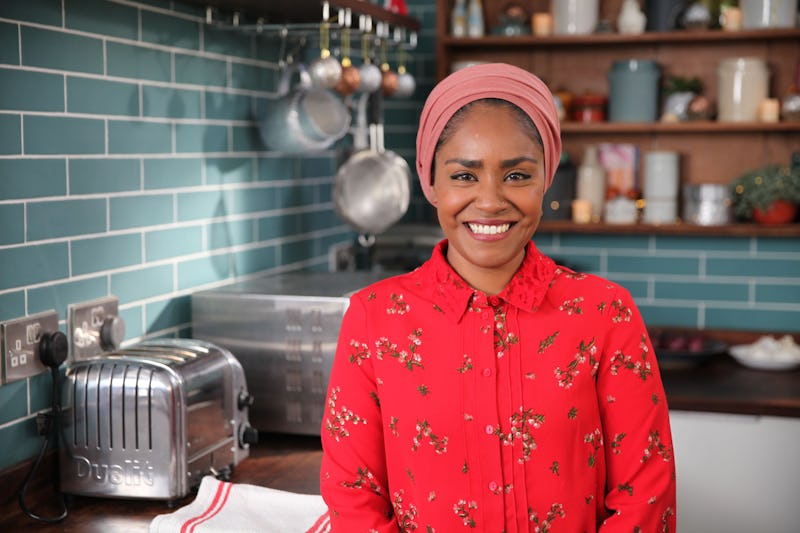 BBC/Hungry Gap Productions Ltd/Danny Rohrer (Greyscale Films Ltd)
Rumours have circled recently that BBC's got another one in the oven: a new baking show, that is. The Sun reports that the broadcaster is working on a new, similar show, titled Celebration, which will showcase home bakers and cooks who make superlative party food. The news comes just days after The Great British Bake Off — which aired for seven series on the BBC — launched for a second series on Channel 4. But here's the truth: the BBC's new Great British Bake Off show isn't what you think. In fact, it's not even a new show at all.
The Sun claims the BBC are working on a new venture for BBC Two with production company Hungry Gap Productions, who also created Nadiya's Family Favourites and The Hairy Bikers' Comfort Food for the broadcaster. A casting call on the BBC's website reveals they're looking for "amateur cooks and bakers who would like to be part of an exciting prime-time food programme all about celebration food." The post, also tweeted by Hungry Gap Productions, reads, "Do you wow your neighbours with your amazing party food? Are your delicious desserts the star of every special occasion? Does your colleague make the best birthday cakes?"
But according to a spokesperson for the BBC, Celebration (if that's even the title) isn't actually a new show at all. In fact, it's a special winter episode of beloved Bake Off winner Nadiya Hussain's BBC Two cooking show, Nadiya's Family Favourites, currently airing at 8 p.m. on Monday nights. According to the BBC, the one-off hour long special will showcase "Nadiya's delicious ideas for party food guaranteed to make any gathering a truly memorable occasion — from nibbles to get the party started, mouthwatering platters and sides that will have everyone talking and of course some sensational puds and cakes that will make any gathering an occasion to remember."
Hussain will host her own (undoubtedly delicious) party; plus, she'll travel the country "meeting people who have their own reasons to celebrate." It's presumably these people that the aforementioned casting call hopes to find. Hussain told the BBC, "Great food really makes a party and I want to share my favourites that are not only delicious but easy to make too." Nadiya, you had me at "easy to make".
Nadiya's Family Favourites isn't Hussain's first post-Bake Off venture: she also presented Nadiya's British Food Adventure and The Big Family Cooking Showdown on the BBC in 2017. And she's got a whole bunch of cookbooks out too, including Nadiya's Kitchen, TV-accompanying books Nadiya's British Food Adventure and Nadiya's Family Favourites, and children's cookbook series Nadiya's Bake Me a Story. Love Nadiya, hate cooking? There's also her fiction debut, The Secret Lives of the Amir Sisters.
Right, back to the telly. With a new batch of bakers firmly at home in the Great British Bake Off tent, getting all familiar with their KitchenAids, it's far too late for fans to participate this year. Better news, though, if you're interested in Nadiya's Family Favourites: the application process is open until Sept. 28, according to the broadcaster's website. So if you're a wannabe cook with an eye for a good party spread, now's the time to get involved. Here's the deal, though: if you make it onto the show, you're contractually obliged to pop round to Bustle HQ with a cake or two. Agreed? Good.