A New Documentary Has Disturbing Allegations About How Trump Behaved With Teen Girls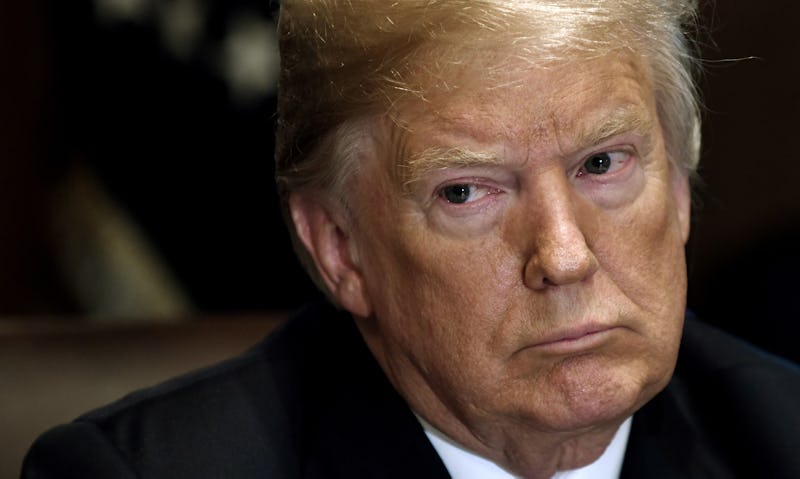 Pool/Getty Images News/Getty Images
A new documentary just released in the U.S. contains new allegations of inappropriate sexual behavior by the president. The BBC's Trump: Is the President a Sex Pest? documentary already aired in the U.K. as part of the BBC's Panorama series, and it reportedly features new accusers who claim the president threw parties filled with models, with some of them as young as 14 or 15, according to a BBC press release.
Trump has not responded to the new allegations, and the White House did not immediately respond to Bustle's request for comment.
One of the new accusers featured in the documentary is Barbara Pilling, who claims that she attended one of Trump's parties in the '80s at the request of the modeling agency she worked for. "He said how old are you and I said 17. He goes oh great, so you're not too young, and not too old. That's just great," Pilling said in the documentary, according to the BBC press release. "I felt like I was in the presence of a shark getting ready to roll his eyes back in his head and bite me, you know, that's how I felt. I was just like get me the hell out of here."
The BBC wrote in a statement Saturday that the documentary is scheduled to air at 10:30 a.m. ET Saturday and 4:30 p.m. ET on Sunday. The BBC also clarified that the president had not been accused of having sex with underage girls.
Part of the statement also read, according to a tweet from reporter Yashar Ali:
A BBC investigation to air on BBC World News this weekend has found more people who have accused President Trump of sexually inappropriate behavior.
Panorama has spoke to those who attended Donald Trump parties in the late 80s and 90s — when Mr. Trump was in his forties.
They say the President hosted and attended parties where middle-aged men would prey on very young women. The White House hasn't responded to the claims.
Panorama has been told there was alcohol and cocaine at the parties and that some of the models were as young as 14 or 15.
There's no evidence that Donald Trump had sex with underage girls, but the program has been told that he did pursue models in their teens.
Pilling claimed she also saw Trump display inappropriate behavior toward a waitress, according to Splinter: "I remembered one of the waitresses offered him a drink. He didn't take the drink and slapped her bottom. She was a blonde. He gave her butt a slap and he was very loud. He was like, don't worry that's not your tip."
An anonymous man also alleged to the BBC that there was a lot of cocaine at Trump's parties. "It was kind of like a feeding frenzy," the man said, according to the BBC press release. "The girls were there as consumables."
The allegations add to a long list of claims regarding the president's behavior around women. So far, 16 women have accused the president of sexually inappropriate behavior, ABC News reported, and Trump has denied all of the allegations. In many cases, he denied even knowing the women.
Many of those women came forward after The Washington Post released a tape in October 2016 that featured Trump bragging to then-Access Hollywood host Billy Bush about how he approaches women. "You know I'm automatically attracted to beautiful — I just start kissing them. It's like a magnet. Just kiss. I don't even wait," Trump says on the tape, according to The Post. "And when you're a star, they let you do it. You can do anything. Grab them by the p*ssy. You can do anything." At the time, Trump apologized and dismissed the tapes as "locker room banter," The Post reported.
It's unclear whether the president will respond to the documentary or this latest slew of allegations.