This Charity Helps Girls In Need Find The Dream Homecoming Dress For Free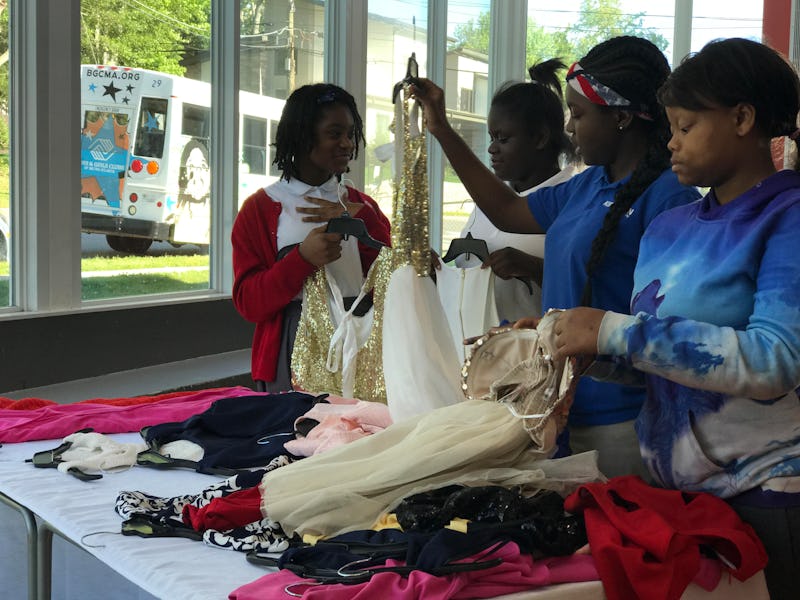 Courtesy of The Believe In Yourself Project
Attending homecoming or prom is a rite of passage for so many young girls in the U.S. It's a night to dress up to the nines and celebrate being young with schoolmates and crushes. But these social and formal events can get extremely expensive — and quick. Not all girls can afford the fancy dress, the trip to the salon, or the new makeup that go are expected with these occasions. But a new project is helping every girl enjoy her dream formal night without breaking the bank.
The Believe in Yourself Project, a new charity founded by entruprenur Sam Sisakhti, provides young girls from low income backgrounds with brand new dresses so they can attend their high school dances in style. That's right. A new dress completely free.
The organization understands that so many young girls are impacted by the fashion and beauty industry's often hard to attain (and maintain) standards of beauty. That, coupled with financial limitations that can prevent young girls from being able to afford what's trendy and cool, can lead to social anxiety and lack of peer acceptance for low income girls. The Believe in Yourself Project aims to eradicate these cold, harsh facts of adolescent life and bring back the carefree fun to formal events.
"Ultimately, the Believe in Yourself Project seeks to make people feel comfortable in their own skin, and not let physical or financial insecurities or limitations affect their confidence," Sisakthi says.
Sisakhti — who also founded the UsTrendy fashion site as a platform for indie designers to showcase and sell their work — came up with the idea for this initiative after becoming increasingly alarmed by the prevalence of cyberbullying and body shaming among hight school girls. He wanted to help low income girls and their families alleviate one yearly stress that can be easily curbed.
"The aim is to help young women feel better about themselves and their physical attributes, and to promote healthy self-esteem among young girls at an early age, empowering these young women to take on active social roles within their school communities, "Sisakhti tells Bustle.
The project launched in January 2017, and the project hopes to donate 10,000 dresses by the end of the year. Sisakthi has been purchasing the dresses from designers on UsTrendy and other retailers himself. All the dresses are brand new with tags still attached.
"I felt really strongly that I wanted the girls to feel empowered and have a new item, not a hand me down," Sisakthi says.
He hopes the the organization's newly-attainted charity status will lead to additional designers and brands donating new dresses to this foundation.
Along with providing dresses, The Believe in Yourself Project works to promote a body positive image via a national speaker and mentorship program, giving the girls involved the confidence to attend their very first dance. The program includes weekly meetings in various cities and interactive, online seminars, making these gatherings fully accessible across the country. They will include open table discussions featuring influential women who will support the girls while focusing on positive body perspectives.
The dress donations aren't a simple "hand out" either. The Believe in Yourself Project vows to remain in touch with each dress recipient, supporting her as she works toward academic and life success.
With homecoming season in full swing and prom eventually on the horizon, this effort is an essential way to let young girls be young girls, no matter their family's financial status. That's a beautiful thing.