Let The Week's 10 Best Feminist Quotes Inspire You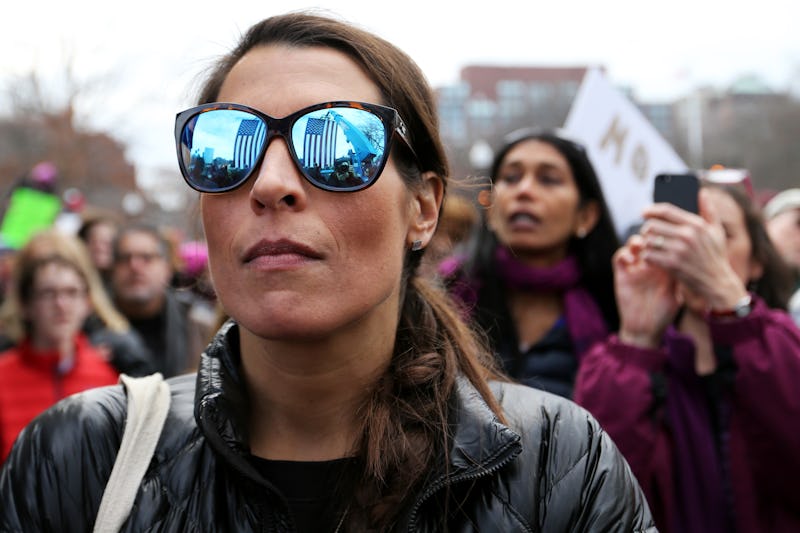 Maddie Meyer/Getty Images News/Getty Images
The second month of Donald Trump's presidency isn't shaping up to be any less concerning than the first. Between Jeff Sessions' confirmation as attorney general, dangerous anti-abortion bills passed or introduced in state legislatures, and the silencing of Sen. Elizabeth Warren, it's been a harrowing week for anyone who feels women deserve equality and bodily autonomy. But while the news cycle is at times disheartening for those pushing for gender equality, women's rights advocates continue to resist. Need proof? A roundup of some of the week's best feminist quotes is proof the women's movement is in it for the long haul.
In the era of President Trump, feminism has gone mainstream. As more and more people come to recognize the women's movement as something integral to democracy rather than a political fad retired by their mother's generation, marches grow larger, feminist voices shout louder, and actions grow bolder.
This week, feminists fought back by speaking out against restrictive abortion bills and turning the words used to silence a woman in the Senate into a powerful rallying cry. Along with persisting, gender equality advocates also sought to broaden the conversations around feminism by encouraging and inspiring others to add their voice to the fray.
Here are 10 of this week's best feminist quotes to remind you that you aren't alone in your fight to persist and resist.
1. You Have A Powerful Voice
"Never forget that you have a powerful voice that is capable of inspiring great change," Democratic Sen. Kamala Harris tweeted Feb. 5.
2. The Rhetoric Of Self Empowerment
"To me, a part of feminism — it's almost like being a parent to a teenager where they're so mad at you, they think you're such a piece of crap and you're like, I know you hate me right now but I love you and everything I'm doing is because I love you and I want us all to be safe," actress and director Lena Dunham said Feb. 10 on the View when asked about her belief in the importance of reaching out to the 53 percent of white women who voted for Donald Trump. "I think it's really important to understand that so many women aren't raised with the rhetoric of self empowerment and the messages they're hearing from Donald Trump may be very similar to the messages they've always heard from their fathers, from their brothers, from their husbands. They haven't been given the message that they do matter. And so, while I think we have an incredible amount of work to do with enlightening those women, I also have sympathy for the societal structures that keep them from understanding what they need to keep themselves safe."
3. Nevertheless, She Persisted
"She was warned. She was given an explanation. Nevertheless, she persisted," Senate Majority Leader Mitch McConnell said Feb. 7 when interrupting Sen. Elizabeth Warren reading Coretta Scot King's 1986 letter against Jeff Sessions on the Senate floor. Although McConnell likely didn't intend for women to turn his words into a powerful rally cry for the feminist movement, that's exactly what happened.
4. I Will Not Be Silent
"There's no Rule 19 to silence me from talking about Jeff Sessions anymore. So let me say loudly & clearly: This is just the beginning," Sen. Elizabeth Warren said in a series of tweets published Feb. 9 after Senate Republicans invoked an arcane rule to keep her from speaking on the Senate floor during debate over Jeff Sessions' nomination. "Consider this MY warning: We won't be silent. We will speak out. And we WILL persist."
5. The Future Is Female
"Despite all the challenges we face, I remain convinced that yes, the future is female," former presidential candidate Hillary Clinton said in a video statement released Feb. 6 for the launch of the MAKERS conference, which focused on leadership and women's issues.
6. It's Such A Great Time To Be A Woman
"I feel like it is such a great time to be a woman right now," U.S. Olympic snowboarder Elena Hight recently told Rolling Stone. "All the snowboarding girls are pushing the sport to new levels and really starting to receive the recognition they deserve. Outside of our little snowboard world, I think the united female energy is so strong, and women are shaking things up and making some lasting, well-respected statements, which is absolutely amazing."
7. And Sisterhood
Broadway stars Phillipa Soo, Renee Elise Goldsberry, and Jasmine Cephas Jones – known best for their roles as the Schuyler sister in the original cast version of Hamilton – added the line "...and sisterhood" to the rendition of America the Beautiful they performed at Super Bowl 51 on Feb. 5, giving the song a feminist twist. "America! America! God shed his grace on thee and crown thy good with brotherhood... and sisterhood from sea to shining sea!" the three sang.
8. Dominating In A Man's World
"There's something so special about a woman who dominates in a man's world," Rihanna said about her Amelia Earhart inspired photo shoot for the March 2017 issue of Harper's BAZAAR. "It takes a certain grace, strength, intelligence, fearlessness, and the nerve to never take no for an answer."
9. Grassroots Advocacy Is Powerful
"I'm part of something much larger," Democratic Sen. Kirsten Gillibrand told PolicyMic in an interview published Feb. 10. "I'm part of the resistance of people who are standing up, from the grassroots up... Grassroots advocacy is more powerful than any senator or the president... We need this activism to right the ship. We are going to need it for 2018, 2020 and into the future. Without it, the democracy that we have is going to be lost."
10. Break The Barrier
"Everything I started doing in my life I hope it inspires other people to do something and break the barrier in their culture whatever they're doing," 27-year-old United Arab Emirates women's national hockey team member Fatima Al Ali told NHL.com about her desire to inspire others, especially women during a whirlwind visit to Washington, D.C. this week. Al Ali's trip included practicing with D.C.'s professional ice hockey team, the Capitals, and dropping the puck for a ceremonial face-off.