The 11 Best Black Friday Deals At Old Navy Include $15 Jeans & $1 Socks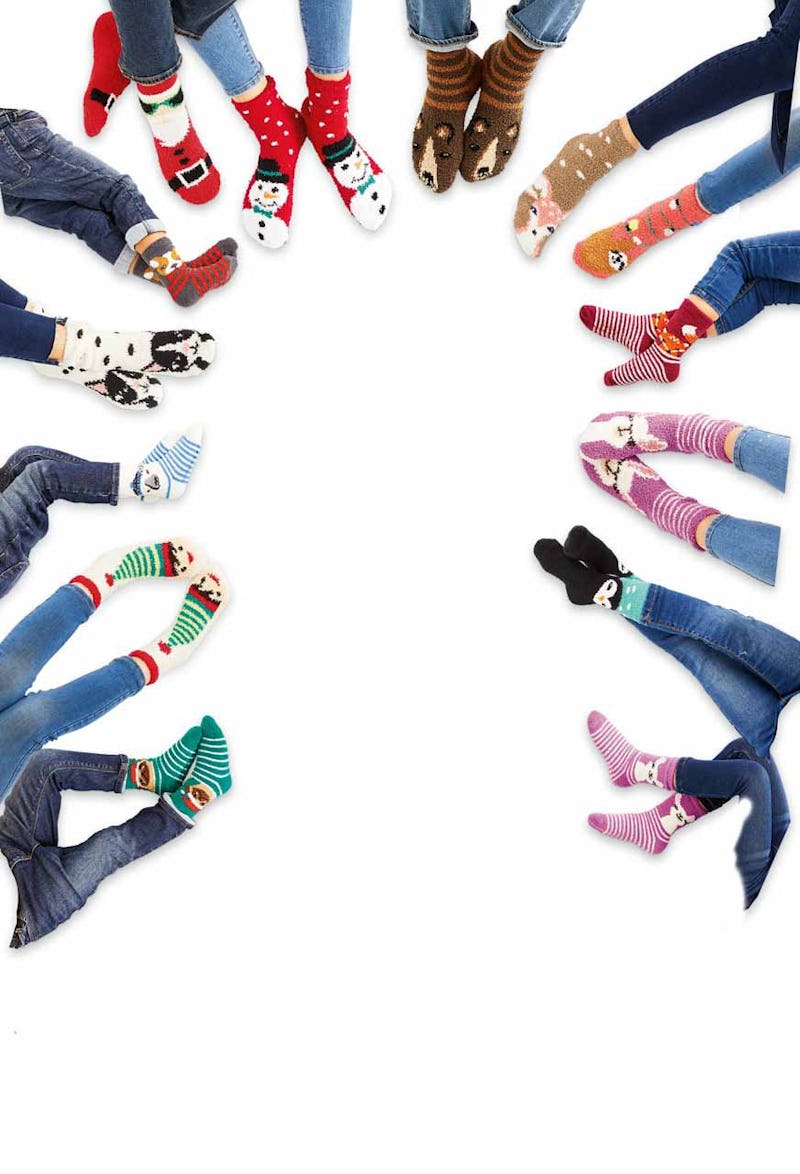 Courtesy of Old Navy
Black Friday is upon us. It's set for Nov. 23 while Cyber Monday takes place on Nov. 26. Many stores are celebrating Black Friday Eve — that is, they open their doors on Thanksgiving Night for a little post-dinner, shopping and beyond. Old Navy's 2018 Black Friday and Cyber Monday Sales (available sizes include 0 to 30, along with petite, regular, and tall options) offer several levels of savings and different days of discounts. But one thing is consistent — you will save a ton of dough.
The buzzed-about and infamous Old Navy Cozy Sock One Dolla Holla Sale is back in action. The warm and fuzzy socks are cute AF, come in 32 varieties and styles, and cost just a buck.
Here's rundown of the spectacular week's worth of sales, followed by some of the pieces you ABSOLUTELY need to scoop up during the sale.
There's the Black Friday Pre-Party Sale, which runs from Thurs, Nov. 15 through Tuesday, Nov. 20. Customers will get 40 percent off their entire purchase — both in stores and online. Old Navy credit card holders will enjoy 50 percent off purchases from Thursday, Nov. 15 through Sunday, Nov. 18 when using their Old Navy card for in-store and online purchases. Ultimately, it's a whole advance week of holiday shopping.
On Black Friday, the aforementioned soft and stocking stuffer-worthy socks, which are normally $5 per pair, will be sold in stores for the doorbuster price of just $1 per pair. The socks are one dollar for one day only. For every pair purchased, Old Navy will donate $1 to the Boys & Girl Club up to $1 million.
The Black Friday Now sale starts on Wednesday, Nov. 21 and runs through Friday, Nov. 23. Shoppers will enjoy a whopping 50 percent off their purchases. Even better, thousands of styles will be available for $5. The Black Friday Now Sale applies in stores and online.
As for Cyber Monday, the Pre-Sale takes place on Saturday, Nov. 24 and Sunday, Nov. 25. The brand is offering 40 percent off everything. Those shopping with Old Navy credit cards will get early Cyber Monday Sale access, enjoying 50 percent off purchases on Sunday, Nov. 25. Cardmembers also get free shipping. Also, all outerwear, sweaters, and jeans will be half off for the first time E-V-E-R.
The actual Cyber Monday Sale on Nov. 26 and offers 50 percent off everything. There are no exclusions, conditions, or fine print. Plus, customers get a free pair of Cozy Socks with purchase. Amazing, right?!
Old Navy is open from 9 a.m. to 10 p.m. on Thanksgiving Eve aka Wednesday, Nov. 21. On Thanksgiving, Nov. 22, Old Navy stores will open at 3 p.m. and remain so through the night. On Black Friday, Nov. 23, doors are open til 10 p.m.
Now, here's what to buy. Please note the full, pre-discount prices are listed below.
1. Fuzzy Socks
2. Skinny Jeans
3. Sweaters
4. LBDs
5. Classic Peacoat
6. Jumpsuit
7. Velvet Puffer
8. Striped Sweatshirts
9. Glitter Slippers
10. Faux Suede Pants
11. Fleece Hoodie
Old Navy's holiday sales take so much guess work and stress out of shopping this season. They won't send you into deep debt, either.