The Best Body Paints For Festivals, Raves, Performers, & More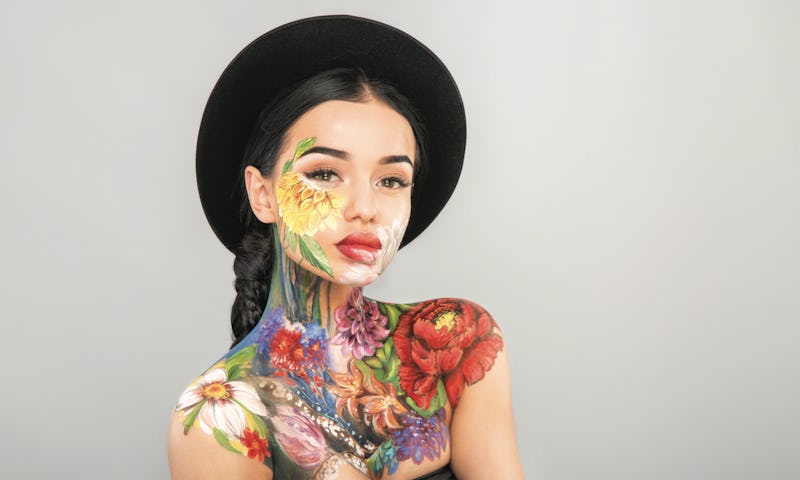 Amazon/Bustle
Birthday parties, music festivals, or even running a marathon — the uses for body paint are surprisingly numerous, even on occasions other than Halloween. But what are the best body paints to use if you're not a pro? It turns out there are a number of individual paint pots and full kits that are easy to use at home (and are also, thankfully, quite easy to remove).
Choosing the right body paint mostly comes down to personal preference and performance expectation. Water-based formulas are the most popular option because they tend to be better-regulated in terms of ingredients and they're easy to use. They're also easy to remove with soap and water or an oil-based cleanser, though that also means they aren't waterproof, so you might need some assistance from a setting spray if you plan on sweating or exposing yourself to water. You can also buy alcohol-based or latex body paints, which hold up better against sweat and water, but they require more caution because both tend to be irritating to sensitive skin types.
Of course, just like with any other cosmetic product, there's always the risk of irritation. If you're planning to cover yourself in rainbow-colored pigments, always do a patch test on your skin (but not on your face) at least 24 hours before you plan to use your body paint to ensure you aren't sensitive to any of its ingredients. And it should go without saying that you 100% need to remove body and face paint thoroughly before bed (if not to save your skin, then at least think of your sheets).
To help get you started, here are the best body paints on Amazon that can help turn you into a Disney villain or have you glowing in the dark on your next night out with friends.