The 5 Best Cleansing Conditioners For Co-Washing Your Curly Hair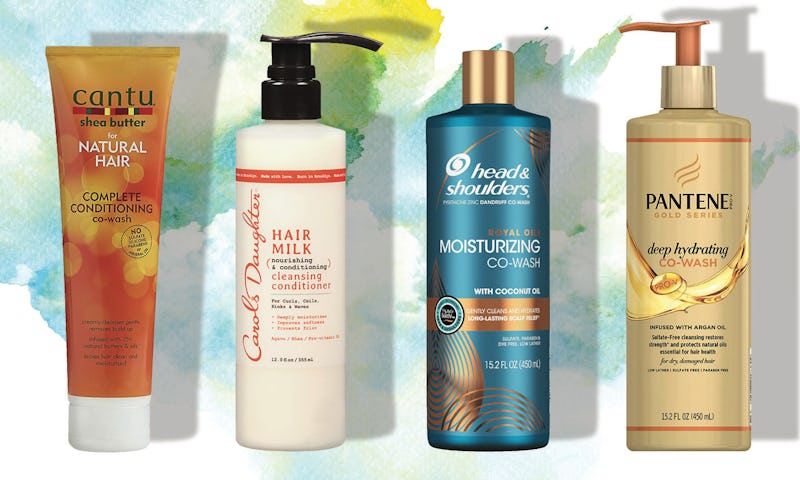 Bustle/Amazon
If you're reading this article, you're probably already familiar with the benefits of co-washing (or conditioner-only washing) your hair, particularly if it's curly. But like with any other beauty product, co-washes aren't one-size-fits-all. To help narrow down the best co-washes for curly hair, Bustle spoke with Lisa Price, founder of Carol's Daughter — a Brooklyn-Based brand known for their all-natural, curl-focused hair care products.
"While any conditioner can technically be used as a co-wash, most conditioners don't actually cleanse the hair," explains Price. That means, when searching for a co-wash, look for something that removes impurities and product buildup but still contains enough moisturizing ingredients that will help make hair more manageable. And because its main job is to restore hydration, be sure you're choosing a co-wash that's sulfate-free, since sulfates can actually strip your hair of moisture.
Co-wash should be applied similarly to shampoo, but to avoid tangling, be sure to use smooth, downward movements as opposed to more aggressive scrubbing or bunching motions. Once your hair is saturated from root to tip, allow it to sit for three to five minutes to receive the product's full nourishing benefits before thoroughly rinsing it out of your hair.
As for how often to co-wash your hair? "The frequency of co-washing will depend on your lifestyle and condition of your hair," says Price. "If you have an active lifestyle, consider co-washing your hair a few times a week to wash away dirt and impurities." But even once a week can help hydrate and detangle if you have a sparse hair washing routine going.
To help get you started, here are five of the best co-washes to try now.