These High-Tech Desk Lamps Are Game-Changing For Your Eyes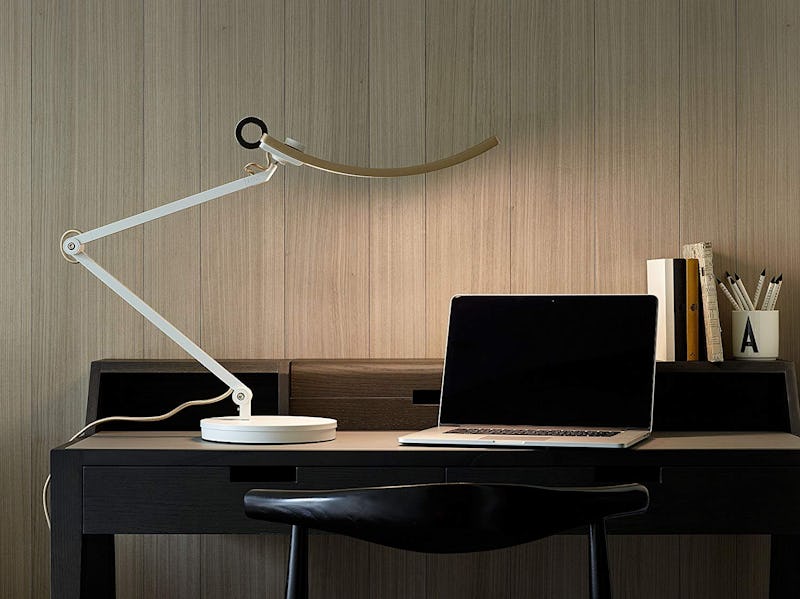 Amazon
Good lighting is a vital part of a healthy and productive workspace. If you've ever struggled with eye strain or headaches, you probably know that the best desk lamps for your eyes do more than simply light up a room — they create specific conditions that allow your eyes to relax so that you can get to work.
The ideal desk lamps cast a bright, targeted light that doesn't flicker or create glare. They should feature a diffusion panel, hood, or shade to soften the appearance of bright bulbs. Adjustability is particularly important, giving you the option to alter lighting conditions depending on your specific needs. Some of the properties that you might want to adjust are:
Brightness: Have you ever tried to read in a dim room? When the lighting is too low, it makes you squint—which isn't so easy on the eyes. You should be able to see what you're doing without putting in extra effort. Your eyes may require more light as you age or for more precise tasks, so it's good to have multiple brightness settings to choose from.
Color Temperature: Many LED lamps have adjustable color temperature, which means you can shift between warmer or cooler colors of light depending on the time of day, the tasks you're performing, and what generally feels best to you. Incandescent, halogen, or fluorescent bulbs don't offer the same kind of color versatility.
Angle/Location: The ability to physically adjust a lamp is important so that you can ensure its beam of light is focused exactly where you need it. A good desk lamp should be mobile enough that you can shift its beam to reduce glare and light up the correct part of your workspace. While it's helpful to have a lamp that's easy to pick up and place in a new location, it's also vital that you be able to modify the direction or angle of its beam using lamp designs that pivot, bend, or swivel.
For these reasons, most of the desk lamps on this list are highly adjustable models with multiple settings to choose from.
Beyond features designed to reduce eye strain, there are other factors to consider. Some people put a lot of weight in stylish looks, while others would prefer their lamp to offer useful extras like a USB port for phone charging or a cordless design for ultimate portability.
Desk lamps come in a variety of price points and styles, which means that in the end, finding the desk lamp that's right for you (and your vision!) is, to some extent, a matter of preference. Luckily, there are some really good options to choose from. Here are four eye-friendly options to light up your workspace.