This Hard-Anodized Cookware Will Last You Forever & It's A Fantastic Kitchen Upgrade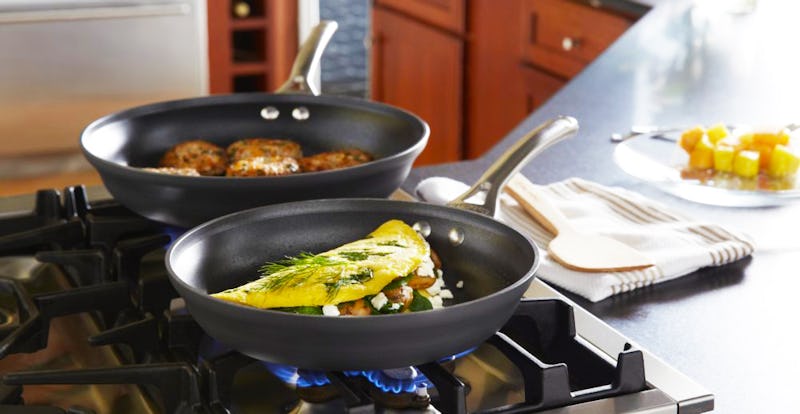 Amazon
Whether you're a whiz in the kitchen or you're just starting out, a good set of cookware is key to making the whole process quick and simple. In fact, the best hard-anodized cookware can withstand high heat, warms up quickly, and won't emit chemicals while you cook.
Here's the major difference between regular pots and pans and true hard-anodized cookware: It's made from anodized aluminum that's scratch-resistant and won't corrode over time. It's also nonstick and easy to clean, which means you can cook without any oil or butter. When shopping for new kitchenware, it's important that whichever piece you choose is clearly labeled as hard-anodized cookware. Even if a cookware set says that its "nonstick" or "anodized" cookware, you'll want to look out for the distinction that they're "hard-anodized" in order to ensure you get top quality.
Keep in mind how many pieces you'll need for your cooking needs. While hard-anodized pots and pans hold up to wear and tear for the long haul, they can also be a bit pricier. You may want to invest in a wide covered skillet that's super versatile, or even a large pasta pot that will cook your noodles without sticking. On the other hand, if you're ready to dive in, you could opt for an entire hard-anodized set.
Here's a round-up of some of the best hard-anodized cookware out there to help you narrow it down.