Here's Why You Won't Regret Adding This All-Natural Oil To Your Skin Care Routine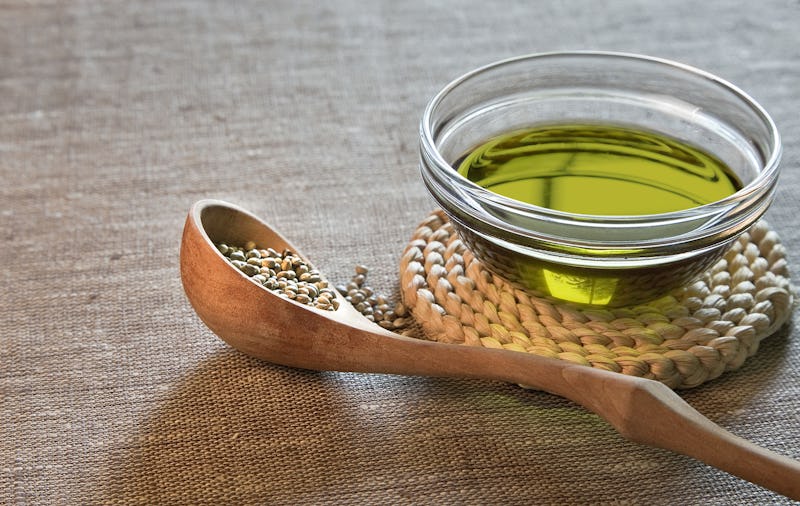 ringele/Fotolia
For a multi-use serum that's moisturizing and lightweight at the same time, try adding the best hemp seed oils for skin care to your daily routine. According to Mind Body Green, hemp seed oil "contains little to no THC or CBD [the main components of a cannabis plant] and is instead extracted for its healthy fatty acid profile." Because of this, it's loaded with antioxidants as well as omega-3, omega-6, and polyunsaturated fatty acids that have quickly made it a staple in the beauty world.
Hemp seed oil, which is deep green in color, is particularly great for soothing dry skin and inflammation. Per a 2018 presentation by Dr. Jeanette Jacknin on the American Academy of Dermatology's website called "Hemp And Cannabinoids For Beauty And Skin Disorders," hemp's "anti-inflammatory and moisturizing properties" do wonders for the skin, with the aforementioned fatty acids providing moisture and the various antioxidants — including vitamins A, C, and E — protecting against environmental damage.
Armed with this info, here, I've compiled a research-backed list of the best hemp seed oil products worth adding to your skin care regimen. They're all hydrating (but not overly oily) and come highly reviewed by happy customers. Most importantly? They're versatile and can be used a variety of ways, from topically to orally.