These Are The Best No Flashback Setting Powders For Women Of Color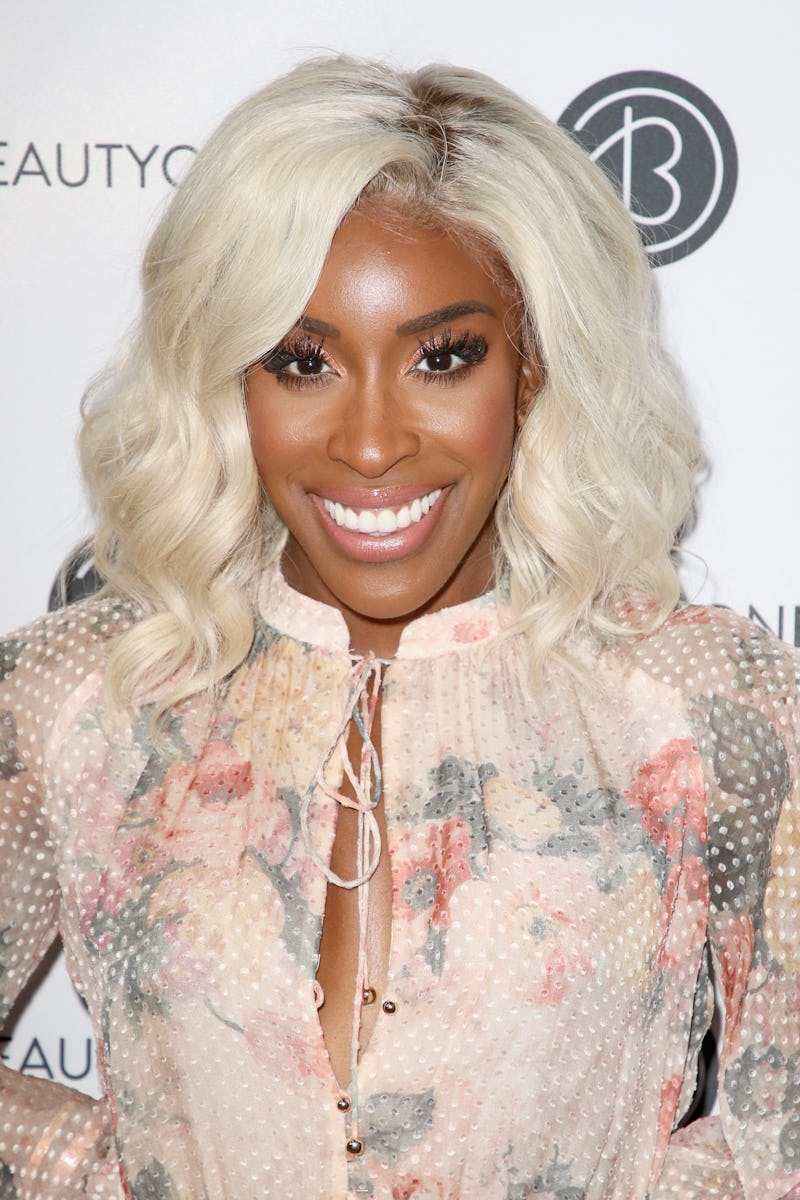 David Livingston/Getty Images Entertainment/Getty Images
There's an array of ways one can do up the face. Some days call for a tinted moisturizer and a gloss to go, and others may feel like a full beat is the makeup of the day. However, a full face should stay in place, which is why the search for no flashback face powder for women of color can become something of a scavenger hunt.
While touching up your face in the mirror could appear to be a makeup masterpiece, it can come off very different in a picture if the finish of the powder isn't the right shade. Two things that will catch you slipping up in a photo, I've found, is using the wrong foundation color or the dreaded camera flash, leaving your face a powdery mess.
With so many long-wear foundations and concealers in various shades on the market, there should be a finishing powder to match your complexion product collection to keep you aglow for the whole day. Before living in the Instagram-induced world we now have, many brown girls ran the risk of picking up a powder that the flash of a camera would not be kind to. So to ensure a ghostly-beat stays in the past, we've rounded up the best setting powders from YouTube to put your skin in the best light.
1. Laura Mercier Translucent Loose Setting Powder
This translucent powder is perfect for dry skin. It comes in two shades. One for fair skin tones and one for medium/deep tones, it absorbs the natural oils in the skin, leaving a matte finish to last all day long. Lovette Jallow compares the medium deep powder to the original, and both do its job in evening out her skin tone minus the flashback.
The name of this finishing powder is true to its name. It doesn't dry or "cake" the bake and because the powder is colorless, it doesn't affect the tone or shade of your foundation. YouTube channel DiamonBeauty lists this as one of her favorite powders as it fools many into thinking it's powdery appearance will give off a white cast.
3. Huda Beauty Easy Bake Loose Baking & Setting Powder
A translucent powder that comes in 8 different shades, this is a product almost everyone can use to bake after foundation and concealer. The powder leaves a matte finish with a little sheen to control facial oils. Taisha, a beauty vlogger uses this powder to test its no-flashback abilities.
This finishing powder does away with the white cast that many finishing powders contain. With its lightweight formula, it's one powder that contains a little color to suit all skin tone shades. Beauty vlogger Sophiology uses this product to demonstrate the correct way to bake.
A translucent powder that comes in 4 shades, neutral light, medium, dark, and deep, there's a shade to complement every skin tone. It has an airy oil absorbing formula that sets makeup. Makeup YouTuber Tiarra Monet approves of this powder in her review of Black Opal Cosmetics.
The soft velvet loose powder by Nars comes in 8 shades to match all shade finishes. It controls oil, but still leaving a smooth texture on the skin. Jackie Aina incorporated this in a video discussing dark-skin friendly finishing powders.
Working as both a foundation and finishing powder, this complexion product comes in 21 shades. Working on dry, oily, and combination skin, this makeup product is universal for every makeup guru. Jackie Aina also includes this in her roundup video for best translucent powders for dark skin.
The Buttercup Setting Powder from Sacha is a flash-friendly powder for every shade and skin type. It limits any after makeup shine and its one shade that fits everyone's bake. Nyma Tang, YouTuber of the Darkest Shade series recommends this after being a first-impression product user on her channel.
Limiting oils and shine is every a challenge for every full face. Getting rid of the Casper-like flash play, these finishing powders are some go-to grabs for deeper shades to give you a flawless skin-like finish.