These Were The BEST Podcast Episodes Of 2017, According To Experts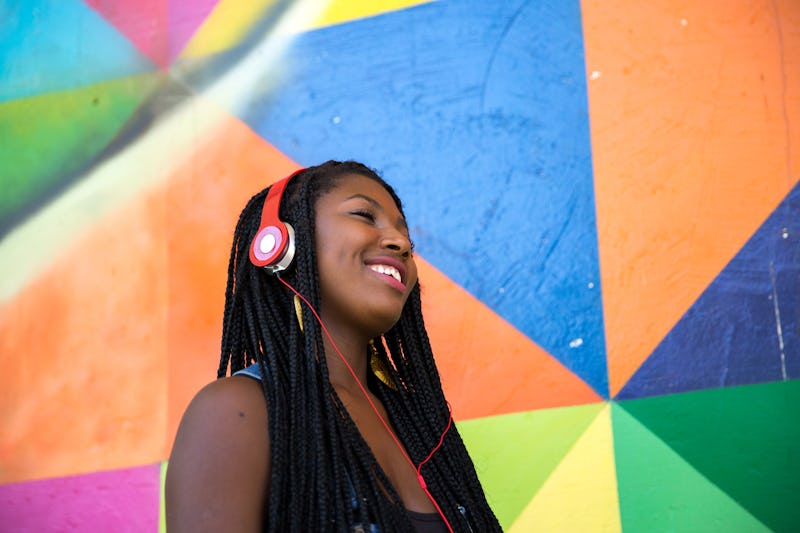 filipefrazao/Fotolia
Podcasts are everywhere right now. Your favorite comedian has one, the guy who lives two doors down has one, and maybe you're even thinking of starting one. Get this — according to Apple, there are currently 450,000 active shows and 15 million episodes on Apple Podcasts right now. With that many options, how do you know what's worth listening to and what's just your neighbor breathing into a mic? What were the best podcasts of 2017, and where can you find them?
Lucky for us, it turns out that podcasts have their very own awards season. Think the Oscars of podcasting, only instead of a room full of wildly talented people in tuxes, everyone's probably wearing cardigans. On Nov. 11, the Third Coast International Audio Festival presented the Third Coast/Richard H. Driehaus Foundation Competition Awards Ceremony hosted by Helen Zaltzman of The Allusionist to honor the creators of the best audio storytelling of the past year.
This year, the competition received more than 600 submissions and the Third Coast staff actually listened to them all. Think you listen to a lot of podcasts? Imagine listening to 600. After narrowing them down to 120, the remaining submissions were handed off to the judges, who included everyone from In The Dark's Samara Freemark to Kaitlin Prest of The Heart, for two intense and extensive rounds of judging. The combination of the judging panels of seasoned radio broadcasters, group listening sessions, and the impressive, diverse submissions, results in a collection of episodes so good, they'll remind you that not everything was terrible in 2017.
So don't just be any ol' podcast listener. Take a listen to the best of the best and start down the path to podcast snobdom. Check out the 2017 TC/RHDF Competition winners below.
"The Traffic Stop"
How did a routine traffic stop for a broken brake light turn deadly in 74 seconds? This episode of 74 Seconds breaks down the fatal encounter between Philando Castile and Officer Jeronimo Yanez that occurred on July 6, 2016. Trust me, there's a reason this won gold. The editing creates such a suspenseful atmosphere that I actually missed my subway stop. It was worth it.
Winner of the TC/RHDF 2017 Best Documentary: Gold Award. Produced by Tracy Mumford with Hans Buetow, reported by Jon Collins and Riham Feshir, and edited by Meg Martin for '74 Seconds' from Minnesota Public Radio and American Public Media.
"Majd's Diary: Two Years in the Life of a Saudi Girl"
This installation of NPR's Radio Diaries contains a delightful and rare 28-minute glimpse into the private life of a 19-year old Saudi woman named Majd. From her karate lessons to arguing with her brother over what she chooses to wear, I identified with Majd's concerns and day-to-day life far more than I expected to.
Winner of the TC/RHDF 2017 Best Documentary: Silver Award. Produced by Sarah Kate Kramer and Joe Richman, with assistant producer Nellie Gilles and editors Deborah George and Ben Shapiro for 'Radio Diaries' and NPR's 'All Things Considered.'
"Blink Once for Yes"
This episode of Love + Radio is an absolutely heartbreaking listen, so be prepared to listen in private. I repeat: Do not listen to it on the subway and get teary-eyed in public like some of us may have done. This documents the intimate journey of the Fecile family as they face an impossible choice regarding their son Mike, who is suffering from a brain injury.
Winner of the TC/RHDF 2017 Best Documentary: Bronze Award. Produced by John Fecile, Steven Jackson, and Lizzie Schiffman Tufano and edited by Nick van der Kolk for 'Love + Radio' from Radiotopia.
"The Accidental Gay Parents, Episode 5"
Getting pregnant is nerve-wracking enough (or so I've heard). Getting pregnant if you're trans? All. The. Emotions. This episode of The Longest Shortest Time documents the entire journey of a pregnant man, from telling his parents to dealing with strangers to the birth of his child.
Winner of the TC/RHDF 2017 Best Documentary: Honorable Mention Award. Produced by Hillary Frank with co-producers Kristen Clark and Abigail Keel and editor Peter Clowney for 'The Longest Shortest Time' from Stitcher.
"S-Town"
You've probably already listened to S-Town, but if you haven't, go do it now. Now. There's no other series like it and no way to accurately describe it, so you'll just have to listen for yourself.
Winner of the TC/RHDF 2017 Directors' Choice Award. Produced by Brian Reed and Julie Snyder with editorial advisors Ira Glass, Sarah Koenig, and Neil Drumming.
"Los Cassettes del Exilio"
Confession: I have never taken Spanish, so I had to watch this subtitled video to enjoy this episode of NPR's Radio Ambulante, but it was well worth the listen/read. A young man's father communicates with his family via cassette tapes and years later, after discovering 20 cassettes during a move, the man is able to more fully come to grips with his childhood and father's situation.
Winner of the TC/RHDF 2017 Best Documentary: Foreign Language Award. Produced by Dennis Maxwell with editors Camila Segura, Silvia Viñas, and Daniel Alarcón for 'Radio Ambulante.'
"Emancipation: A Young Man Leaves Foster Care on His Own Terms"
This piece documents a young man's last court appointment as a member of the foster care system and provides us with a greater understanding of what it's like to grow up within the "gray hands" of the system. Find the full recording here.
Winner of the TC/RHDF 2017 Radio Impact Award. Produced by Noel Anaya with Brett Myers and edited by Youth Radio's Editorial Team and Greg Dixon for NPR's 'All Things Considered.'
"Heavyweight: Gregor"
Heavyweight may be one of the funniest and touching podcasts out there right now, and "Gregor" is no exception. Plus, right when you think you're listening to an award-winning podcast, you realize you're also listening to an award-winning podcast with cameos from Moby and RuPaul.
Winner of the TC/RHDF 2017 Skylarking Award. Produced by Jonathan Goldstein with co-producers Wendy Dorr, Kalila Holt, Chris Neary and editors Alex Blumberg, Jorge Just, Sean Cole, and Emily Condon for Gimlet Media.
"Standing Out From the Crowd at a Trump Rally"
A young journalist of Sri Lanken descent at a Trump Rally in Myrtle Beach, bikers, very unexpected Trump supporters, and "Eye of the Tiger." What more could you ask for? You'll feel like you're right there at the rally yourself, so if you want to live out that experience from the safety of your headphones, you have to listen to this feature. Listen to the full recording here.
Winner of the TC/RHDF 2017 Best News Feature Award. Produced by Ike Sriskandarajah and edited by Kevin Sullivan and Deb George for 'Reveal' from The Center for Investigative Reporting and PRX.
"Quiet Revolution"
This is an autobiographical first-person narrative of a middle-aged woman documenting her newest hobby — rollerskating. I dare you to not recognize every sound you hear. Together, they paint a beautiful and surprisingly complete story. Find the full recording here.
Winner of the TC/RHDF 2017 Best New Artist Award. Produced by Laura Irving for BIRSt.co.uk.
"The Discussion"
I think we can all agree that "we need to talk" is universally the most frightening string of words in the English language. This engrossing recording features one woman confronting one of her closest friends about the one topic that's always been off-limits in their relationship. Find the full recording here.
Winner of the TC/RHDF 2017 Best New Artist Award. Produced by Rosa Gollan for PocketDocs from ABC Radio National.
Bonus! If you'd like to get a preview of all the TC/RHDF winners above before fully committing, take a listen to this episode of Third Coast's radio show Re:sound.