16 Sunscreens That Actually Work For People With Darker Skin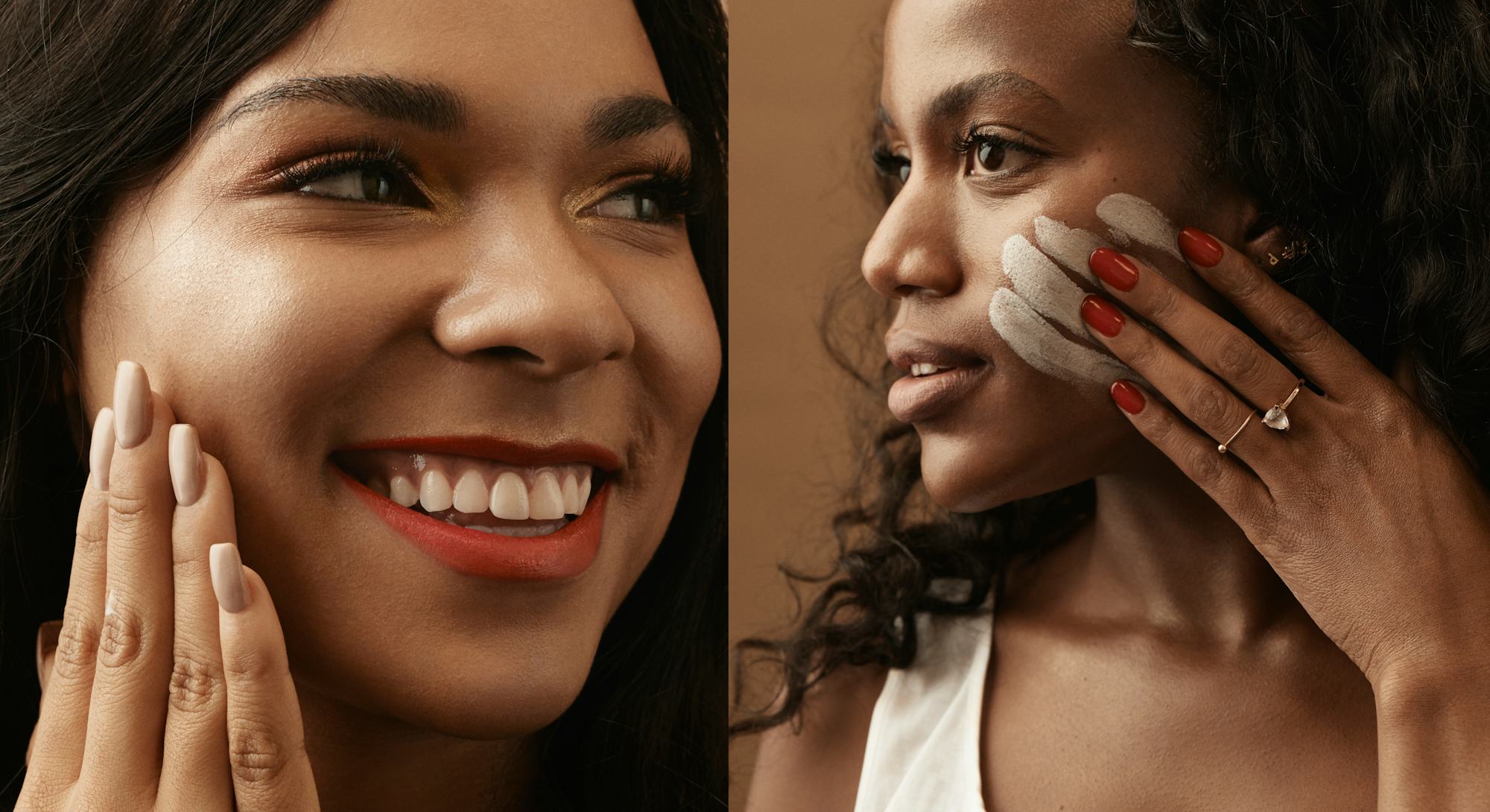 Joshua Pestka/Bustle
It's a misconception that many women of color — and particularly, black women — have heard before, especially during bright and sunny summer months. That is, if you have darker skin, you can't get sunburned — and subsequently, sunscreens for dark skin aren't necessary.
"I was complaining about a sunburn with some co-workers," Kelly Augustine, a plus size fashion influencer and marketing professional, tells me. "One mentioned they didn't know I could get sunburned. I really just winced and said yes, I get sunburned too, and moved on. I was honestly so used to comments like that from people from work who were not of color that I barely blinked at it."
Mary Anderson, a freelance fashion and beauty reporter, has encountered similar situations.
"The misconception that I hear the most [about black people] is that we can't get sunburned," Anderson says. "Also, that we don't peel or need sunscreen, which isn't true... [it's] very dangerous since it's possible for all skin tones to get skin cancer."
Of course, understanding the dangers of skin cancer for is important for everyone: According to the 2018 issue of The Skin Cancer Foundation Journal, one in five Americans will develop skin cancer by the age of 70. The most common form of skin cancer is basal cell carcinoma, with more than 4 million cases diagnosed in the United States each year. For people with dark skin, dealing with the naiveté of Caucasian coworkers is only part of awareness when it comes to skin cancers — and what puts them at even higher risk.
"It's important to know that dark-skinned people can get skin cancer, too," says Dr. Fran E. Cook-Bolden, dermatologist, cosmetic surgeon, and director at Skin Specialty Dermatology, explains. "Persons with skin of color often dismiss and, unfortunately, are often dismissed by their general physicians in terms of risk. Although the risk is significantly higher in those with very light and white skin, the incidents in skin of color often have poorer outcomes due to failure to diagnose and late diagnosis."
According to Cook-Bolden, the misconception that those with darker skin tones can't get sunburned comes from the assumption that melanin-rich skin — that is, skin with high amounts of eumelanin — has a built-in, natural shield against the sun's rays. However, while the presence of eumelanin helps, it doesn't decrease risk altogether.
"More melanin affords a greater degree of inherent sun protection and has an anti-aging benefit," Cook-Bolden says. "Although our natural melanin has an inherent skin protective factor...repeated and chronic exposure can lead to long term damage such as thickening, irregular skin tone, and eventually cellular changes down to the DNA — the development of precancerous and cancerous skin lesions."
Despite the growing conversation around sun protection across all ages and skin tones, there's another problem: Women of color have a hard time finding sunscreens that actually blend into their skin. Many sunscreens are mineral-based, which means they contain ingredients like titanium dioxide and zinc oxide, which tend to be thicker and can leave behind a whitish cast.
Joshua Pestka/Bustle
Joshua Pestka/Bustle
"Most [mineral sunscreens] look gray on darker skin," Anderson says, "Which could dissuade someone from wearing it at all."
Chemical sunscreens, on the other hand, protect the skin using UV organic filters like avobenzone and benzophenone. These sunscreens are more likely to come in clear, gel, or lightweight formulas that absorb easily into the skin no matter what color it is.
"Both types of sunscreen have been tested as safe and effective," says Dr. Steven Q. Wang, chair of The Skin Cancer Foundation Photobiology committee. "Many sunscreens on the market today combine chemical and physical ingredients. Many new formulations of physical sunscreens are microionized, meaning the product's particles are small enough to blend in and disappear into the skin more easily."
For the average shopper, though, it's tough to figure out what's what — and trial and error isn't an option if you're headed to the beach. According to Dr. Cook-Bolden, a great place to start is to look for broad spectrum formulas, which protect the skin from both UVA and UVB rays. She also recommends searching for sunscreens with a minimum SPF of 30 — and of course, look for formulas that blend into the skin imperceptibly.
"My favorites are EltaMD UV Clear SPF 46, La Roche-Posay Anthelios Ultra Light SPF 60, and Neutrogena Ultrasheer Face & Body Stick SPF 70," Cook-Bolden says.
She also recommends Colorscience Sunforgettable Total Protection Brush-On Shield SPF, which is a mineral formula that brushes on dry (and comes in different colors). Bustle's Senior Fashion Market Editor, Gabrielle Prescod, and Bustle's Fashion Intern, Chioma Ipke (both pictured in this story) helped determine some other great SPF formulations for darker skin, including Peter Thomas Roth Max Mineral Naked Broad Spectrum SPF 45 Lotion, Drunk Elephant Umbra Sheer Physical Daily Defense Broad Spectrum Sunscreen SPF 30.
If you're looking for a mineral sunscreen at the drugstore instead of Sephora, there's one product that stands out above the rest across the board. "I absolutely live for Neutrogena's Sheer Zinc Sunscreen Lotion since it's an affordable mineral sunscreen that doesn't leave a white cast on my skin," says Tiffany Dodson.
If you're simply not a fan of how mineral sunscreens feel, there are plenty of excellent options on the market, all of which protect the skin while blending seamlessly. Some of our interviewee and model favorites include Glossier Invisible Shield Invisible Sunscreen SPF 35, Neutrogena HydroBoost Water Gel Lotion SPF 50, and H2O AquaDefense Protective Matcha Moisturizer SPF 40. Additionally, black-owned beauty brand Bolden makes an excellent SPF: Bolden Brightening Moisturizer SPF 30. Other favorites for dark skin tones are Shiseido Ultimate Sun Protection Lotion WetForce SPF 50+ and Supergoop! Unseen Sunscreen Broad Spectrum SPF 40.
"Although I'm trying to ease away from the allure of chemical sunscreens, I do like Supergoop!'s Unseen Sunscreen for face as well, since it's super light and very silky, and virtually undetectable under my makeup," Dodson says.
If you're in the market for something more than a typical sunscreen or facial moisturizer with SPF, there are currently some interesting options that both protect the skin and offer a fun alternative to traditional sunblocks. BCDation Multi Use Sun Oil SPF 50+ PA++++ is a hydrating facial oil that you can use underneath makeup with zero residue or product pilling, and it's soothing for the skin. Soleil Toujours SPF 30 Set + Protect Micro Mist offers protection in the form of a refreshing mist — perfect for reapplying every two hours, as per Cook-Bolden's recommendation.
Hair: Jazmin Kelly using Phyto | Makeup: Markphong using Shiseido | Art Director: Becky Brown | Photo Editor: Clare Thigpen