The 29 Best SPF Products You Can Buy, Because The Sun Is Actually Kind Of Shady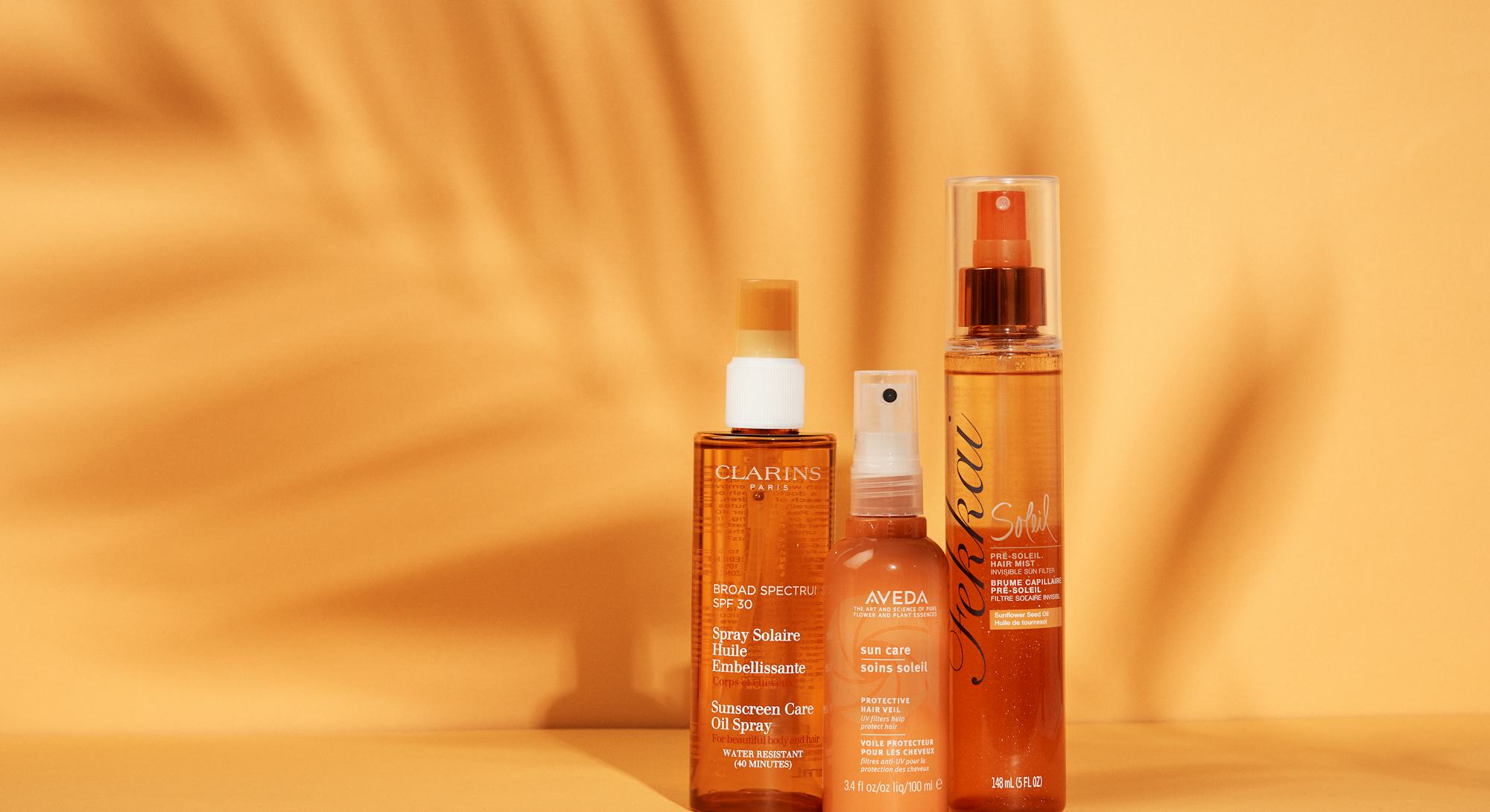 At this point, you're probably well aware of the reasons why you need to wear sunscreen — if not, let these sunburn horror stories be a place to start. However, even if you've educated yourself on what broad spectrum means, the difference between physical and chemical sunscreen, and know to look out for certain ingredients on your sunscreen label, there's still one problem: There are literally hundreds, perhaps even thousands, of SPF products to choose from.
So, where do you start? You start by reading this story. We made a list of SPF categories based both on the differences in formula and where you're supposed to apply them. Tinted sunscreens, SPF illuminizers, the best lip products with SPF in them, and even protective hair products: The following product recommendations are a mere fraction of what we put to the test so you don't have to. Here are the best SPF products you can buy in 2018, so you never have to get burned again.
Non-Tinted SPF
If you're looking for a facial sunscreen that doesn't have any pigment, there are plenty of great options on the market. What's more: These picks were chosen because they work quite well under makeup, and some of them even double as skin care. The ELEMIS Pro-Collagen Marine Cream SPF 30 packs a moisturizing punch while providing sun protection, as do the Thank You Farmer Light Sun Essence SPF 30 and the Blue Lagoon Iceland Hydrating Cream Broad Spectrum SPF 30. The Elizabeth Arden PREVAGE City Smart Broad Spectrum SPF 50 Hydrating Shield blends into the skin imperceptibly, and PCA Skin Weightless Protection Broad Spectrum SPF 45 can be used on both the face and body.
Other great non-tinted options, particularly for people with dark skin looking for sunscreen include Glossier Invisible Shield, La Roche Posay Anthelios Clear Skin SPF 60, and Tatcha Silken Pore Perfecting Sunscreen Broad Spectrum SPF 35. Two K-beauty options that stick out in this category are MISSHA All Around Safe Block Sebum Zero Sun SPF 50 and Amarte Ultra Veil Facial Sunscreen — the latter harnesses the power of elemental sulfur to brighten the skin, and includes a super finely-milled mica that leaves behind a luminous glow. Additionally, the best non-tinted drugstore choice is unequivocally Neutrogena Ultra Sheer Liquid SPF 70.
Tinted SPF
Summer isn't a time when I, personally, want to layer a bunch of makeup on my face. On the other hand, I don't want my skin to look uneven (especially since warmer weather usually means excessive sweat and redness). Tinted facial SPF products are a great option for those who don't want to compromise even skin tone and sun protection.
Drunk Elephant Umbra Tinte Physical Daily Defense Broad Spectrum Sunscreen SPF 30 is one of my personal favorites, despite the fact that the formula is quite thick (take note if you prefer lightweight SPFs). Peter Thomas Roth Max Mineral Naked Broad Spectrum SPF 45 Lotion comes in one color but blends easily into most, if not all, skin tones. MyChelle Sun Shield Stick SPF 50 is a tinted mineral sunscreen that's super portable and great for travel, and UNSUN Mineral Tinted Sunscreen SPF 30 offers a super lightweight formula that seems to blend well on a variety of skin tones.
Luminizing SPFs
A highly specific category, to be sure, but an important one. I love any product that makes me glow like I have a light bulb in my mouth, and if it happens to have SPF in it, all the better. Volition Luminizing Prismatic Shield SPF 50 gives a great all-over glow that's more luminous than glittery. The Thank You Farmer Sun Project Shimmer Sun Essence SPF 50 is super lightweight and perfect for people who love a multi-step skin care routine.
SPF Mists
Those who know me understand that when it comes to beauty, there's little I love more than a mist. There aren't a ton of SPF mists on the market, but the ones I've tried are really, really good.
Kate Somerville's UncompliKated Soft Focus Makeup Setting Spray Broad Spectrum SPF 50 Sunscreen Spray mists evenly over your makeup, though those who don't love strong smells may not enjoy this as much as I do. PIXI Skin Treats Sun Mist is perfectly travel-sized and can be used to set makeup and on it's own as a refreshing facial mist. COOLA Ocean Salted Sage Organic Scalp & Hair Mist SPF 30 smells incredible, and offers protection in an area that's often forgotten about before stepping outside.
Additionally, Soleil Toujour SPF 30 Set + Protect Micro Mist could be the best on the list — the mist that sprays from the bottle is super fine and refreshing for a hot summer day, and it's also the perfect size to throw in your bag.
Hair SPF
Speaking of COOLA's Ocean Salted Sage Hair & Scalp Mist, there's actually a small universe of SPF hair mists on the market to choose from, and as you can see above, a lot of them just so happen to be orange, as in, orange you glad you remembered to protect your hair from the sun?
Clarins Sunscreen Care Oil Spray Broad Spectrum SPF 30 can be used on both hair and body, and when it's time to pack a light beach bag, versatility is key. Fekkai Pré-Soleil Hair Radiance & Protection Mist is great for colored hair that needs extra protection, as it's infused with ultra-hydrating sunflower oil. Aveda Sun Care Protective Hair Veil protects hair against UVA and UVB rays, and it's also lightweight, making it a great option for thin or fine hair.
Body SPF
Beauty lovers all want to protect their faces from the sun, but we also know that you can't stop there. SPF for body is equally as important, and there are some great high-low options on the market. Once again, Neutrogena comes out on top of the drugstore sunscreen game with Neutrogena Hydro Boost Hydro Gel Lotion SPF 50 — this formula is basically like putting a hydrating, cooling gel all over your body, and it smells pretty damn good, too.
Kiehl's has a surprisingly high volume of SPF products, but for my money, Kiehl's Activated Sun Protector line is one of the best — and I love the fact that the formula comes in both lotion and lotion mist form. For those who prefer their SPF in stick form, the Shiseido Clear Stick UV Protector Broad Spectrum SPF 50+ is key. It goes on totally clear, and will fit in even the smallest of day bags.
SPF for Lips
This was a category that, before I began testing, I assumed I'd find metric ton of great options. That wasn't actually the case, but I managed to track down what I consider to be the best of the best. Kiehl's Butterstick Lip Treatment SPF 25 comes in different shades, which makes it a great option when you don't want to layer lip colors over top your sunscreen.
If you're looking at the drugstore, Maybelline Baby Lips Moisturizing Lip Balm has a super affordable formula that actually works underneath most of the lipsticks I tried it with. And of course, you can't forget about Shiseido Sun Protection Lip Treatment SPF 35. It's a super simple, clear formula, but it truly keeps your lips protected and feeling hydrated all day, no matter how long you're out in the sun.