The Best Swimsuits For Plus Sizes, Because We've Got More Options Than Ever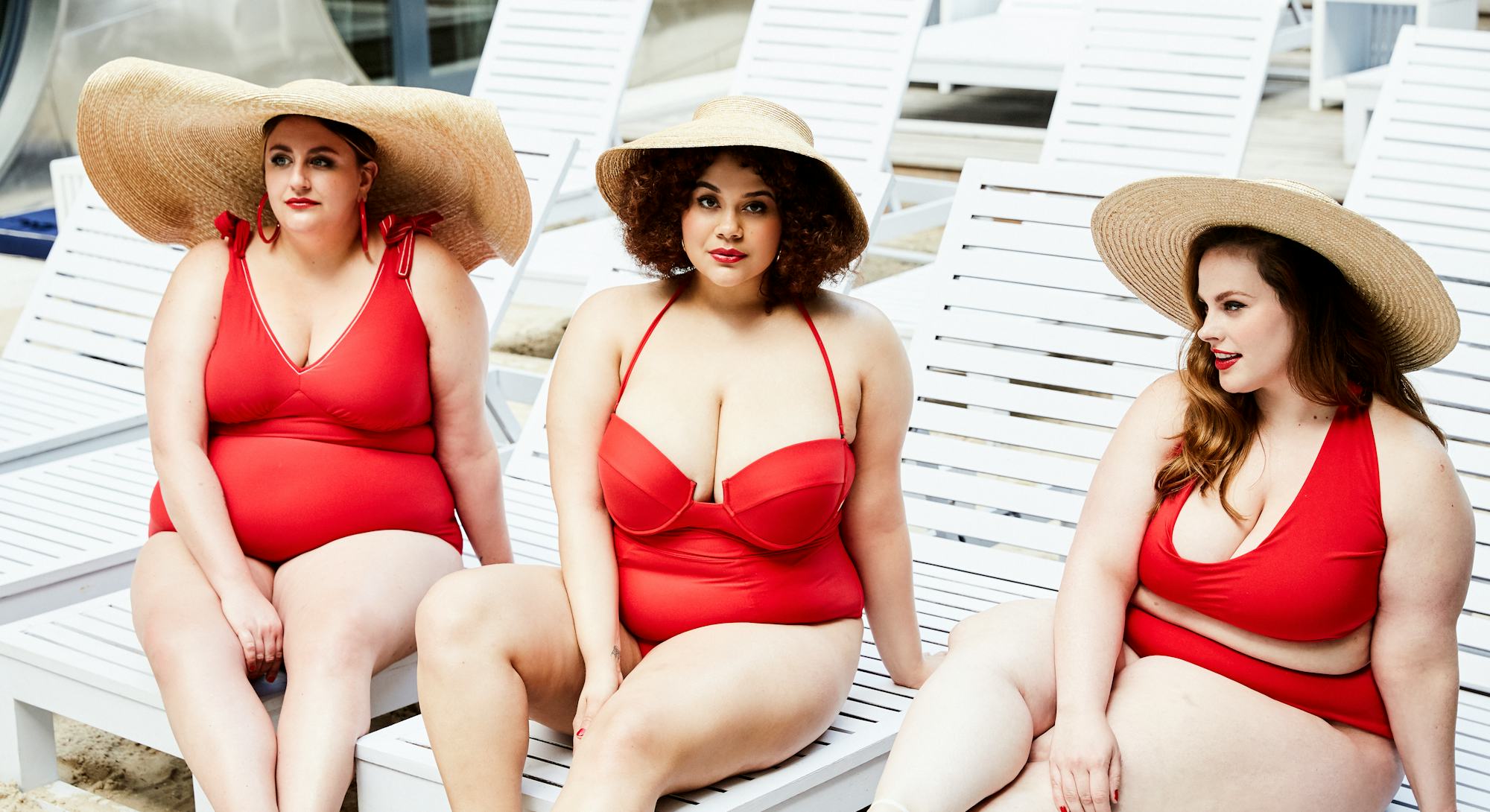 Photographer: Lauren Perlstein
If you've ever had a difficult time shopping for a plus size swimsuit, you're certainly not alone. It's a soul-sucking voyage that I am intimately familiar with. I've been plus size my entire life, all the way back to childhood. Shopping for a swimsuit has never been simple, but in the past five years or so, things have gotten significantly easier. While we used to have to settle for dull one-pieces in black or navy, skirted suits that our grandmothers loved, or sometimes, just a T-shirt and shorts. Now, we have a strange and beautiful new thing to explore, a thing that our straight size peers have had their disposal for years: Options.
That's right: I can say with unwavering certainty that the plus size swimsuit market have more options than we've ever had in the past, and because of that, we can actually be picky when it comes to the brands and styles we prefer. Want to flaunt your body in something skimpy and sexy? Ashley Graham and SwimsuitsForAll (sizes 4-22) have you covered. Prefer a collection that makes a statement? GabiFresh (sizes 10-26) and ModCloth (sizes 4-34) have those on offer. Like to splurge on designer? Chromat (up to 3X) makes some sick plus size swimsuits that will satisfy your urge for plus size luxury.
Eloquii (sizes 14-28), Bare Necessities, Forever 21 Plus, ASOS Curve, Monif C, Rue107, J. Crew and Pretty Little Thing all have plus size swim, too. The best part? They're not all one pieces, and they're not all designed with the exclusive goal of concealing and/or constraining your body.
"When I was doing market research for this story," says Bustle's Senior Fashion Market Editor Gabby Prescod, "I wanted to get suits with cutouts and things that show off the body. A lot of people think that plus size women don't want to show a lot of skin, or that plus size bathing suits are automatically full coverage, or that it's about looking slimmer. That's simply not the case."
I couldn't agree more, even if my personal preferences are a bit different. Luckily, there are options for me, too — and they don't sacrifice trendiness. For me, a classic, chic suit in a bold color is where it's at. This Eloquii suit, pictured above, is available in sizes 12-24, and checked all of those boxes — the low neckline and back show off the level of skin I'm comfortable with, and the solid color makes an impact.
Another model featured in this story, Khloe Mitchell, also wore a red one-piece — but one that was totally different from my pick. Hers, pictured below, is Chromat, a designer brand that added some great plus size options to its latest collection. This suit doesn't go out of it's way to hide Mitchell's statuesque, plus size body; instead, it shows it off.
"My favorite things about the swimsuit that I was styled in are the adorable cut outs, the cup size, and the detail that cinched my waist," Mitchell says. "All the issues I normally have with swimsuits went right out the window with this one. My bust was supported, and it really showed off my figure."
If you're a two-piece kind of girl, never fear: There are more plus size bikinis on the market than you might know what to do with. Morgan Louise Faulkner, the third model featured in this story, loves high-waisted and vintage-inspired suits. The suit she's wearing below, from Pretty Little Thing, is high-waisted, but a bit sportier.
"I really loved the sexy red color of the bikini I wore..." Faulkner says. "I love seeing brands starting to make more bikinis for plus sizes — we don't all want to wear one pieces."
It's true — we don't all want to wear one pieces. However, the best thing about this new dawn of plus size swimwear isn't that plus size women can find options to show off more skin — it's that no matter what our preference is, there's probably a suit out there that works. The cultural shift toward body positivity and size inclusion is amazing, but it's also pretty great that plus size shoppers have the choices to back it up. Now, if we could only decide which beach to go to.
Hair: Jazmin Kelly using Phyto
Makeup: Viktorija Bowers for Benefit Cosmetics at Ray Brown Pro
Manicure: Rachel Shim using Londontown Lakur
Styling: Senior Fashion Market Editor Gabrielle Prescod
Fashion & Beauty Features Editor: Amanda Richards
Creative Director: Adrian Moreno
Art Director: Becky Brown
Bookings Manager: Guillermo Perez
Photo Editor: Clare Thigpen