The Two Best Times Of Year To Sign Up For A Gym Membership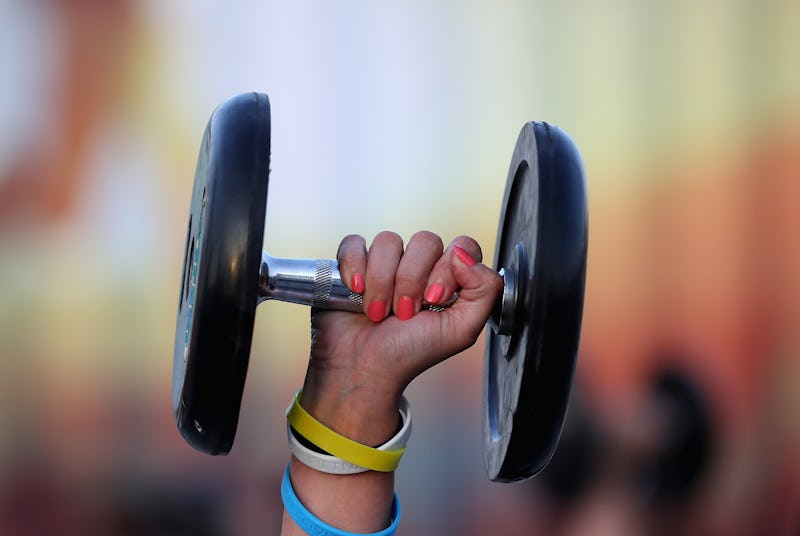 Francois Nel/Getty Images Sport/Getty Images
Making the investment in a gym membership is a great step to take in order to further your health goals. After all, there's nothing like putting some money down to solidify that commitment, right? With the holidays fast approaching, you might be starting to plot out your fitness plans for the new year, but the best time to sign up for a gym membership might not be when you'd think it is.
Even though you associate the new year at your average gym with teeming hordes of optimistic resolution-havers, the experience of having to wait 20 minutes for the elliptical may be worth it, financially, once the crowds drop off in February.
"The best time of year to sign up at a gym is normally January during the new year," Quianna Camper, RSP Nutrition athlete and AAAI/ISMA certified personal trainer tells Bustle via email. "During this time I find that most people write out plans for the year that normally include creating a regimen to reach a specific fitness goal. Also, during this time you're usually guaranteed a discounted price, the sign-up fee waived, or a few free gym accessories as a sign-on perk. Can't beat that time of year," Camper says.
ABC News reported in 2013 that the summer months, randomly, are also good to join a gym. "You actually get a better deal in December going into early January, and you get a really good deal in the summer," Gold's Gym president of operations, Tim Keightley, told ABC News. Gym memberships tend to slow down during the summer months when kids are home from school and summer trips get planned, Keightley said. Keightley further noted that gyms are eager to sign new members up on Jan. 1 as opposed to Feb. 1, in order to maximize monthly membership fees since "the company is making more money," from that extra push in January. So, many gyms offer December promotions in order to incentivize January sign-ups, Keightley further explained.
In terms of your health goals, there's really no wrong time to sign up at the gym. "Sure, there are tons of promotions around January, but if you are really looking to join a gym, especially if it's your first time, do it today," Meg Takacs, master trainer for Aaptiv tells Bustle via email. "Most gyms will negotiate with you on price any time of the year, as there are usually promotions to be found."
Fitness reports that it's a good idea to research possible gym membership deals before signing on the dotted line. Your company's human resources department can tell you if you qualify for any employee gym discounts or coverage. And it's not a bad idea to check in with your health insurance carrier, either, as some plans will cover a percentage of gym costs each month, Fitness further notes. Seeking out non-traditional exercise memberships, like ClassPass or a work-study at your local yoga studio, can also be ways to save a little money throughout the year.
Getting a start on your fitness goals, says Takacs, is always a good plan, no matter the season. And once you find the motivation to join a gym, and push past any doubts you might have about where to start, it's easier to stick with your goals over the long-term. So, like they say, just do it. Or whatever.