The Internet Is Losing It Over Trump's Brutal AF Firing Of Reince Priebus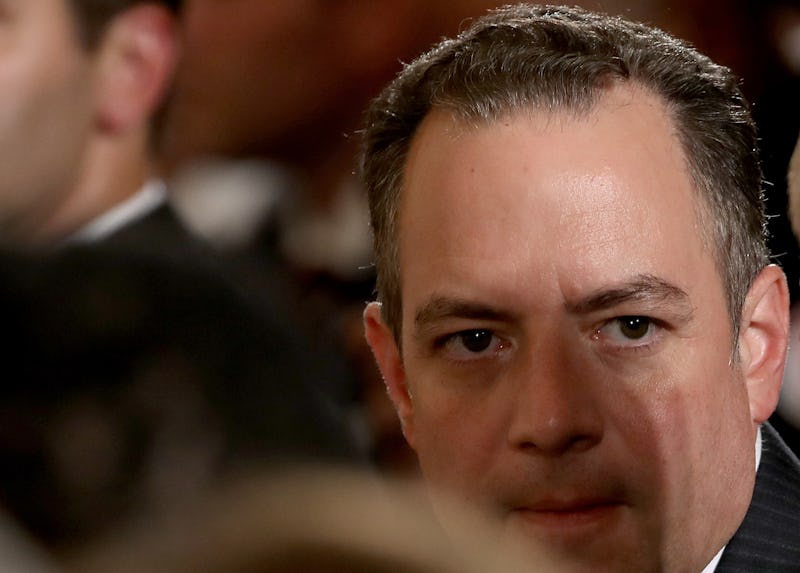 Win McNamee/Getty Images News/Getty Images
The 24/7 saga that is the Trump administration continues. President Trump announced via Twitter (where else?) that he has replaced his White House chief of staff, and the internet, as always, had some things to say about it. These tweets and memes about Trump firing Reince Priebus, whom he replaced with Homeland Security Secretary John Kelly, pretty much sum up the cutthroat nature of business as usual at the White House. We're not quite at Game of Thrones level right now, but yikes.
In a tweet announcing the news, Trump wrote: "I am pleased to inform you that I have just named General/Secretary John F Kelly as White House Chief of Staff." USA Today reported that, "Priebus's dismissal capped a tumultuous six months marked by staff turmoil and political reversals that Trump often blamed on his chief of staff." Additionally, the news outlet noted that Rick Tyler, a Republican political analyst, said, "Kelly has the massive task of getting a dysfunctional White House to function — but for that to happen he has to get an out of control President under control. I don't give him much chance of success but as Trump likes to say, 'Time will tell.'"
House Speaker Paul Ryan congratulated Kelly on his new role in a statement, but not before praising Priebus for his time spent as White House Chief of Staff. He said:
And, reading that made me realize that we're only seven months into Trump's four-year tenure of foolery, which is why we need these tweets and memes to soothe us, and remind us that what's going on in the White House is completely bizarre.
1. I Wonder If They Signed NDAs
2. A New Way To Play Words With Friends
3. But, Where Is My Piece Of Cake?
4. Six-Word News Stories
5. We're Literally Living In The Movie Wag The Dog
6. There Are No Commercial Breaks
7. SMH, Seriously
8. Someone Please Make This Happen
9. Working At The White House, An Infographic
10. I Don't Even Know What To Say Anymore
11. A Disaster Of Shakespearean Proportions...
12. ... Or At Least, Game Of Thrones Proportions
Only time will tell what happens next.