These Are The One Type Of Socks To Rule Them All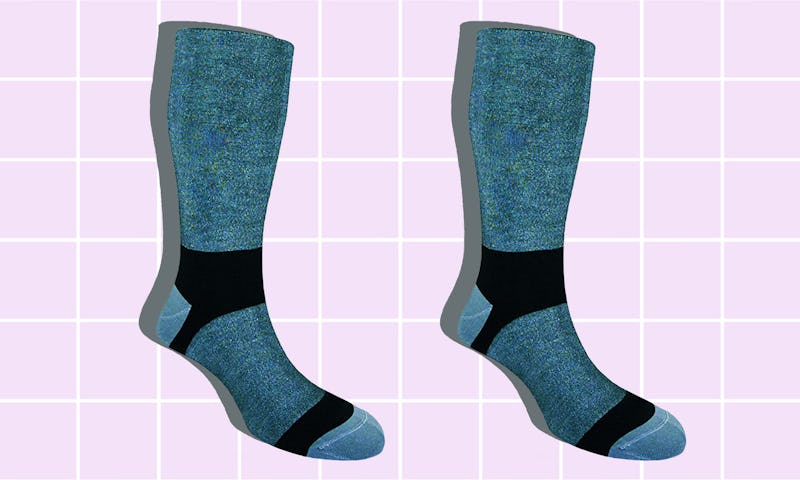 Amazon / Bustle
A great pair of socks is one of life's greatest, simplest pleasures. And putting on a pair of what you think are a great pair of socks — until you realize they make your feet sweaty and itchy, or fall down repeatedly — is one of life's most annoying little inconveniences. Fortunately, modern innovations have brought us merino wool — "regular" wool's finer, softer counterpart that has all of the same thermal properties, minus the drawbacks. If you don't already own any, you'll want to invest in (at least) one pair of the best merino socks for women. Not only will your feet thank you, but due to their long-lasting durability, so will your wallet.
If you're reading this article, you've probably heard a lot about merino wool — or maybe you're already obsessed with it. But besides being ultra-warm in a still-comfortable way, what is it that makes this fabric so freaking amazing? Well, first of all, the fibers in merino wool are finer and more flexible than "regular" wool, so when they brush again your skin, it won't send you into an itching fit. Merino wool is also more breathable and better at regulating temperature. That's because its fibers are capable of trapping moisture molecules in the weave and evaporating them according to your body's needs. When your feet are cold, for example, it holds onto the moisture and keeps your feet dry so the dampness won't cool you down. When you get hot, the moisture evaporates, cooling you off in the process. On top of that, the fabric is stronger and more durable, so your socks will last longer without getting holes in the heels or toes.
But the other great, lesser-known thing about merino wool is that, due to its ability to quickly evaporate sweat, bacteria has a harder time surviving (because it needs moisture to live). That means the fabric is naturally odor-resistant and less prone to making your feet stink. So, yeah... this is what makes merino wool socks pretty much the best option out there — whether you live somewhere warm or cold.
Given all of these wonderful advantages, here is a list of the best wool socks for women made with merino blends.