This Is The Workout That Will Boost Your Mood The Most, Based On Your Zodiac Sign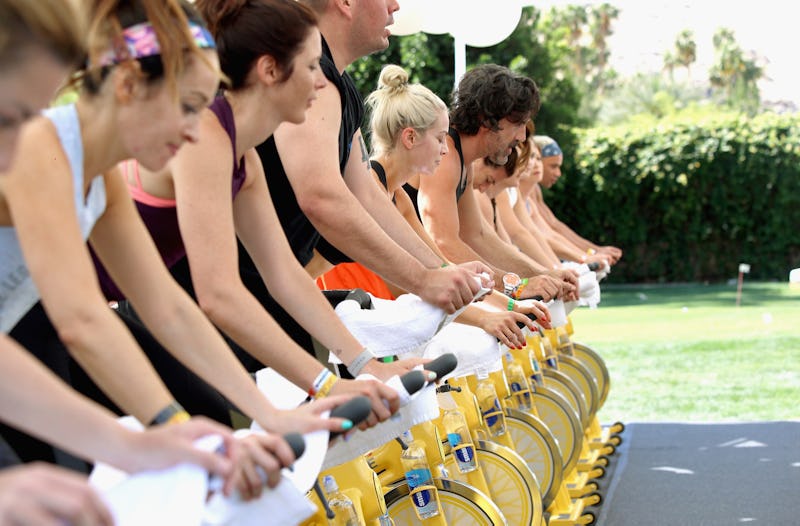 Ari Perilstein/Getty Images Entertainment/Getty Images
Working out can be a great way to boost your mood — after all, in the immortal words of Elle Woods in Legally Blonde, "exercise gives you endorphins, endorphins make you happy. Happy people just don't shoot their husbands." Of course, endorphins have other benefits than, you know, not murdering, but you get what I mean. Whenever you're trying to settle on a workout to start your quest for more endorphins, though, you might find there are almost too many workout options, and struggle to figure out where to start. In cases like this, I always recommend looking to the stars for some guidance; and thankfully, finding a workout to boost your mood based on your zodiac sign is totally possible.
Your sign says a lot about you: For instance, a Gemini might find themselves snoozing during spin class, but an independent Aquarius might thrive on a bike. One thing the entire zodiac can agree upon is the necessity of wellness. All signs have a house of health and wellness, aka the Sixth House. According to Astrology.com, the Sixth House of every sign is "essential to the work we do in life is the work we do on our self. Duty, responsibility and personal growth all contribute to the creation of a fully-realized being." You might read health advice in your horoscope regularly, depending on how the stars and planets align. Astrologers might suggest a brisk walk or joining a trending workout class just to be social or advise against doing anything too strenuous when Mercury is retrograde. But it's always all about how it will make you feel, and lift your mood.
Whether you're rolling out the yoga mat or throwing punches, there is a workout in your stars.