The 'Big Little Lies' Women Will Make You Sentimental AF About Your Friendships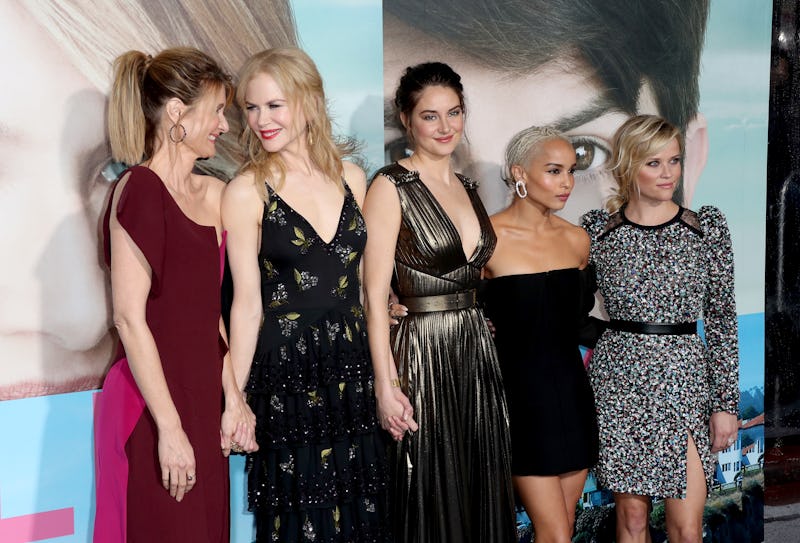 Frederick M. Brown/Getty Images Entertainment/Getty Images
The IRL friendships between the members of the Game of Thrones cast are legendary and now another hit HBO show is following suit when it comes to being squad goals. The Big Little Lies stars are friends in real life, and there is something extra about this friend group that makes them stand out: the overwhelming support they share with each other.
Big Little Lies is known for its strong female friendships, which has translated into a strong bond between the actual cast members, as well. The hit limited series features a group of women with varying personalities, strengths, and motives, and it has been praised for its portrayal of friendships between women. In an interview with Good Morning America, the cast sat down and explained the realistic and complicated representation of the female psyche and friendships on the show.
"If film has one, hopefully, gift to model, it's flawed authenticity," Laura Dern explained. "People want to believe a lie because it's easier to be hopeful, but if we get rid of shame and we remember what the truth looks like that's where you find true safety and true warmth and true friendship and family and all the things that we actually are built on."
Social media is a big way that the cast shows their love and support for each other, and Shailene Woodley took to Instagram to share her feelings about her fellow castmates in a post that is probably one of the most heartwarming things you'll read all day:
so grateful for this squad of women, each one championing the other. what are the forces that drive us to judgement? division? assumption? i reckon one is comparison. how beautiful the world would look if we used comparison as a means to celebrate one another, rather than feed us into competitive notion. i choose that world. thank you, #biglittlelies, for the opportunity to practice this. i love you all.
On the show, the five ladies have tumultuous and complicated relationships with each other, but the same thing cannot be said for their real life counterparts. In an interview with Vanity Fair, Dern dished that she and Reese Witherspoon were actually on vacation together while the show's finale was airing. On not being together with everyone for the finale Dern told VF:
"I wish everybody was together. Yesterday, we were texting with the other girls. We FaceTimed with Shailene yesterday. We all remain close, and I can't believe our very good fortune in finding each other and forming this friendship."
Witherspoon also uses her social media page as a way to express her support and admiration for her friends and co-stars. On International Women's Day earlier this year she wrote in a post on her Instagram:
Happy #InternationalWomensDay I feel so lucky to work alongside such talented, strong, fearless, inspirational women! I am so proud of each and every one of these ladies for telling stories about their life experiences and the experiences of other women. It's so important and can truly change the world...
On Sunday, Sept. 17, the gang is getting back together for the 69th annual Primetime Emmy Awards where the show and its actors are nominated for seven awards, with two members of the friend group, Nicole Kidman and Reese Witherspoon facing off in the same award category: Outstanding Lead Actress in a Limited Series or Movie. Normally, a head-to-head might spell drama, but knowing this group it would be no surprise, if Kidman or Witherspoon does win the award that one of them would go full-on Cady Heron in Mean Girls and break the statue into five pieces for the rest of the squad.