How Netflix's Grossest Show Could Give You New Perspective On Your Embarrassing Teenage Moments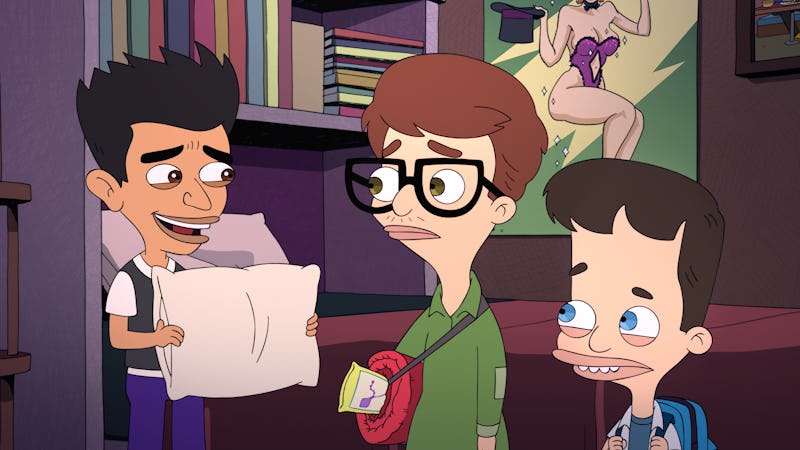 Netflix
Big Mouth is one of the most biologically graphic shows you're likely to find on Netflix. In just the first two episodes, audiences are exposed to full-frontal animated nudity, masturbation, and a variety of bodily fluids — all involving high school children. Big Mouth is uncomfortable to watch, but that is exactly what makes it worth watching, especially for anyone who is going through or still has negative feelings associated with puberty.
Nick Kroll, co-creator, writer, and star of Big Mouth, speaking with Bustle over the phone in advance of the premiere, says he is aware that the new animated series can be gross, but explains, "It is only graphic when it serves the storylines and the underlying emotions of [the characters]."
Big Mouth follows a group of teenagers in early high school as they attempt to tackle the horrific experiences of puberty, which can definitely feel bizarre and disgusting when you're in it. "The truth is," Kroll explains, "puberty is gross and grotesque and graphic and embarrassing and confusing and a major major moment in every single person's life." While puberty is a universal experience, some suspect that the show may go too far in its depiction of children coming to terms with sexuality.
Looking at the comments on the Big Mouth trailer that Netflix posted on YouTube and following #BigMouth on Twitter, you'll find people claiming that the show is inappropriate and shouldn't have the platform that it is. There's even a petition on Citizen Go calling for #NoBigMouth that, at the time of the writing of this article, has over 83,000 signatures asking for Netflix to drop the series. However, this fear of confronting or discussing puberty in an open manner is part of what inspired Kroll to tackle the subject in the first place.
"Because [puberty] seems gross or however people describe it, it becomes something that people are afraid to talk about and address. Because of that kids, feels unbelievably alone going through it," he says. Kroll the show's other writers seem to have no intention of creating something that only has shock value. "Our goal was to first and foremost make something that was really funny, but also that made people not feel alone going through this thing and having these feelings," he explains.
Kroll is aware of the criticisms that are being voiced about the show, but he sees in those criticisms the harm of suppression discussion about these topics. "The more that you create a platform where people can talk about their feelings and what they were growing or what they are going through, the less [likely that people] end up a YouTube commenter saying that this is 'grotesque pedophilia,'" he reasons.
Much of the criticism that has been directed towards Big Mouth seems to be aimed at the idea of the content and not the intention behind that content. Big Mouth is show about sexuality, but it's possibly the least-sexy thing you'll see all year. The discomfort that accompanies Big Mouth likely comes from the cultural shame associated with those early teenaged years and the messiness of trying to get through puberty.
While the content may be tough to watch at times, the show hopes to communicate a message of empathy to its viewers. "If they're going through or have recently gone through [puberty], they say, 'Yes! Yes this gives me some language and tools to sort of talk about or identify with — cause we all have, like, hormone monsters," Kroll says, referring to the furry representations of the characters' urges that hound them on the show. "My hope is that, like, if you can be like, 'My hormone monster makes me want to do this...' it sort of gives a language to talk about stuff that's really hard to talk about.
Anyone watching Big Mouth can likely relate to the characters of the show as they find themselves turning into new people, both physically and emotionally. Kroll reveals that once he had started telling people about Big Mouth, he found that people found great relief in sharing their stories of puberty. "Everybody sort of opens up [about their experiences] ... all of a sudden, it's like people have been walking around in the dark and all of the sudden someone turns a light on," he says.
By showing the most disgusting parts of puberty, Big Mouth aims to make everyone feel a little less gross about the most confusing time of their young lives. It's uncomfortable to watch, but that discomfort makes Big Mouth a hilarious, poignant, and, most importantly, relatable coming-of-age tale.