Ivanka's Maternity Plan Foe Is Her Dad's Pick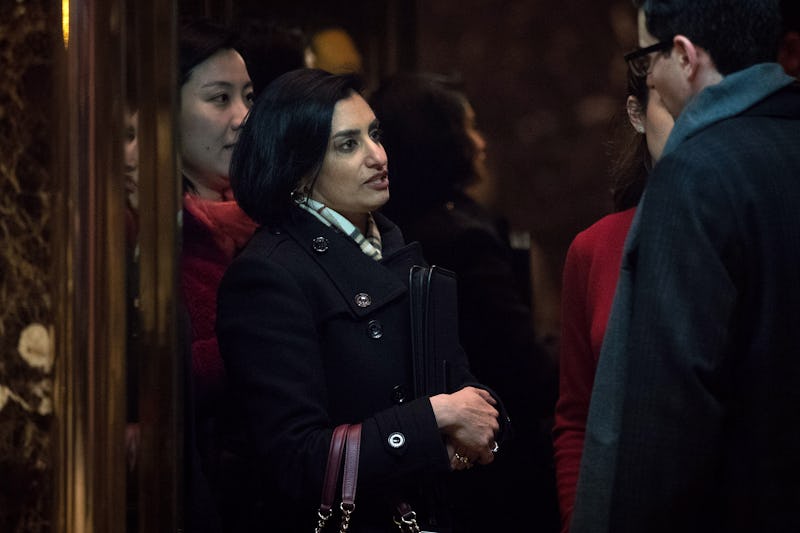 Drew Angerer/Getty Images News/Getty Images
It's hard to tell where the Trump administration stands on women's healthcare, especially maternity-related care. This past fall, Ivanka Trump helped her father roll out his maternity leave plan, which would guarantee mothers six weeks of paid maternity leave. But Donald Trump's pick to head the Centers for Medicare and Medicaid Services said in a recent confirmation hearing that insurance companies shouldn't be required to offer maternity healthcare services. It appears Seema Verma contradicted Ivanka's maternity leave goals, and with these opposing policy proposals, it's hard to figure out where the administration stands on supporting new mothers.
On Feb. 16, Verma appeared before the Senate Finance Committee for a hearing related to her nomination to run the Centers for Medicare and Medicaid Services, which as noted on its website, is in charge of the healthcare coverage of 100 million Americans. If Republicans successfully repeal Obamacare, Verma would have a large role in crafting its replacement. When pressed on the healthcare law, Verma said that insurance companies should not be forced by the government to include certain types of coverage in their plan, a stark contrast to the current system under Obamacare. For example, she said that insurers shouldn't be required to offer maternity and newborn coverage, because she said some women may not want those services.
"Some women might want maternity coverage, and some women might not want it or feel that they need it. I think it's up to women to make the decision that works best for them," Seema said.
While this seems par for the course for Republican policies, it's a tough to reconcile this move with the image the administration put forth when it announced it's plan to provide paid maternity leave to women whose employers did not offer it.
"We need working mothers to be fairly compensated for their work, and to have access to affordable, quality child care for their kids," Trump said in October during the policy announcement. But Verma's proposal is a sharp contrast with Trump's words four months ago. While her argument may sound pragmatic on the surface — people can pay for the services they need and nothing more — that's not how the insurance industry works. Prior to the implementation of the Affordable Care Act, only 12 percent of plans available to a 30-year-old woman for individual purchase offered maternity care. Pregnancy, maternity and newborn care was included as an "essential benefit" under Obamacare, meaning insurers were required to include it in their plans on the exchange.
Without that mandate, the availability of these services may significantly drop, as it was before ACA. Additionally, while women will be asked to pay extra for the uniquely female services they require, some men's services, like prostate exams, would still be included in general insurance plans, negating the argument that people shouldn't have to pay for services that don't apply to them.
The contradiction is also tough pill to swallow coming from a president whose daughter started a women's empowerment initiative called "Women Who Work," and whose Twitter bio says she is a "passionate advocate for the education and empowerment of women and girls."
"As a society we need to create policies that champion all parents, enabling the American family to thrive," Ivanka Trump said when she helped unveil the maternity leave policy. If she remains true to her words, the president's daughter and his administration pick could be headed for a maternity plan clash.