The Biggest Feminist Wins Of Election Night 2017 Will Fill You With Optimism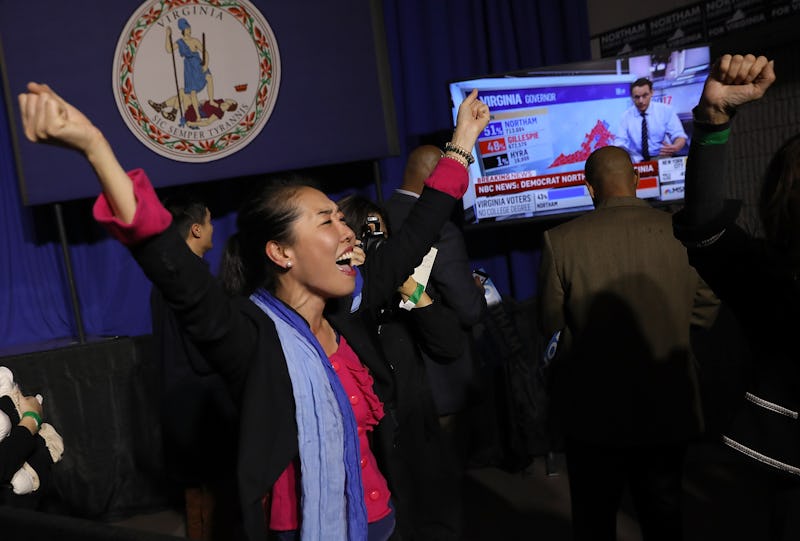 Win McNamee/Getty Images News/Getty Images
As results from Tuesday's elections rolled in, some candidates made history and others gained the opportunity to introduce much more liberal ideas into once-conservative districts. In short, it was just the kind of 2017 Election Night feminists were hoping for after witnessing numerous blows to women's rights over the past several months.
New Jersey now has a Democratic governor, while Virginia has remains in the hands of Democratic leadership. Two transgender women were elected to office. Philadelphia's new district attorney has been called "the most progressive, reform-minded District Attorney of any major city in America." According to CBS News, Democrats gained a number of seats in Virginia's House of Delegates, which has been heavily Republican, in the biggest upsets of Election Day.
President Trump has already distanced himself from his preferred candidate in the Virginia gubernatorial race, Ed Gillespie. "Ed Gillespie worked hard but did not embrace me or what I stand for," he wrote on Twitter. He also pointed out that Republicans won four out of four House seats, but it's clear that Democrats are gaining strength after these elections.
Anyone who believes in equality among all genders, ethnicities, and social and economic classes, saw a lot of big wins Tuesday night. Here are some things feminists should celebrate following Election Night 2017.
Danica Roem Breaks Barriers
Roem made history Tuesday night when she became Virginia's first openly transgender elected official, The Washington Post reported. The 33-year-old ran against Robert Marshall, 73, who referred to himself as Virginia's "chief homophobe." Roem is one of two trans women elected into office on Tuesday.
Larry Krasner Becomes District Attorney Of Philadelphia
"He immediately becomes the most progressive, reform-minded District Attorney of any major city in America," activist Shaun King wrote on Twitter after Krasner's win. The civil rights lawyer has made a career out of defending activists and suing law enforcement, according to The Atlantic.
"This was the race that many of us worked the hardest on," King wrote. "Nearly in tears over this victory."
New Jersey Has A Democratic Governor
Phil Murphy succeeded Republican Chris Christie as governor of New Jersey. He supports a lot of liberal views and wants to increase taxes for millionaires, increase the minimum wage to $15, legalize marijuana, and enforce stronger gun laws.
Andrea Jenkins Makes History
As The Advocate reported, Aisha C. Moodie-Mills, president & CEO of Victory Fund and Victory Institute, said in a statement:
Andrea Jenkins shattered a glass ceiling tonight — becoming the first out trans woman ever elected to the city council of a major U.S. city. Andrea ran on improving the lives of constituents in her ward, but the significance of her victory for the trans equality movement is undeniable. Americans are growing increasingly aware of trans equality and people, and this win will surely inspire other trans people to run for office and further inclusion in their communities.
Ralph Northam Wins In Virginia
"Tonight we proved that we're stronger when we value and fight for one another," the Democrat tweeted. "Onward to Richmond!"
The new governor of Virginia is an advocate for women's health and equal justice under the law. An exit poll showed that the two top issues for voters in Virginia were healthcare and guns, according to Connecticut Sen. Chris Murphy.
Charlotte, North Carolina, Elects Its First Black Female Mayor In History
Vi Lyles, a Democrat, trounced her Republican opponent Kenny Smith with 58 percent of the vote.
"With this opportunity you've given me, you've proven that we are a city of opportunity and inclusiveness," she told her supporters after her victory, according to The Charlotte Observer. "You've proven that a woman whose father didn't graduate from high school can become this city's first female African-American mayor."
Democratic Socialist Lee Carter Wins Unlikely Victory
Carter, who had been largely written off by the Democratic party, according to Mic, joins the Virginia House of Delegates in the 50th district. He considers himself an "unapologetic supporter of a woman's right to choose," according to his site, and would never support legislation that limits women's access to health care.
New Jersey Has Its First-Ever Sikh Mayor
Constituents in Hoboken elected Ravinder S. Bhalla on Tuesday night in a massive win for the Sikh candidate, who just a week before the election was targeted by racist ads. NJ.com reported that campaign flyers were distributed across the city showing Bhalla in his turban with the words "Don't let TERRORISM take our town" printed on it.
Bhalla, who is born and raised in Jersey, trumped five other candidates to become Hoboken's next mayor.
Two Black Lieutenant Governors Were Elected
Justin Fairfax and Sheila Oliver were elected as lieutenant governors on Tuesday night. Fairfax is a member of Planned Parenthood of Metropolitan Washington's board and has defended women's reproductive rights in the past. Oliver has vowed to invest more in affordable housing, higher education and new industries.
"Democrats are going from zero to two black lieutenant governors tonight," Washington Post reporter Dave Weigel tweeted.
Seattle Gets Its First Lesbian Mayor
Over in Seattle, Jenny Durkan claimed a highly anticipated feminist victory by becoming Seattle's first female mayor-elect in close to a century, as well as the city's first-ever lesbian mayor.
Durkan has broken barriers before: Back in 2009, Obama nominated her as U.S. attorney, which made Durkan the then-first openly gay individual to hold the position.
Even sweeter? The last mayor of Seattle, Ed Murray, had been forced to resign earlier this year after being accused of sexual abuse — giving Durken an unexpected opening.
A Utah City Gets Its First Female Mayor
One of Utah's biggest cities gained its first-ever female mayor: Michelle Kaufusi, a former member of the state's board of trustees and the city's school board.
Kaufusi told The Salt Lake Tribune Wednesday of her projected win:
[I]t will be fantastic. That will be unbelievably historically… I mean, just fantastic.
Though it's true Americans elected Trump just a year ago, Election Night 2017 might be proof that politics and ideologies are shifting — and that those who want change are acting on that desire by voting.