The Most Popular Instagram Beauty Trend of 2017 Is Just As Extra As You Expected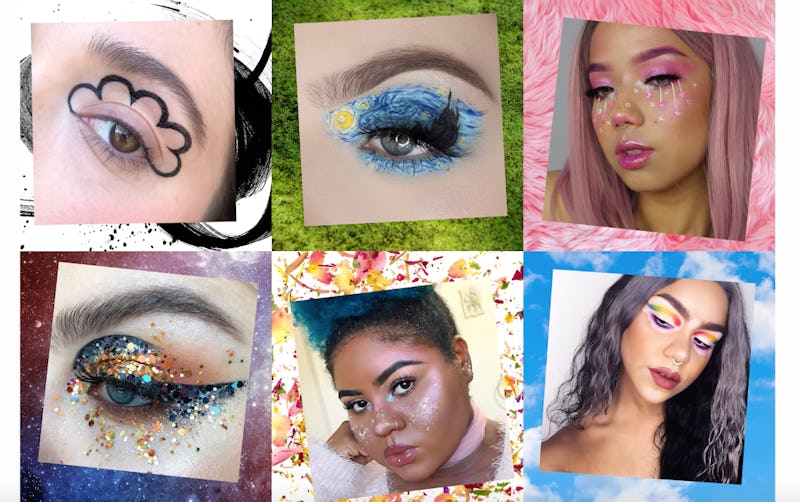 Courtesy Instagram
This year may have been a terrible year because of, well, everything, but there is one thing that can unite us all — eye makeup. Beauty trends have taken over social media this year, but there's one makeup style that completely went viral. According to Instagram, eyelid art was the biggest makeup trend of 2017 — and for a good reason. From multi-colored liner to replicating famous paintings on the lids, this trend is just as extra as you'd imagine.
There have been distinct trends this past year. Blinding highlighters continued to take off and quirky collaborations were everywhere. Heck, even unicorns came out of extinction. But eyelid art has been much more versatile. Name a trend, pop culture obsession, or color scheme and there was eye art to go along with it.
With the eyelid officially the canvas of choice for 2017, at-home and professional makeup artists took to Instagram to document their eyelid looks. According to Instagram, the eyelid creations were broken down into five themes — nature, flowers, hearts, rainbows, black and white, and cosmic galaxy. The social platform even created a gallery of designs, so you can see just how incredible this trend is.
This top trend says a lot about 2017. Unlike the highlighting trend of 2016, there is a way for everyone to embrace this year's look. Whether you like a bold lid or are just looking to create the most symmetrical wing, you can get inspired by the best eyelid creations of the year.
If you're looking for a little inspiration, allow me to help. Here are some of the most outrageous lid looks of this year. Because someone tells me that they'll be carrying over to the new year.
1. Abstract Art
Everything from the colors to the precise lines on these lids is absolutely gorgeous. If this doesn't inspire you to try your hand at color, I don't know what will.
2. Petal Lids
This makeup artist uses gold foil and real flower petals to create stunning looks. There is the occasional makeup trend thrown in as well.
3. Watercolor Wonder
From high glitter lids and watercolored designs, you can find it all on this Instagram account. The blending of colors is insane and might just inspire you to pick up a paintbrush.
4. Floral Cut Crease
The cut crease was a big deal in 2017, but this makeup artist is taking it even further. Plus all the makeup she uses all cruelty free makeup, according to her Instagram page.
5. Pop Culture Centered
Remember when I said people love pop culture? I wasn't lying. This design was created for the Stranger Things 2 release — and there are even more quirky looks from this artist.
6. Rainbow Shadow
The rainbow highlighter trend was huge this past year, but it turns out that it's just as gorgeous on the lids as well. Have you ever seen something so perfectly blended? Rhetorical questions.
7. Two-Tone Smokey Eye
Mastering a smokey eye is hard enough, but this makeup artist takes it even further with smokey liner. This look is a combination of eyeshadows, blush, and even highlighter.
8. Speckled Shine
Monochrome makeup was a major trend this year. It might be all about the lids, but matching your highlighter and lipstick to match is an added bonus.
9. Rainbows & Sequins
Some of the best looks are the ones that use unconventional items to add to the makeup look. This makeup combines tons of viral looks into one photo — sequins, cut crease, and rainbow.
10. Pastel Brows
Some of the best creations are the ones that bring the brows into the mix. I could stare at this mint-colored design all day long.
11. Length Lashes
Need a lesson in blending? This is the makeup artist does a beautiful job of making quirky colors look completely natural. Plus she loves to incorporate lengthy lashes, which is another big trend of the past year.
The year might be coming to an end, but these over-the-top makeup looks are here to stay.