The Biggest Revelation From Sessions Has Nothing To Do With Comey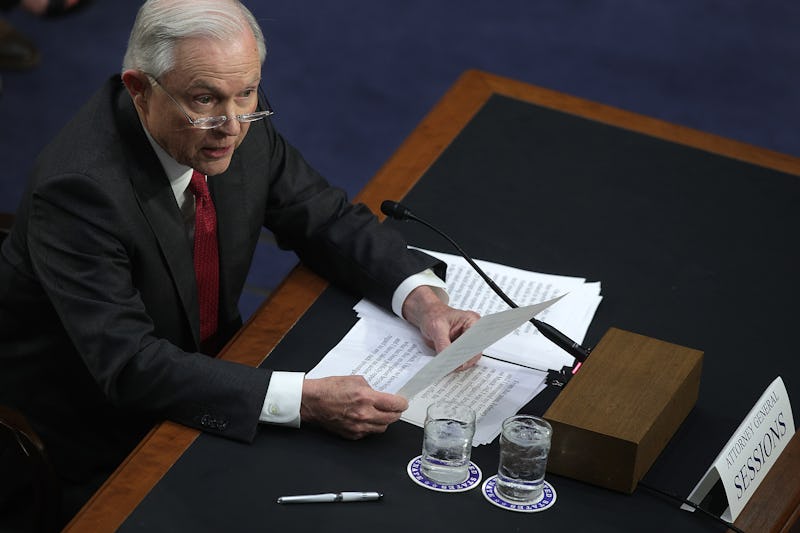 Alex Wong/Getty Images News/Getty Images
On Tuesday, Attorney General Jeff Sessions revealed before the Senate Intelligence Committee that he has never received a briefing on Russia's alleged interference in the United States' 2016 presidential election. The alleged interference has been reported by U.S. intelligence agencies since at least last October, before the election had even come to an end. Yet, it seems that the attorney general, otherwise known as the chief law enforcement officer of the federal government, has never been given — or, perhaps, has never asked for — an official rundown of the accusations.
The shocking revelation came to light when Sen. Angus King, an independent from Maine, held the floor during Tuesday's Senate Intelligence Committee hearing. King asked Sessions, "Do you believe the Russians interfered with the 2016 elections?" Sessions conceded, "It appears so," but his answer did not instill much confidence.
It appears so. The intelligence community seems to be united in that. But I have to tell you, Senator King, I know nothing but what I've read in the paper. I've never received any detail briefing on how a hacking occurred or how information was alleged to have influenced the campaign.
For his part, King seemed surprised by the revelation. He pressed the attorney general for an explanation: "After the election, before the inauguration, you never sought any information about this rather dramatic attack on our country?"
As Sessions seemed to imply in his response, he was involved with the Trump campaign when the intelligence community's consensus first became public last year. At that time, it seems to make sense that he didn't receive a briefing from the intelligence community. However, he was sworn in as attorney general in early February — and Russia's alleged involvement in the presidential election has been a hot topic of conversation — and investigation — throughout his time in office.
The investigation part of the equation may explain Sessions' admitted ignorance. Sessions recused himself from the Department of Justice's investigation into Russia's alleged connection to the Trump presidential campaign. That investigation, currently led by special counselor Robert Mueller, reportedly seeks to explore Russia's involvement in the election and any links to the Trump campaign.
Recusal or not, the revelation during Tuesday's Senate hearing seemed to trouble many social media users — and it wasn't the only troubling sound byte to come out of Sessions' testimony. After being asked "What would you have done if you'd have heard that?" and having it suggested to him he might have "headed for the exits" if he'd learned of collusion with Russia while on the campaign trail with Russia, Sessions replied, "Well, maybe." When asked later in the session to clarify the comment, he assured the senators before him that he "absolutely would have departed."
By the end of the session, the attorney general had left many questions unanswered and some Americans likely concerned.