The Bill Cosby 'New York' Magazine Cover Still Says It All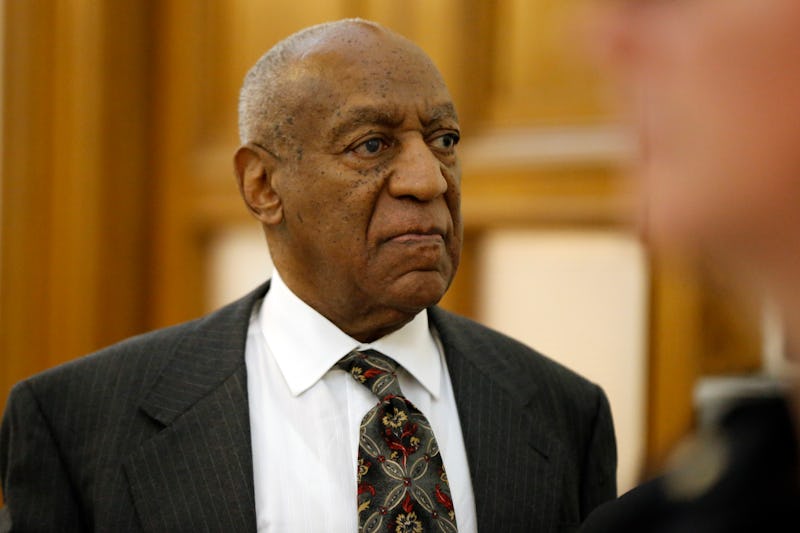 Pool/Getty Images Entertainment/Getty Images
Bill Cosby's public trial began Monday in an emotional Pennsylvania courtroom as two women shared stories of sexual assault that reportedly occurred over a decade ago. Cosby denies the allegations — but the claims from these two women are not unique. The infamous New York Magazine cover that featured 35 Cosby accusers is a powerful visual reminder that even as he faces a potential prison sentence, dozens of women may never have justice.
Over 50 women have made accusations against Cosby, including drugging and taking advantage of them, though for many, the statute of limitations prohibits their cases from ever entering a courtroom. The July 2016 issue of New York Magazine features 35 women, all from different walks of life, with one stunning singularity between them: Each of them has claimed that Cosby used his power and influence as a pop culture icon to assault and harass them.
The cover image is striking. Row after row of women stare at the camera with a look of powerful resolve, displaying the courage of deciding to come forward with allegations against the man who was once regarded as "America's dad" for his moral composure on sitcoms in the 1980s. According to many of the women, Cosby himself allegedly discouraged them from speaking about what happened, telling them, according to New York Magazine, that there was no point: no one would believe them.
Unfortunately, that seemed to be somewhat correct. Despite many of Cosby's alleged victims coming forward with their claims in the early 2000s, the news largely remained under the radar, and Cosby's reputation stayed relatively untarnished for nearly a decade. Many people simply couldn't believe that the doting father of The Bill Cosby Show could possibly be guilty of such behavior. It was this exact dismissive cultural attitude of placing a male celebrity's reputation over the emotional testimonies of multiple women that kept many of the victims silent for years.
It wasn't until comedian Hannibal Buress berated Cosby in 2014 for being a "rapist" in a skit that has since gone viral that dozens more women came forward. Suddenly, the pattern of alleged abuse became too difficult to ignore, and a damning deposition was made public, causing people's perception of Cosby to change.
The fact that it took a man's comedy skit to make people pay attention to allegations that multiple women had been making for decades has implications far beyond any individual trial. It suggests that in American society, women may not be believed when making accusations against public figures unless a man intervenes on their behalf. According to the Rape, Abuse, and Incest National Network, 99.4 percent of perpetrators of sexual assault will never go to jail or prison — and it is precisely because of the skeptical attitude we often display toward survivors that keeps them from reporting their assault.
In the Cosby case specifically, only one of his almost 60 accusers will be able to take him to trial. One accuser said that "an element of fear" kept her from coming forward about what happened for many years, and others expressed similar concerns. While a handful of women quietly settled out of court with Cosby in 2006, many women didn't come forward until recent years. By that time, the statute of limitations, which prohibits legal proceedings from being filed more than 10 years after an incident occurs, had passed.
Cosby is currently standing trial for the allegations of Andrea Constand, a former Temple University employee who claims that in 2004, Cosby invited her to his home, sedated her, and sexually violated her. Cosby claims that the sexual contact was consensual. However, he once admitted in a 2005 deposition that he often gave women that he wanted to have sex with Quaaludes, a powerful sedative that induces sleep.
Thr trial officially began on Monday, and while Cosby could potentially face a hefty fine and years behind bars for aggravated indecent assault, the dozens of women who have made similar claims against him will never have the same vindication. Their images are a powerful reminder that our society has a long way to go in listening to, and supporting, sexual assault survivors.