The Proposal Trump's Admin Is Weighing Could Separate Detained Families All Over Again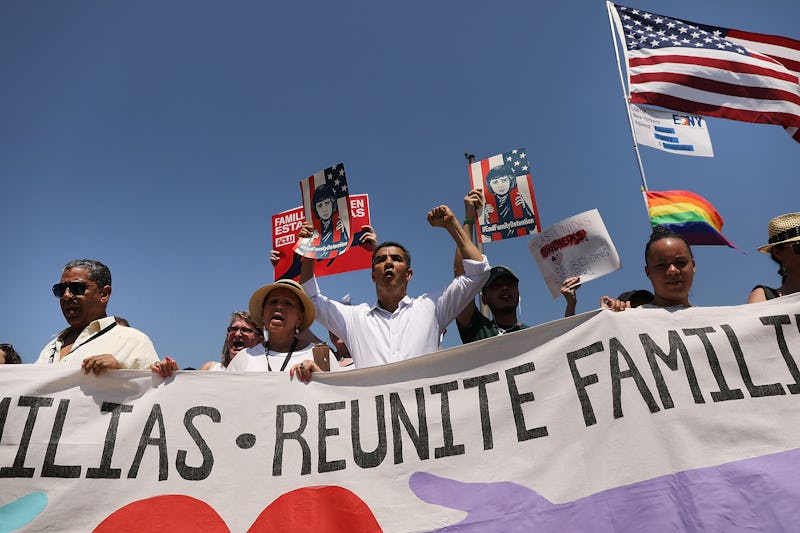 Spencer Platt/Getty Images News/Getty Images
Earlier this year, the Trump administration implemented a highly controversial family separation policy, pulling apart undocumented migrant parents and children when they crossed the U.S. border. Now, the Trump administration is weighing a "binary choice" proposal that may separate families again — but this time, separation would be presented as one of two heart-wrenching options.
As CBS reported, the binary choice proposal was initially mentioned in a federal court filing in July. However, the binary choice option is now receiving increased attention as more public details emerge about it. The Washington Post reported on Friday that the proposed program essentially involves the government initially detaining undocumented migrant families after they have crossed into the United States. Then, after some time (up to 20 days), parents would be asked to choose whether they would prefer that their children remain detained with them, potentially for years, or be released into a government shelter in order to allow other guardians or family members to take custody of them.
CNN noted that the administration has not yet made a decision about whether to implement the binary choice program, but that it is considering launching a pilot program to see how families would respond. A senior Department of Homeland Security official told the outlet that the binary choice option was being considered for two primary reasons.
First, the administration wants to discourage families from crossing the border, especially in light of recent rising numbers — and it sees the binary choice option as a deterrent. Secondly, a 1997 court settlement dictates that children can only remain in custody for up to 20 days, but the administration does not want to place a time limit on family detentions, thereby making binary choice an appealing option. Indeed, as CBS reported, the aforementioned court filing indicates that, if parents choose to keep their children with them in custody per the binary choice option, they would waive their children's right to be removed from detention after 20 days.
As The Washington Post reported, two officials from Trump administration asserted that they believe that the binary choice option has strong legal standing, particularly because of a judge's approval of the approach in the court filing. However, the paper pointed out that a Sept. 2018 report from the Congressional Research Service (CRS) found that "practical and legal barriers" remain regarding aspects of the binary choice policy. Moreover, the CRS paper also indicated that, in its view, the only legally acceptable approach to families seeking asylum is to release them prior to their day in court.
"The only clearly viable option under current law for the treatment of family units that demonstrate a credible fear of persecution is for the executive branch generally to release the families pending their removal proceedings in immigration court," the report said.
Rights advocates have also noted that they believe the binary choice option is problematic. Indeed, Human Rights First, a human rights nonprofit, tweeted about the potential policy on Oct. 12, writing:
This option — called "binary choice" — is absolutely shameful. Forcing families to choose between indefinite incarceration and family separation is no choice at all. Instead of employing effective and humane strategies, the administration wants to rain cruelty on fleeing families.
As CNN noted, it is not yet clear if the binary choice pilot program will be implemented — or how exactly it would unfold in reality. However, as the outlet reported, it seems as though the Trump administration is keen to make some decisions about immigration policy — and may soon finalize its stance on the binary choice option one way or another.