Betty Cooper Is Becoming A Whole New Person Thanks To The Black Hood's Creepy Messages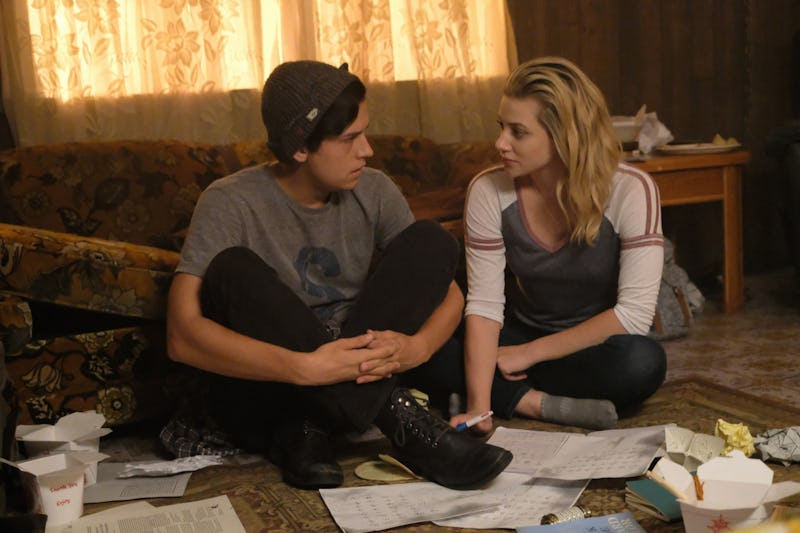 The CW
No one is safe from the Black Hood killer on Riverdale, including Betty Cooper (Lili Reinhart). She hasn't been the target of his/her murderous rage (well, not yet), but she has been the object of the wannabe serial killer's attention. So far, the creepy voice on the other end of the disturbing phone calls she's been getting from him/her have forced her to break up with her boyfriend Jughead (Cole Sprouse), isolate herself from her best friend Veronica (Camila Mendes) and publicly shame her mother Alice (Madchen Amick), under threat of killing her sister Polly (Tiera Skovbye) or even her other best friend Archie (KJ Apa).
Betty Cooper can handle a lot, but this has just been one stressor too many. Over the past six episodes of Riverdale Season 2 (airing Wednesdays at 8 p.m. on The CW), the normally put together girl-next-door has started to become unraveled, all because of the Black Hood's weird obsession with her.
"The Black Hood, like he said in his letter, was inspired by her [Season 1 finale] speech," Reinhart tells Bustle along with a small group of reporters under the bright neon lights on the Pop's set in Vancouver. "To me and the way [showrunner] Roberto [Aguirre-Sacasa] and I talked about it, the Black Hood and Betty are like The Phantom of the Opera and Christine in a way. He wants to puppeteer her in order to get the town to where he wants it to be, in a very sick and manipulative way."
Whoever is underneath that makeshift black hood wants "to expel Riverdale of its sins and he is using Betty to try and do that," Reinhart adds. He/she believes Betty is completely free of sin — and that's his first mistake. The Black Hood doesn't know about Dark Betty, her savage, no-f*cks-given attitude that comes out in bursts every so often. If he did, "he wouldn't have gone to her," she says. "I think he knows there is a darkness inside of her but maybe not to the extent that it is."
By the end of this week's episode, "Death Proof," Betty and Jughead seemed to patch things up (although she doesn't know about his makeout sesh with Toni (Vanessa Morgan)), as well as her friendship with Veronica as she was forced to find the identity of the Jingle Jangle-dealing Sugarman (who turned out to be Southside High's "anti-drugs and anti-gangs" Mr. Phillips (Robert Baker). But the Black Hood's fascination with her won't end until he's caught.
"The Black Hood puppeteering Betty affects Betty's relationship with everyone," Reinhart warns. "It completely takes over her life, her emotional state, her mental state, her mental well being. I can't say too much, but it puts her relationships in jeopardy."
And while viewers should take what the Black Hood told Betty about her inspiring him at face value, Casey Cott, who plays Betty's BFF Kevin Keller, thinks there's something more to it than that.
"What is the meaning behind any serial killers? It's bizarre," he says, sitting in front of his favorite booth on the Pop's set. "Something happened there, and as it plays out, it gets more and more bizarre and dense and layered."
Cott praises Reinhart's "amazing" work in the next few episodes as the Black Hood continues his obsession. "She plays everything so well that it's really scary," he says. "I also don't do well with scary things, so I get scared a lot. But it's very scary and bizarre, and the way she tackles it is beautifully crafted, as always."
But portraying such a dark turn for the normally poised Betty has definitely taken its toll on Reinhart this season. "Episode 5 was a lot for me," she says of filming the phone calls with the Black Hood. "It was really intense and I filmed a lot by myself. I hadn't really done that in Season 1, so it was just a different experience altogether."
In addition to delivering a haunting and compelling performance, this storyline has also given Reinhart a chance to connect with her character in ways she never imagined.
"It brought me closer to Betty; it made me feel like I got to know her better on a personal level," she says. "It wasn't Betty's interaction with anyone else, it was just focusing on her and all the different shades and sides of her and her darkness. It made me feel a lot closer to the character that I play, which is an opportunity that I don't think people get to have."
And that's why Betty has started to let her hair down — literally — this season. Reinhart made the call to have Betty wear her hair down, and not pulled tightly back into a ponytail, once the Black Hood started messing with her life.
"I was saying I wanted to have my hair down more [in] Season 2," she says. "I wanted to show Betty's emotional state through her appearance. I remember reading episode 5 and calling down and saying in the last scene when she has broken things off with everyone, I want to be in a pale sweater and I want to look completely washed out, I want to have barely any makeup on. I want to look like a hollow person."
Reinhart knew that pushing all of her loved ones away completely wrecked Betty emotionally, to the point where she felt like she had nothing left, so she shouldn't look perfectly poised like she normally does.
"I wanted her to look hollow because she is at the end, because she has no one," Reinhart says. "The Black Hood has completely ripped apart everything that she thought about who she was and made her rethink who she was. My hair changes: at first she tries to put on a facade like things are OK then progressively throughout the episode the hair comes down, it is in a low pony, then my makeup starts to dissipate as well, and added some dark under eye circles to help give that hollow look."
She had fun with that "little creative process to add to her transformation," and it has definitely paid off so far. Unlike Dark Betty, which can get almost theatrical and unbelievable at times, this traumatized and empty Betty is so gut wrenchingly real to watch onscreen. As much as everyone wants Betty to be OK, the Black Hood is bringing out some of Reinhart's best work yet, so let's keep it going all season long.