You Need To Watch This Super Ominous Trailer For 'Black Mirror's "Arkangel"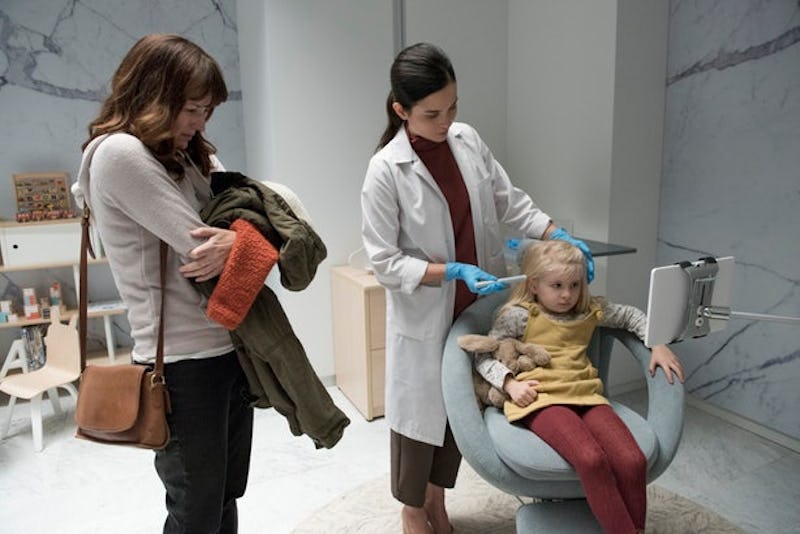 Christos Kalohoridis/Netflix
There are plenty of parents out there who go to great lengths to make sure their children are protected from danger. But how far is too far? That's a question that one of Black Mirror's Season 4 episodes will probably leave its viewers questioning, as the trailer for the Jodie Foster-directed Black Mirror episode, "Arkangel," just dropped on Saturday, Nov. 25 — and, in true Black Mirror fashion, it's just as thrilling and crazy as any fan of the show would expect it to be.
The Netflix original that only reminds you of just how horrible and hellish new technology can be has a much-anticipated fourth season hitting the platform on a date that has yet to be announced. Even though we don't know when exactly all six episodes of the forthcoming season are set to be released, it might be safe to assume that the new episodes are coming very, very soon. On Saturday, Nov. 25, as part of "13 Days of Black Mirror," Netflix released the first official trailer for one of the season's six installments. The episode, titled "Arkangel," was directed by Jodie Foster, and it focuses on a mother (played by Rosemarie DeWitt) who takes drastic measures to "control" her daughter, Sarah, after she nearly disappears during a trip to the playground one day.
The trailer shows the mother and daughter happily playing hide and go seek on the playground before the young girl briefly goes missing. DeWitt's character is eventually able to locate Sarah after frantically searching for her along with her neighbors, but the incident prompts her to enlist the help of a strange facility to make sure this doesn't happen again. It's obviously not fully explained in the trailer how exactly she goes about preventing any repeats of the incident, but what we can take away from the minute-long clip is that there's a needle and a "trial period" involved. Nothing like an experimental treatment to remind you that there's absolutely nothing that could possibly go wrong here.
Towards the end of the trailer we hear DeWitt's character refer to the procedure as being "completely safe," which is as good a sign as any that the procedure is indeed not completely safe since, for one thing, this is Black Mirror we're talking about and, for another, the character who she discusses the experiment with responds to her comment with a not-so-reassuring, "Sure, it is." The upcoming episode also boasts an equally eerie tagline that states, "The key to good parenting is control." Yeah, I'm sure we're in for a pretty wild ride with this episode.
Along with the teaser, Black Mirror's official Twitter account shared a poster for the episode with a second chilling tagline that reads, "Mother will protect you."
Before you jump to conclusions about how this will all end, let's just remember that happy endings on Black Mirror aren't unheard of. (Looking at you, "San Junipero.") Of last season's six episodes, there was only one that ended with an outlook that wasn't so bleak, but at least we got that. Maybe viewers can expect to see the same from Season 4. No? Okay.
Netflix has yet to reveal the exact release date for Season 4 of the dystopian sci-fi series, but a trailer for the new season hit the web back in August that revealed the titles for each episode. The trailer was followed a month later by stills from "Arkangel" and a Star Trek-themed episode titled "USS Callister."
While speaking to Radio Times back in April, series creator Charlie Brooker spoke on what's to come from the show's new episodes.
"When writing [the episodes] I never think any of these things are going to come true, and then it seems like some of them do, which is a bit worrisome, generally," he said.
Uh, hopefully we'll never get to the point where we can actually inject children with strange medications that'll allow for them to be controlled, because that needle in the "Arkangel" trailer is a good enough indication that things might not end too well for Sarah and her mom.