Your Fave Disney Villains Just Walked In NYFW & Evil Has Never Looked So Fierce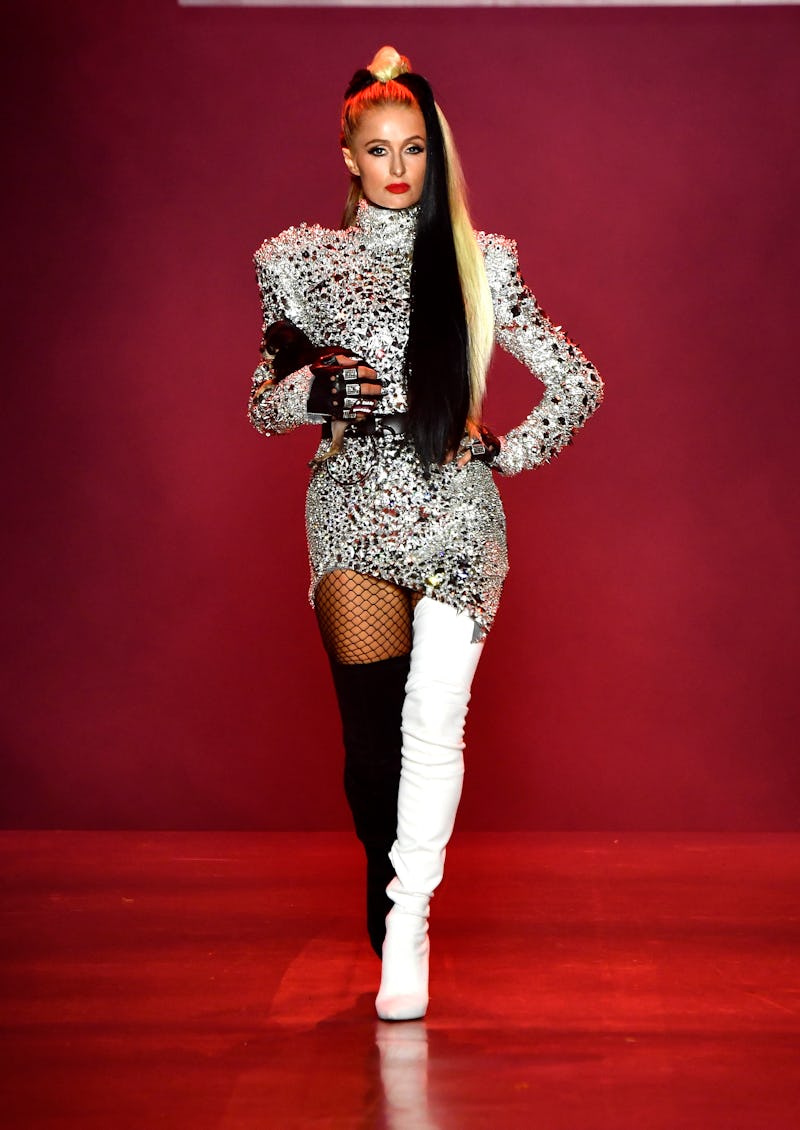 Frazer Harrison/Getty Images Entertainment/Getty Images
For anyone straddling the line between good and evil, it's becoming harder to fight off the forces from joining the the dark side. Being in the business of turning looks and stunting pretty, one fashion show in particular may now be the dealbreaker for choosing sides. In the midst photographers' snapping, models strutting and heels speedily clacking along New York's concrete walkways, Disney has (once again) made us bow down in being its loyal subjects for a night of pure evil, breaking up all the fashion week excitement with pointed crowns, sleek black tentacles and manic red hearts. Last Friday, Disney and The Blonds, a luxury fashion brand, to reveal some of the most jaw-dropping looks on the runway inspired only by the most vicious of Disney characters.
In collaboration with Disney Villains, The Blonds presented their SS'19 collection on Friday that will have you clutching your crown. Inspired by the tales of Cruella De Vil, Maleficent, Evil Queen, the Queen of Hearts, Dr. Facillier, Ursula and her dark eel minions Flotsam and Jetsam, The Blonds revealed several looks that screamed evil step sibling.
While the ensembles showed signs of world domination, some famous familiar faces brought the characters to life, slaying evil in its most chic form.
Paris Hilton dressed like Cruella De Vil, wearing a silver sequin turtleneck body con dress with a set of mismatched thigh high boots to complete the De Vil vibe.
In addition, beauty guru and YouTuber Patrick Starrr repped evil sea witch Ursula, rocking an all black jumpsuit with purple feathery tentacles. Also, we can't forget to mention Pat's head piece that complemented the social media a star's iconic look.
Although from head to toe the Disney-inspired outfits wreak of an upcoming takeover, the manis on each model is quite literally a work of art and were no quick fix. The Blonds sought out help from CND's intricate nail work for these evil queens to claw their way to dominating the runway.
"Craftsmanship alone was 300 focused hours of sculpting, designing, and detailing all the nails," Jan Arnold, co-founder and style director of CND told ELLE. In total, the project took approximately 500 hours from start to finish, which seems fitting for Disney's fiercest.
To make these queens seem even more ferocious the work that went into the meanest manicures might even make you cringe. According to Elle, Ursula's gel tentacles have the ability to light up, Cruela De Vil is carrying red Swarovski crystals on her hands while daggers and glass shards are embedded into the Queen of Heart's digits.
Like seriously, who could sit for 500 hours to get their hands did for a fashion show? Well, maybe not the average princess, but if they looked even remotely like any of these, maybe we could spare the time.
No matter how hard you may steer clear from all things evil, there's no denying that The Blonds make baddies look really really good.