There Was A Literal Dog Protest Against Animal Testing In Front Of The UN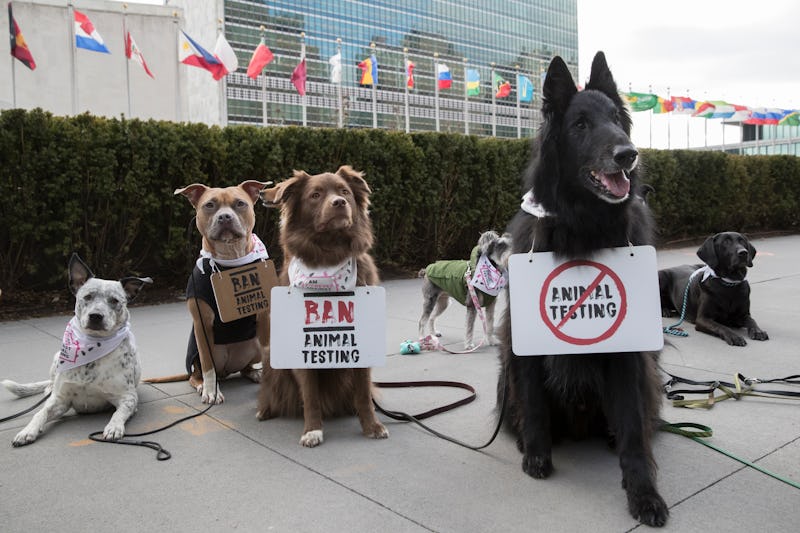 Andrew Kelly/AP Images for the Body Shop
This protest is for the dogs — literally. It's fairly common for conscious beauty brands to speak out against animal testing and to lobby for their industry to become cruelty-free. But The Body Shop just took things a step further. The Body Shop and Cruelty Free International, a leading organization working to end animal experiments, are challenging the United Nations to end the practice of animal testing for good. The companies staged a brilliant joint protest where actual dogs participated. Yes, the puppies were protesting.
The first-ever canine-assisted protest was held outside the UN headquarters in New York City on Jan. 24. The event served to assert that animal testing is an outdated and cruel practice that harms up to 500,000 animals per year.
Eight dogs from a variety of breeds and sizes joined the organizations for this portion of the ongoing Forever Against Animal Testing campaign. The dogs took to the streets with protest signs, bandanas, and miniature banners.
TheDogist, the infamous pet photographer with three million Instagram followers, joined The Body Shop, Cruelty Free International, and the pups. So did @louboutinanyc, the hugging Golden Retriever and Insta pet influencer.
Elias Friedman of TheDogist told Bustle via email, "The protesting dogs represent all animals and remind us why animal testing in cosmetics should be banned once and for all."
If anything can demonstrate just how incredibly awful animal testing is, it's living, breathing, and utterly adorable creatures themselves. Hopefully, the participating pups were able to effectively hammer home the point that animal testing is unacceptable.
It's also worth nothing that the dog photos were taken with professional dog training and veterinary support. An excellent standard of care was provided for participating animals. Rational Animal and Cruelty Free International were consulted to ensure the protest was carried out in a way that did not distress the animals.
While the real, live pups should be enough to get the public to pay attention to the anti-animal testing initiative, chew on this: The Body Shop reports that 80 percent of countries worldwide still don't have any laws in place banning cosmetic animal testing.
If that stat shocks and angers you, you can sign the global petition created by The Body Shop and Cruelty Free International that seeks to eradicate the practice. The petition garnered 4.1 million signatures over the course of six months. It is considered the biggest ever against cosmetic animal testing.
Once the petition grabs eight million signatures, The Body Shop and Cruelty Free International will present it to the United Nations. The organizations met with UN officials earlier this month to begin conversations on how to curb animal testing globally.
Hopefully puppy protesters knocking on the door of the UN Headquarters will drive the point home, too.