The Boy Scouts Have Finally Apologized For Trump's Hyper-Political Speech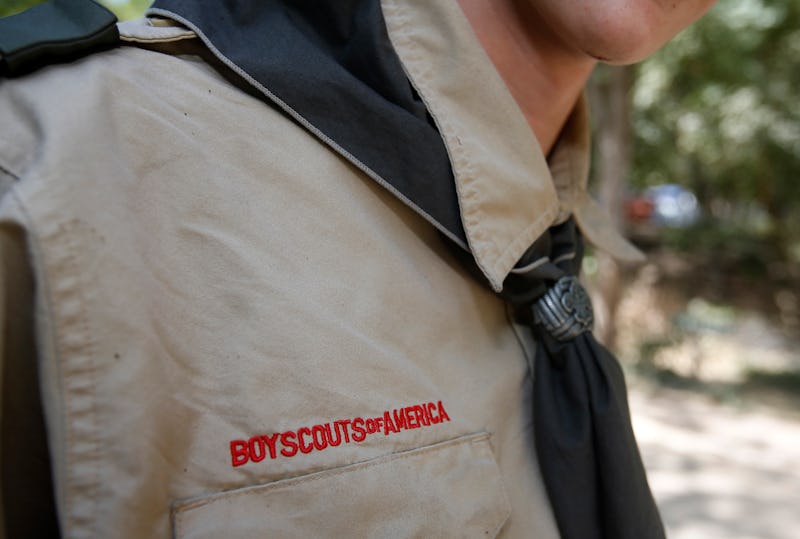 George Frey/Getty Images News/Getty Images
On Monday, Donald Trump delivered a speech at the annual Boy Scout Jamboree. The address took place in West Virginia where Trump discussed an array of issues, with an emphasis on winning the Electoral College last year. Trump also joked about not wanting to discuss politics. In a quip that elicited a thunderous roar from the audience, Trump said, "Who the hell wants to speak about politics when I'm in front of the Boy Scouts?" Nonetheless, his address became so political that the chief scout executive for Boy Scouts of America apologized for Trump's speech.
Michael Surbaugh, the head of the Boy Scouts of America, issued a statement concerning the possibility that some may have felt alienated by Trump's rhetoric that day. Surbaugh clarified that the speech delivered by Trump was not endorsed by the Boy Scouts organization. In the statement, he wrote, "I want to extend my sincere apologies to those in our Scouting family who were offended by the political rhetoric that was inserted into the jamboree. That was never our intent."
He went on to say:
It is in no way an endorsement of any person, party or policies. For years, people have called upon us to take a position on political issues, and we have steadfastly remained non-partisan and refused to comment on political matters. We sincerely regret that politics were inserted into the Scouting program.
Surbaugh's statement also mentioned the "challenging time" in the country when it came down to politics but he said the "focus of Scouting remains the same today as every day." The statement went on to place weight on good character traits. "Trustworthiness, loyalty, kindness and bravery are just a few of the admirable traits Scouts aspire to develop – in fact, they make up the Scout Oath and Scout Law," said Surbaugh.
Reporters took note of some of Trump's more peculiar statements during the speech at the annual Boy Scout Jamboree. In one instance, Trump asked the crowd, "By the way, just a question, did President Obama ever come to a jamboree?" Such a question at such an event, even if harmlessly inquired, can be interpreted as politically-charged by some observers.
Further addressing any apprehension from members of the organization, Surbaugh went on to highlight the need to remain together in his statement. Ending his statement on a note of unity, Surbaugh said, "In a time when differences seem to separate our country, we hope the true spirit of Scouting will empower our next generation of leaders to bring people together to do good in the world."