The Boy Scouts Have Officially Changed Their Name & Are Welcoming Girls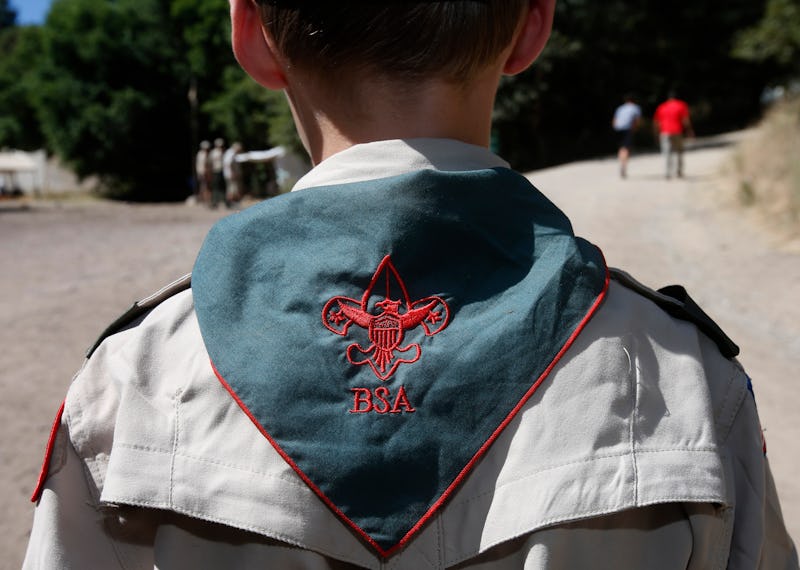 George Frey/Getty Images News/Getty Images
Girls can now officially be Boy Scouts. The Boy Scouts of America officially welcomed girls between the ages of 11 and 17 to join its older youth program Friday, following a major change that will see the Boy Scouts program renamed Scouts BSA. Under the change, girls will also now be able to strive for the organization's Eagle Scout ranking.
"I could not be more excited for what this means for the next generation of leaders in our nation," chief scout executive of Boy Scouts of America Michael B. Surbaugh said in a statement. "Through Scouts BSA, more young people than ever before – young women and men – will get to experience the benefits of camaraderie, confidence, resilience, trustworthiness, courage, and kindness through a time-tested program that has been proven to build character and leadership."
In a press release, the organization said it had decided to welcome girls in its older youth program at "the requests of families who, for years, have sought these opportunities for every member of their family." Girls have been welcomed to participate in the organization's Cub Scout program, which caters to children between the ages of 7 to 10, since the beginning of 2018. More than 77,000 girls are reported to have joined the Cub Scout ranks since then, according to CNN.
According to NPR, girls who join the newly-renamed Scouts BSA program will form all-girl troops that operate separate from all-boys troops. Laurel Highlands Council Scouting Executive and CEO Sharon Moulds told NPR the organization had no plans to ever introduce co-ed troops.
"There are girl troops and there are boy troops," she said. "Generally what people are concerned about is they think they're going to merge together ... that's never going to happen." On Friday, hundreds of girls across the country joined the Scout BSA ranks.
But not everyone has welcomed The Boy Scouts of America's move toward inclusion. According to BuzzFeed News, in 2017, the Girl Scouts accused the Boy Scouts of America of attempting to undermine them with what Girl Scouts President Kathy Hopinkah Hannan called a "covert campaign to recruit girls."
The Girl Scouts moved to sue the Boy Scouts of America in 2018, The New York Times has reported. In their lawsuit they alleged that the Boy Scouts of America had infringed upon the Girl Scouts' trademark, engaged in unfair competition, and caused "an extraordinary level of confusion among the public."
At the time, the Girl Scouts told The Times that the organization was doing "what any brand, company, corporation or organization would do to protect its intellectual property, the value of its brand in the marketplace and to defend its good name." According to CNN, that lawsuit is continuing to move forward.
On Friday, the Girl Scouts told CNN that Boy Scouts of America's move to welcome girls into its programs "does not change the position of Girl Scouts of the USA or our mission to serve girls, and girls only, and to foster their amazing leadership potential." Rather the organization said it remained "steadfast in our knowledge that Girl Scouts is the world's single best leadership development program for girls."