There's A Job Opening At The British Royal Family's Foundation & It Involves Social Media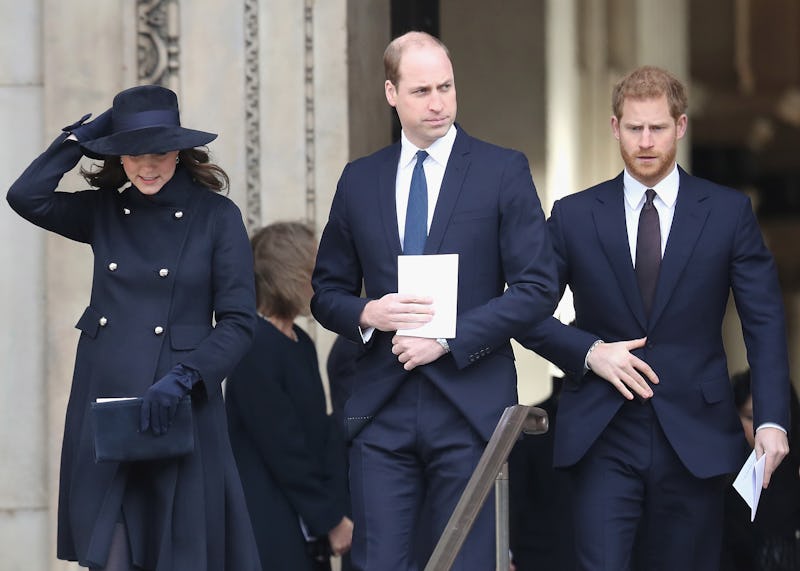 Chris Jackson/Getty Images News/Getty Images
If you'd like to get in with the British royals but don't have any royal blood of your own — or, alternatively, if you're just looking for a job in social media — you may be in luck, because there seems to be a social media job available with the British Royal Family. Marie Claire's Anna Duff found a LinkedIn listing that's been up since Friday, a nonprofit started by Prince Harry and Prince William is looking for "a Digital Officer with experience in social media community management and content delivery" to help grow its charitable ventures.
The Royal Foundation of the Duke and Duchess of Cambridge and Prince Harry was founded in 2009 by the two sibling princes to advance their philanthropic activities. It became "fully operational" two years later, according to the foundation's website; by that point, Kate Middleton, the Duchess of Cambridge, had signed on as a patron as well.
According to the LinkedIn listing, the foundation is looking to hire someone to work help out with digital outreach for Heads Together, an initiative to expand mental health services in the U.K.; Coach Core, a program that trains adolescents who aspire to be coaches; and United Wildlife, an umbrella group aimed at coordinating group efforts between various environmental charities.
"The Royal Foundation is a high profile organisation and the successful candidate will appreciate the importance of discretion and confidentiality and have a mature and professional approach," the listing reads. "Due to the nature of the foundation and the way we work, the Digital Officer will need to be flexible in the content they work on."
All in all, the listing looks like an rather ordinary social media job, albeit with an extraordinary employer. The qualifications will look familiar to anyone who's sought a position in digital outreach: Candidates for the royal job opening must have "experience working in a fast paced, online focused organisation and environment," be comfortable "using Content Management Systems (CMS) such as WordPress," and have "strong and demonstrable social media campaign experience."
"The work of the Foundation has grown considerably over the past year and will continue to do so for the foreseeable future," the job description reads. "The Foundation has proven that its model is effective and we are in the process of building up the organisation to reflect the scale of our ambitions and to ensure that we are properly resourced to deliver the impact we aspire to achieve."
The Foundation oversees a wide variety of initiatives in addition to the three mentioned in the job listing. Cyberbullying, youth violence, and addiction are but a few of the many causes the organization's various groups are tackling. The Foundation has initiatives devoted to providing everything from palliative care — that is, support for families of children with fatal life-threatening conditions — to outdoor education opportunities for children. Other projects under the Foundation's umbrella include Hiring Our Heroes, which attempts to find jobs for unemployed veterans, and Secondary School Education in Uganda, which provides funding for, well, exactly what the name implies.
If you're still a fan of the royal family but don't feel qualified to serve as a Digital Officer, fear not: The Foundation is also seeking a Head of Database, Research and Knowledge.
"Are you looking for a fantastic opportunity, to work in a vibrant environment supporting causes that really matter?" that separate job listing reads. "Are you looking for the next stage in your career were you are required to think outside the box and contribute to managing change, by supporting the expansion of an already thriving organisation? If yes, your next position should be at The Royal Foundation."
It probably won't have any trouble attracting applicants.