The Flash Floods & Wildfires In California Are More Connected Than You Might Realize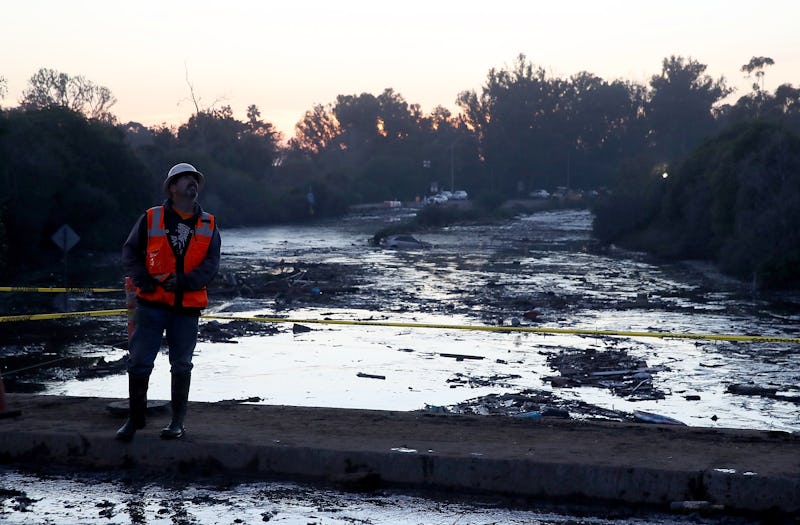 Justin Sullivan/Getty Images News/Getty Images
Following a month filled with some of the deadliest natural devastation in the state's history, there are now reports of flooding in the area where the Camp Fire was just weeks ago. The cycle of flash floods and wildfires in California may seem like the end of days— but they aren't just some freak coincidence. Rather, they're indicative of an incredibly deadly cycle that happens almost every year on the west coast, largely because of how dry the landscape is. And the worst part is that climate change is only making this cycle even worse.
The Associated Press reported there are severe flash floods across some areas that were scarred by the Camp Fire. And there's a reason for that: When wildfires ravage an area, they essentially suck up all of the moisture out of the land, and the dirt becomes so dry and brittle that it can't absorb rainfall as easily as usual. Then, when heavy amounts of rainfall descend upon an area that dry (as they did this week), the precipitation runs over the burned area instead of absorbing into it. After that, it forms streams that can become incredibly forceful.
Some unlucky California residents are being forced to leave the area all over again. The Associated Press reports that over a dozen homes in Chico have been evacuated from the floods so far.
On Thursday afternoon, between 1-2 inches of rain fell in the Chico and Paradise areas, which were particularly slammed by the Camp Fire just weeks before. What's more, over the last eight days, a total of 10 inches of rain have fallen across California, over-saturating the ground. CNN reports that this rainfall has already flooded roads, stranded motorists, and closed two highways. It has also caused "debris flow" made of rock, mud, vegetation, and other loose materials.
That's another incredibly dangerous symptom of wildfires and flash floods: They both increase the risk of mudslides, which can cause huge rocks to fall off of hillsides and can be just as deadly as flooding.
In Southern California, Cal Fire of Riverside County actually issued evacuation orders on Thursday for communities that were affected by the Holy Fire earlier this year. It tweeted, "We cannot stress enough the importance of heeding all warnings and road closures during this rain event!"
It also attached a time lapse video of rainwater accumulating and rushing through burn scars in several canyons — Leach Canyon, Coldwater Canyon, and McVicker Canyon — all on Thursday morning. LA County Fire Department Capt. Brian Jordan said of the current situation in Southern California, "With this rain coming in, we have a lot of steep hillsides, rocks that came down the hills a few days ago when we had a little bit of rain. We don't know what's going to happen today, but we want everybody to be prepared."
If you live in an area that was affected by the wildfires, you should keep an eye on local weather alerts the same way you did with the fires. Definitely obey any and all evacuation orders, and be careful when driving through canyons or roads lined with rocky hillsides.