These Are The Victims Of The Capital Gazette Shooting, As Remembered By Their Loved Ones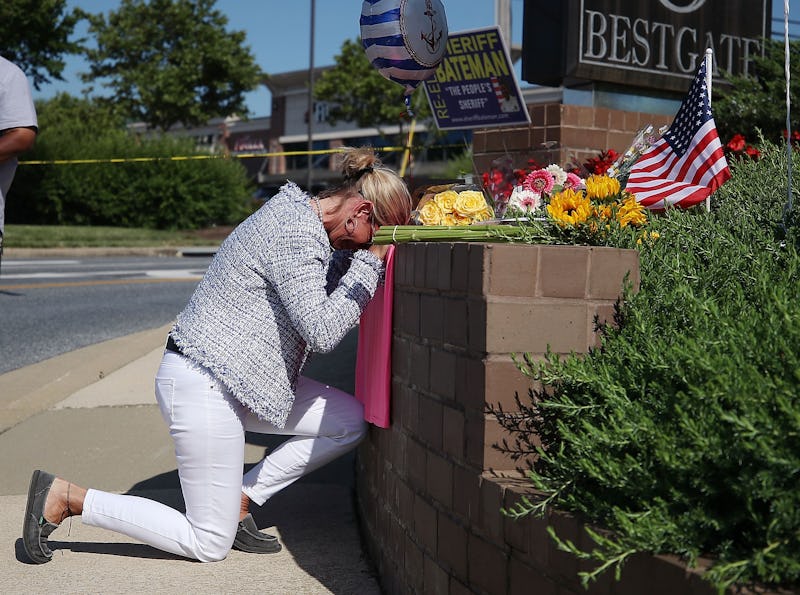 Mark Wilson/Getty Images News/Getty Images
A man wielding a shotgun killed five people Thursday, attacking staff at Annapolis-based newspaper the Capital Gazette. Despite the horrific violence, the paper went to print on Friday, and included touching profiles of each of the five Capital Gazette shooting victims lost from its newsroom.
That the Capital Gazette's surviving employees were able to put out Friday's issue was hailed by many journalists as moving proof of their dedication to their colleagues, and a commendable demonstration of a shared belief in the value of community-centered local journalism.
While the paper's homepage was filled with news about the shooting, editors chose to leave their opinion pages empty. A simple statement — "Today, we are speechless" — appeared in the bottom half of the blank page. It was followed by: "This page is intentionally left blank today to commemorate victims of Thursday's shooting at our offices." The five names of the victims were also listed.
The suspect in Thursday's shooting has been arrested and charged with five counts of first-degree murder. And it seems he had a past with the Capital Gazette. The paper ran a column in 2011 about the shooter's harassment of a former high school classmate, for which he tried to sue, but the court sided with the newspaper. The man allegedly attacked the newspaper anyway, despite the original column's author and editor no longer working there.
Here are the five victims of Thursday's shooting: