The Cast Of 'Big Little Lies' Straight Up Stunned At The 2017 Emmys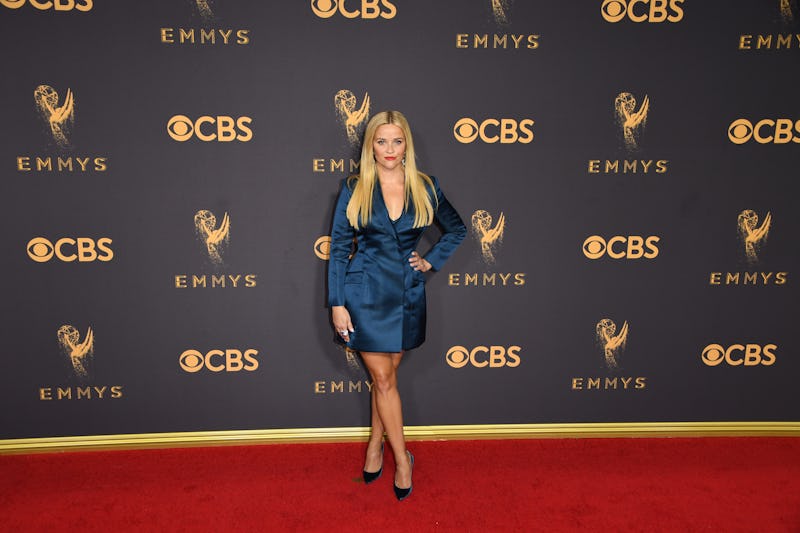 MARK RALSTON/AFP/Getty Images
The A-list cast of the HBO mini-series Little Big Lies truly brought it at the 2017 Emmys red carpet because of course they did. It was a big night for the critically and commercially adored show, which garnered a whopping 16 nominations and has fans wishing, hoping, and bartering with a variety of deities for a second season. Therefore, the Big Little Lies cast, which featured Hollywood powerhouses Nicole Kidman, Reese Witherspoon, Shailene Woodley, Zoe Kravitz, and Laura Dern, was at its sartorial best.
Most of the main cast members opted for jewel-toned ensembles that were as different as they were eye-catching.
Let's start with Kidman, Witherspoon, and Dern, who were interviewed as a unified trio on the red carpet. Since the lives of their characters intersected in an intense and emotional labyrinth, it made sense for the three of them to appear before the media and fans as a unit.
Kidman, who often struts down red carpets in figure-hugging gowns that highlight her height, didn't disappoint. She wore a ruby red gown in a tea length with a keyhole-like bodice and a silver accoutrement. It was fitted at the waist and flared out in a vintage, '50s-inspired silhouette.
The dress was classic Kidman, in the best way.
Her hair was a stunning, strawberry blonde hue and she wore it swept off her face in an updo. But did anyone else notice that her shoes were slightly mismatched, with one heel featuring a bejeweled strapped while the other ... didn't?
Call it a new asymmetrical shoe trend.
Witherspoon, whose deep purple Nina Ricci gown from the 2007 Oscars was her best red carpet look ever, in my opinion, wore a bright blue blazer dress. The square and serious shape of the shoulders was effectively balanced by the jewel tone.
Plus, the length showed off legs for days, adding a dose of sexy to the structure of the dress.
Her blonde locks were mega long, center-parted, and stick straight, harking back to her Legally Blonde days. Witherspoon also opted to go with a statement red lip. Let's just say she didn't shy away from pops of color at this ceremony.
Dern, who also enjoys a model's height, went with a laser cut-like black and silver dress with a feathered bottom for her 2017 Emmys ensemble. Her hair fell in loose waves, which were an excellent contrast to the sparkle of her frock.
Kravitz, who has absolutely perfected boho chic and certainly inherited a keen sense of style from her rock star father Lenny Kravitz, brought her usual glam to the Emmys. She wore a Dior dress in black and rainbow hues that was certainly a bold look.
Kravitz labeled her dress "magical" and it surely was just that. It mixed a black tank top with a shredded, multi-colored, and delightfully fluffy bottom in yellow, orange, pink, and more.
Her hair was pixie short, while her makeup was soft, natural, and stunning. It was a typical Zoe Kravitz red carpet moment and by "typical," we mean gorgeous.
And, finally, Woodley was breathtaking in a floor-skimming, emerald green velvet dress with a deep-dipping V in the front and criss-crossed straps in the back. She wore her buttery blonde locks in a low ponytail at the nape of her neck, with two long, messy pieces framing her face. Her undone updo was a fun complement to her crazy sexy dress. That deep green looks immaculate on her.
It's really hard to pick a favorite look among the Big Little Lies cast, since each and every actor was having a red carpet moment that was decidedly unique. And who isn't for a woman making a show-stopping fashion statement of her own?