Why The 'Celebrity Big Brother' Schedule Is Such A Giant Commitment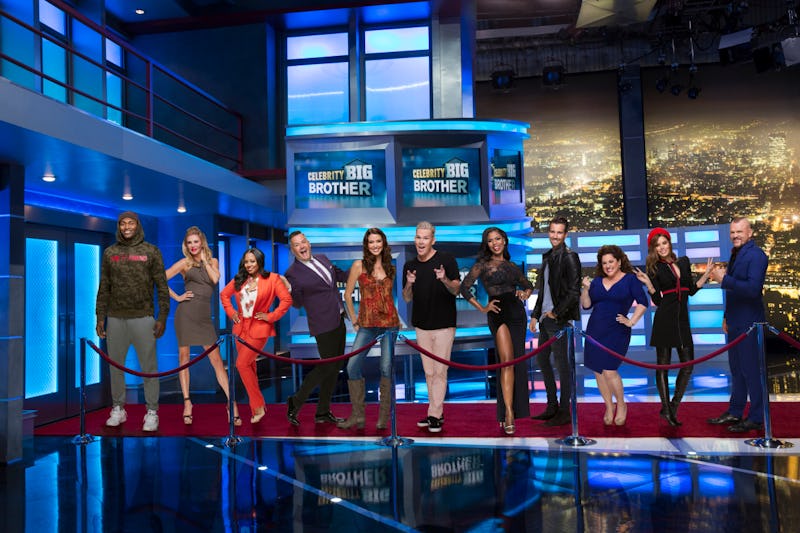 Cliff Lipson/CBS
Celebrities aren't the only new addition being added to the Big Brother (executive producer: Allison Grodner) formula. The long-running reality series is airing its first-ever celebrity season throughout the month of February. While most seasons of Big Brother take place over the course of an entire summer, Celebrity Big Brother is packing all of that excitement into just one month. Most Big Brother seasons already have a pretty extensive schedule — airing three times a week — but the Celebrity Big Brother schedule is stepping it up by airing 13 new episodes of CBB in just 18 days. The season premiered on Feb. 7 and ends on Sunday, Feb. 25, and most of the days in between will feature a new episode of CBB, always at 8:00 p.m. ET.
While the extensive airing schedule has been revealed, what Big Brother fans have yet to learn is what structure the spinoff series will be adapting. When the usual Big Brother season airs, fans can always expect the Sunday episodes to feature a new Head of Household, the Wednesday episodes to feature a Power of Veto competition, and Thursday episodes will feature an eviction and the beginning of a new Head of Household competition. While occasional extra episodes pop up, the structure of Big Brother has proven to be fairly consistent. On Celebrity Big Brother, however, the whole game could change.
The season begins with what celebrity houseguest Omarosa Manigault-Newman of The Apprentice fame calls a "3 night premiere." The series will air episodes on the Thursday and Friday after it premiers, and, for the following two weeks, it moves to a pretty consistent four-night a week schedule. For the two full weeks following the three-night premiere, Celebrity Big Brother will be airing new episodes on Sunday, Monday, Wednesday, and Friday. It may seem like a lot, but in reality it's only one more hour per week than Big Brother fans are used to.
The season of Celebrity Big Brother will close with episodes on Saturday the 24 and Sunday the 25 of February, ending the season less than three weeks after it starts. While the season is tightly packed, host Julie Chen revealed to TV Guide that there was a good reason for having such a frequent airing schedule — The Olympics. Chen joked that "[The Olympics are] the only reason why we considered putting on Celebrity Big Brother. It's like alternate programming, you know!"
While the packed schedule may be exciting to Big Brother fans, the heightened broadcast schedule may provide some obstacles. Usual Big Brother seasons take place over the course of months, which results in some interesting drama as houseguests spend weeks at a time removed from the outside world. Chen herself expressed to TVGuide that she wasn't sure how the shortened schedule would play out. "I have no idea how this is going to go, how only being two-and-a-half weeks is going to be more of a pressure cooker," she said. "It's anyone's guess how ugly it might get in there."
While the airing schedule for Celebrity Big Brother is fairly intense, the show promises to still deliver all the surprising twists and turns that Big Brother fans have come to expect, just with more familiar faces. Chen told TV Guide that if this season is successful, fans can expect more seasons of Celebrity Big Brother. "We're not expecting to even come close to the Olympics, but we are looking to see if we can do better than what we've done in years past opposite the Olympics. And if it does better, then why not try it again?"
If the show proves successful, Celebrity Big Brother could become the reality TV fan's answer to the Olympics, returning every two years with a intensive schedule. The month of February 2018 will have a lot of Big Brother content, but thankfully there's no such thing as too much Big Brother.