The KKK Was Met By More Than A Thousand Protesters In Charlottesville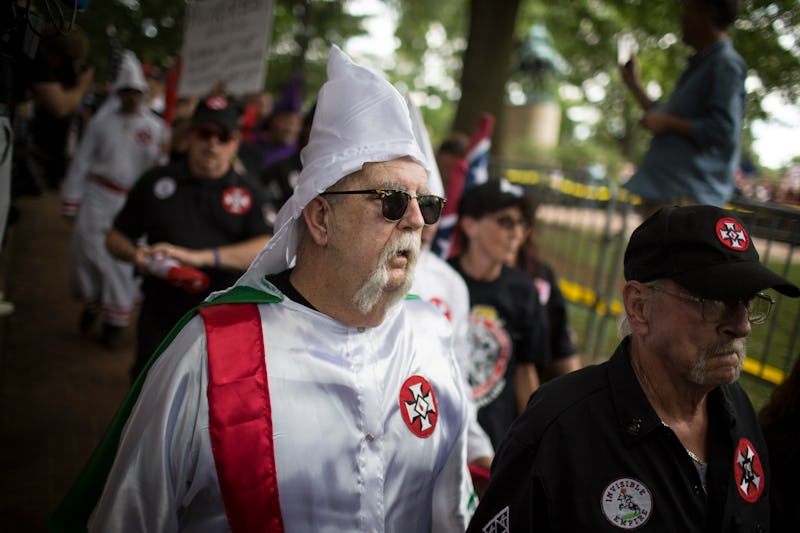 Chet Strange/Getty Images News/Getty Images
On Saturday, July 8, members of the Ku Klux Klan descended on Charlottesville, Virginia to protest the tearing-down of a statue of Confederate general Robert E. Lee. But as photos from the KKK Charlottesville rally showed, America's most historically infamous white supremacist organization is determined to keep such monuments firmly in the public square.
Amid a string of recent removals of Civil War-era Confederate monuments across the South, the city of Charlottesville decided to remove the statue, opting to pull a memorial to the leader of an armed rebellion against the Union ― in defense of slavery and racism, no less ― out of a public space.
The leader of the South's armed forces during the Civil War, Lee was as instrumental as anyone in leading a military uprising against the Northern States, fought explicitly to protect the institution of slavery. As such, his likeness ― as well as other leaders of the Confederacy ― being memorialized in monuments throughout the former Confederate states is hugely controversial, as well as alienating to many black Americans who've spoken out on the subject.
This is not, needless to say, how the Ku Klux Klan feels about monuments honoring the South's side of the Civil War. First rising to prominence in the post-war Reconstruction era, and steeped in virulent anti-black racism, the KKK murdered, lynched, systematically oppressed, and terrorized black people for roughly a century.
And while the modern iteration might not loom quite as large as it once did, some of its members are still willing to show themselves in public, even though the turnout was pretty anemic compared to the counter-protests. Here are some photos from the Charlottesville rally that are making their way through social media right now, both of the KKK, and the many counter-protesters who turned out in response.
1.
2.
3.
4.
5.
6.
7.
8.
As the images lay bare, there didn't look to be that many KKK members, especially not as compared to the number of counter-protesters rebuking the white supremacist demonstration. Some reports pegged the number of klansmen at about 40, with The Washington Post reporting "about two dozen" were escorted to the protest site by police. Some counter-protesters, on the other hand, were reportedly arrested for trying to block the KKK's rally.
By way of contrast, Charlottesville city officials reported more than 1,000 anti-racist counter-protesters in attendance, as well as more than 100 police officers, and about 50 KKK demonstrators.