The 'Chilling Adventures Of Sabrina' Release Date Comes Right In Time For Halloween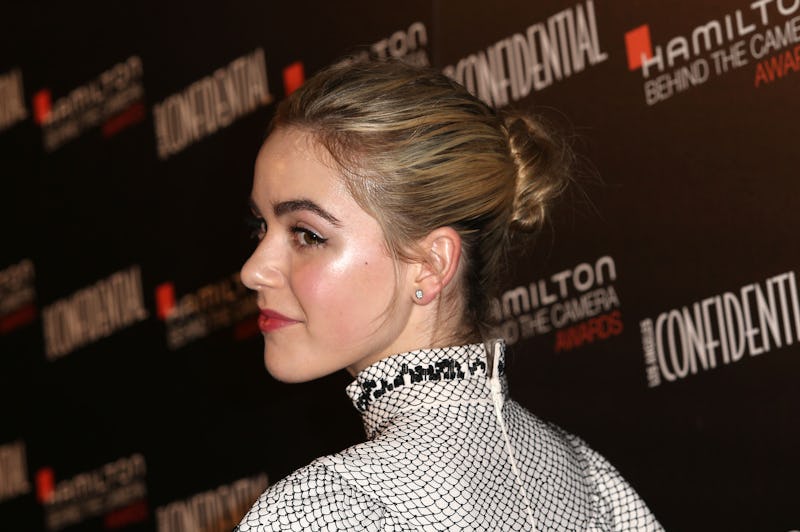 Frederick M. Brown/Getty Images Entertainment/Getty Images
Sabrina is back, but her return comes with a little less laughter this time. The teenage witch is getting a reboot on Netflix as the Chilling Adventures of Sabrina, with a release date that'll be here just in time for the holiday most welcoming of her darker adaptation.
Many grew up watching Sabrina (and her awkwardly-robotic but zinger-heavy cat Salem) on ABC's lighthearted TGIF lineup, but those reminiscing over those lovably cheesy moments might be left wanting: the blonde witch this time around will be grappling with horror on top of those high school jinxes. The Netflix run will hold 10 episodes and premiere on October 26.
The date was announced on Sunday during the TCA Summer Press Tour, according to Deadline. Chilling Adventures of Sabrina features Kiernan Shipka as the eponymous character, and the series will see her through a lot of hair-raising situations. The first season follows Sabrina's origin in a coming-of-age narrative that includes the occult and witchcraft, according to Deadline, and it will, predictably, see her struggling to negotiate her dual identity in which she explores her half-witch and half-mortal sides. And of course, she'll be doing all this while battling wicked creatures that try to harm her and the human world.
On Twitter, the showrunner Roberto Aguirre-Sacasa, who also wrote the Sabrina comics and produces Riverdale, has been dropping sneak peeks in the months leading up to the premiere, throwing up a Brady Bunch composite this last Friday the 13th. It's no coincidence that Shipka looks eerily like Melissa Joan Hart.
But as evil as these forces vow to be, it seems they'll find a worthy opponent in "an empowered young woman, just beginning her dark education as a sorceress, even as she tries to maintain a normal life as a sophomore at Baxter High," according to a Netflix press release. More spells and fewer stakes, but still — Buffy throwback, anyone?
As BuzzFeed reported, the world of Chilling Adventures will be populated by Aunt Hilda, played by Lucy Davis of British Office fame, and Aunt Zelda, played by Miranda Otto (The Lord Of The Rings, Homeland). Sabrina also has a new friend: the daughter of Greendale's preacher, Rosalind Walker, played by Jaz Sinclair. But don't worry — Sabrina's eternal crush Harvey Kinkle will be there, and he'll be brought to life by Ross Lynch. There's also Susie Putnam, played by Lachlan Watson, a friend of Sabrina from the human school Baxter High, and Sabrina's British and magical cousin Ambrose Spellman, played by Chance Perdomo, as well as a student at the Academy of Unseen Arts named Nicholas Scratch, played by Gavin Leatherwood. Tati Gabrielle will play Prudence, a witch from the Academy of Unseen Arts who has it out for Sabrina. Another regular will be Father Blackwood, who is the high priest of the Church of Night and the dean of the Academy of the Unseen Arts, played by Richard Coyle. Also among the adults is Madam Satan (so obvious), who clearly doesn't have Sabrina's best interests in mind, played by Michelle Gomez.
The show promises to be the stuff of nightmares. In Netflix's description, the new Sabrina is said to be cut in the mold of classic horror films like Rosemary's Baby, The Exorcist, and The Omen. This Halloween might be the spookiest one yet, and it can't come soon enough.