The Church Of England Will Vote On "Welcoming" Transgender People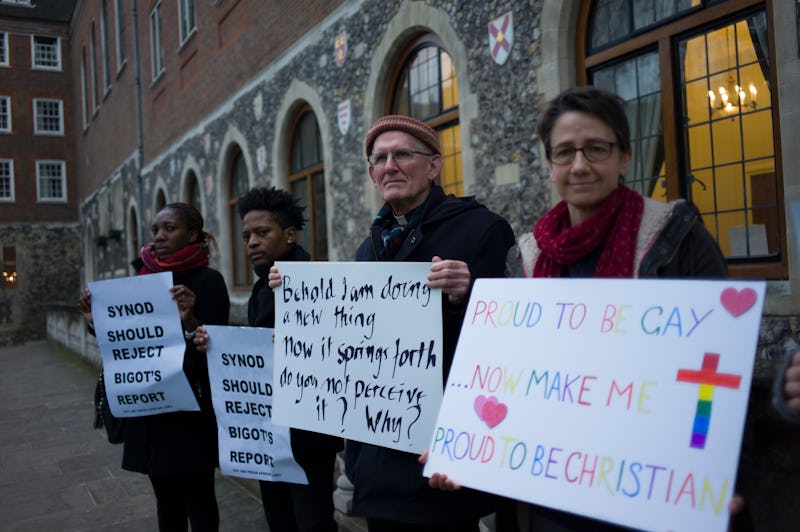 Dan Kitwood/Getty Images News/Getty Images
In a powerful and historic move, the Church of England will vote on "welcoming transgender people" during transition. In more specific terms, the Church of England is set to deliberate on giving special services to transgender people as their transitioning takes place. The General Synod has been deliberating on a motion to provide a more progressive set of services to people transitioning to help them feel "welcomed and affirmed in their parish church."
The move took note of the "long and often complex" ordeal of transition for transgender individuals. In case you didn't know, the General Synod is made up of the top governing figures of the Church of England — which constitutes bishops, clergy members, and ordinary people also known as the laity.
With the General Synod in mind, the vote represents a highly significant movement in the Church's collective stance on acceptance of the LGBTQ community. In this case, the motion to provide special services for transgender people arrived after the Church's strong opposition to "conversion therapy" for gay Christians. While making his position on the subject clear, Archbishop of York Dr. John Sentamu said, "The sooner the practice of so-called conversion therapy is banned, I can sleep at night."
The motion for providing better services for transgender individuals focused on their transition journey and the meeting itself was tabled by Reverend Chris Newlands of Blackburn. Although the Church's "fundamental belief" is that baptism can occur only once, the motion placed emphasis on still finding a way to positively mark a transgender person's complete transitioning.
The motion is geared to find an appropriate and progressive way to provide transgender people the liturgical marking they want with the authority and acknowledgment of the Church of England. This means that although a second baptism may not be possible for someone who has transitioned to their new gender, the motion still demands that the Church should give "pastoral support" to transgender individuals.
The motion also highlighted the significance of kindness toward the frequently neglected transgender community. It stated that if a clergy member did not consent to providing a service to a transgender individual, it hoped that such a member would have the "generosity" to point a transgender person in the direction of a church where such liturgical service was available.
The Church of England's present deliberation on opening its arms to the transgender community is a positive sign of the Church's shift in stance on LGBTQ issues. With frequent marginalization faced by transgender persons, this move from the Church is a breath of fresh and much-needed air.