The CIA Captured Intel That Putin Gave Orders To Help Trump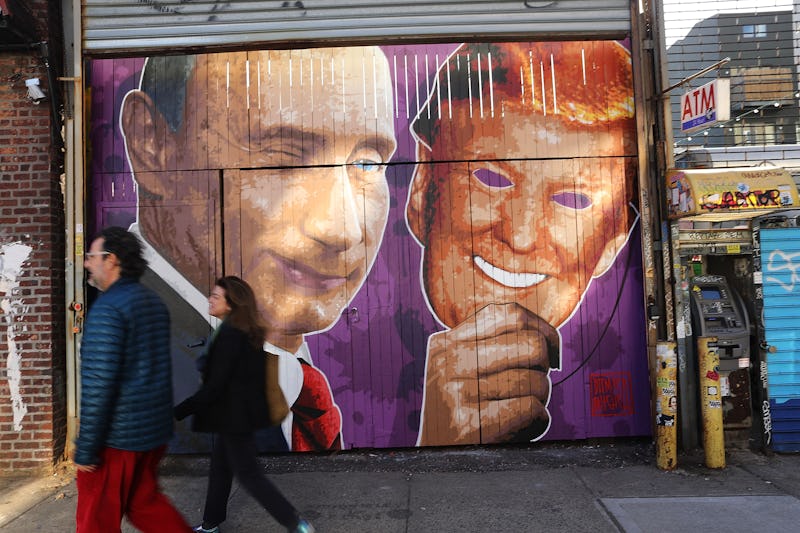 Spencer Platt/Getty Images News/Getty Images
As evidence linking Russia to a hack on the Democratic National Committee began to arise last August, U.S. intelligence agencies reportedly stumbled on a stunning piece of intel. According to a massive report put out Friday by the Washington Post, the CIA learned Russian President Vladimir Putin had directly ordered a campaign to "disrupt and discredit" the U.S. presidential election in an effort to help Donald Trump get elected.
Former President Barack Obama was reportedly presented with intelligence detailing Putin's direct involvement with Russian efforts to meddle in the 2016 election in August after the CIA captured what the Post described as "an intelligence bombshell." The report reportedly detailed "specific instructions" Putin had given regarding a cyber campaign aimed at influencing the U.S. election.
According to the Post, "the first moment of true foreboding about Russia's intentions arrived with that CIA intelligence," which revealed Putin's objective was to "defeat or at least damage the Democratic nominee Hillary Clinton, and help elect her opponent, Donald Trump."
Unnamed officials from across multiple government departments and agencies reportedly told the Post that Obama had a "grave" reaction to the CIA's intel and immediately requested more information as he was deeply concerned. "He wanted the entire intelligence community all over this," one former official said.
In comments to the Post, Obama's White House Chief of Staff Denis McDonough also echoed claims Obama and his administration had taken the intel very seriously. He claimed Russia's meddling was largely viewed by the administration to be an attack on the "heart of our system."
But according to the Post, the Obama administration struggled with how to react to Russia's meddling. Ultimately, they announced a series of modest economic sanctions and the expulsion of dozens of diplomats in late December, which some felt fell far short of an appropriate response.
"The punishment did not fit the crime," former U.S. ambassador to Russia Michael McFaul told the Post. "Russia violated our sovereignty, meddling in one of our most sacred acts as a democracy — electing our president. The Kremlin should have paid a much higher price for that attack."
In his recent testimony before the House Intelligence Committee former Homeland Security Secretary Jeh Johnson admitted he and former Director of National Intelligence James Clapper struggled with how to publicly respond to Russia's interference during the election given Trump's continued talk about the election being "rigged" against him. "We were very concerned that we not be perceived as taking sides in the election, injecting ourself into a very heated campaign or taking steps to themselves delegitimize the election process," CBS News reported he said.
Similar allegations regarding Putin's direct involvement in ordering an "influence campaign" against the U.S. election were also detailed in a declassified report released by U.S. intelligence agencies in January.
Since his win, however, Trump has repeatedly downplayed Russia's alleged meddling in the election. "If Russia was working so hard on the 2016 Election," Trump tweeted Thursday. "It all took place during the Obama Admin. Why didn't they stop them?"