The Classified Intel Trump Gave Russia Reportedly Came From Israel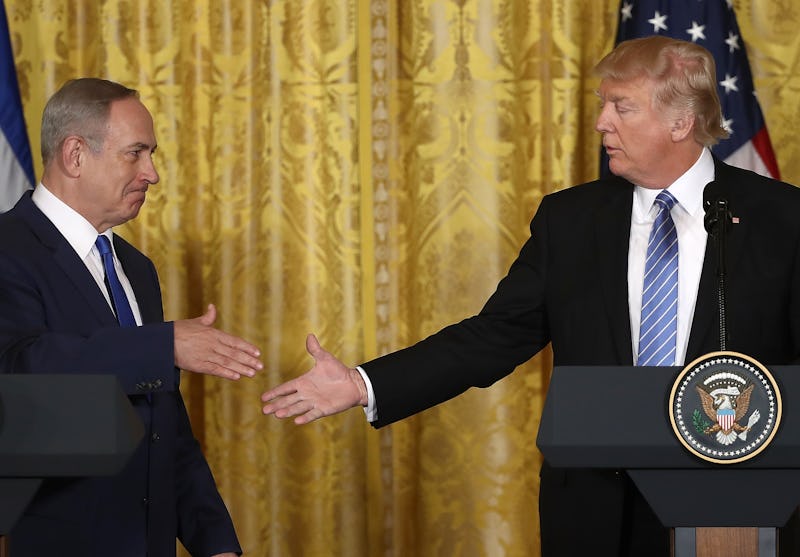 Win McNamee/Getty Images News/Getty Images
According to a report from The New York Times on Tuesday afternoon, it was intelligence from Israel that Trump reportedly gave Russia during his meeting with Minister of Foreign Affairs Sergey Lavrov and Ambassador to the United States Sergey Kislyak last week. The disclosure of classified information, first reported by The Washington Post on Monday, alleged that President Trump told the Russian foreign minister and ambassador highly sensitive information regarding ISIS that came through intelligence-sharing with a U.S. ally.
Now, The New York Times is reporting that Israel was that partner, potentially imperiling the free flow of intelligence between the United States and undeniably its staunchest ally state in the entire Middle East. According to the report, attributed to "a current and a former American official familiar with how the United States obtained the information," the Israeli government has not confirmed the details.
Trump reportedly gave Lavrov and Kislyak the classified intelligence on the morning of Wednesday, May 10, only one day after the firing of former FBI Director James Comey. The meeting was notable for the U.S. media being barred, while Russian photographers were allowed in. According to the initial report from the Post, "the partner" ― now reported by both the Times and NBC News to be Israel ― did not give its permission for the information to be disclosed.
Nor, it must be said, would Israel ever have given the U.S. permission to share its intelligence with Russia. Regardless of different people's political opinions, it's an undeniable fact that Russia is an Iranian ally, and similarly undeniable that Israel views Iran as a primary geopolitical foe. In simple terms, from the Israeli perspective, this is a foreboding sign.
It's also precisely what intelligence officials anticipated and warned Israel about prior to Trump taking office. Back in January, as The Telegraph detailed, American spies reportedly cautioned their Israeli counterparts about sharing intelligence with the Trump administration, citing concern that such intel might make its way back to the Russians.
As for what this means for relations between the United States and Israel in the short term, Israeli Ambassador Ron Dermer emailed the following statement to the Times, reaffirming the strength of the relationship between the two countries:
Israel has full confidence in our intelligence-sharing relationship with the United States and looks forward to deepening that relationship in the years ahead under President Trump.
This story probably won't be fading away in the hours and days to come, suffice it to say. Considering how all the tumultuous events of the past week have seemed to build on each other, and the extreme recent "leakiness" both of the Trump administration and the U.S. intelligence community, it seems like a safe bet that there will be more reporting to come.