PyeongChang Is So Cold That It Might Just Set A New Record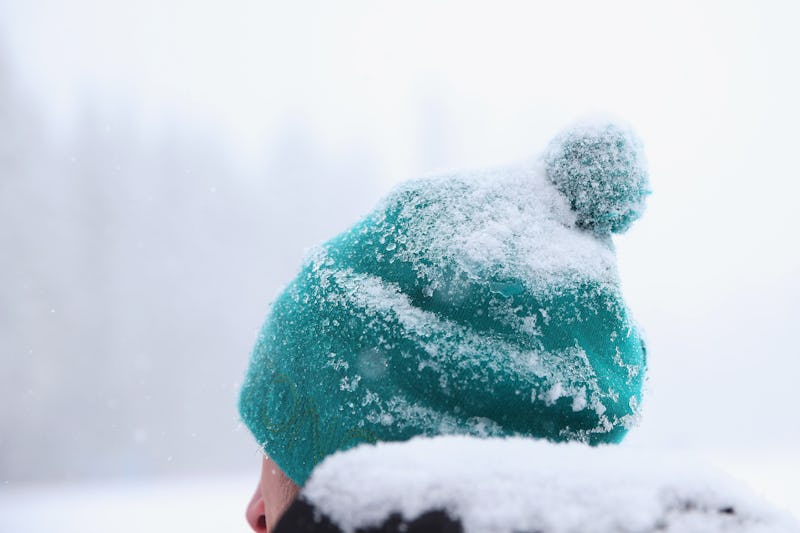 Mark Kolbe/Getty Images Sport/Getty Images
If you're headed to the 2018 Winter Olympics in PyeongChang, South Korea, be sure to bundle up. With biting winds and temperatures expected to drop well below freezing, the 2018 Winter Olympics could become the coldest Winter Games in recorded history. In fact, organizers are so concerned about the cold, they're planning to hand out heating pads and blankets to those spectators willing to brave the weather. But what's the temperature PyeongChang needs to drop below in order to set a new record? The coldest Winter Olympics in history saw athletes and spectators shivering in Norway more than two decades ago.
With a "feels-like" temperature forecasted to fall close to 6 degrees Fahrenheit, the 2018 Winter Olympics are widely expected to be the coldest since temperatures dropped to around 12 degrees Fahrenheit during the 1994 Winter Games in Lillehammer, Norway. Although weather data isn't available for every Winter Olympics ever held, the 1994 Lillehammer Games currently hold the record for being the coldest Olympics in recorded history, according to both Reuters and Accuweather. That record could change, however, as the 2018 games kick off this week.
According to ESPN's Jim Caple, the 1994 Winter Olympic Games were so cold the ink in his pen froze as he reported from the luge track one afternoon. But athletes didn't appear too perturbed by the games' frigid temperatures. "The atmosphere there was just amazing," Caple reported six-time Olympian Todd Lodwick told him. "There was no snow, and then all of a sudden, three days before the Games, it just dumped — 2 meters — and then it stopped. And then it was pristine blue skies and cold every day."
While abnormally warm temperatures were reported at the previous two Winter Olympics, PyeongChang is the coldest location on Earth for its particular latitude, according to Accuweather. And if recent temperatures are any indicator, there's no reason to think abnormally warm temperatures will spoil this year's games. Temperatures recorded Saturday during a rehearsal for the games' Opening Ceremony stalled at 6 degrees Fahrenheit with a recorded wind chill factor of 7 below zero. According to USA Today, the rehearsal was no match for the cold, which drove audience members out of their seats and the stadium halfway through.
Olympic organizers may have good reason to be concerned. According to the Associated Press, at least six people came down with hypothermia after attending a concert held late last year in PyeongChang's Olympic stadium. Despite plans to be used as the 2018 Winter Olympics main stadium, PyeongChang's Olympic stadium was built without a roof in an effort to save time. And in an effort to save money, developers didn't include plans for central heating within the stadium, Reuters reported an internal document from the Olympic organizing committee showed.
To help the roughly 35,000 spectators expected to descend on the open-air stadium for the Olympic Opening Ceremony combat the cold temperatures, organizers plan to pass out heating pads, blankets, and knit caps. Polycarbonate walls have been erected along the stadium's highest point in an effort to block the wind and provide some insulation while a number of portable heaters have been brought in. Hot drinks will also be available for purchase.
While the first events of the 2018 Winter Olympics kicked off Wednesday, the games' Opening Ceremony is not scheduled to take place until Friday evening. With cloudy skies and winds forecasted to be at 8 to 16 miles per hour, meteorologists at AccuWeather have placed the "feels like" temperature for the Opening Ceremony to be between six and 20 degrees Fahrenheit. While spectators bundle up in the stands, Team USA athletes will don battery-operated heated parkas designed by Polo Ralph Lauren.