The Coolest Customizable Clothes You'll Want To Put Your Name on ASAP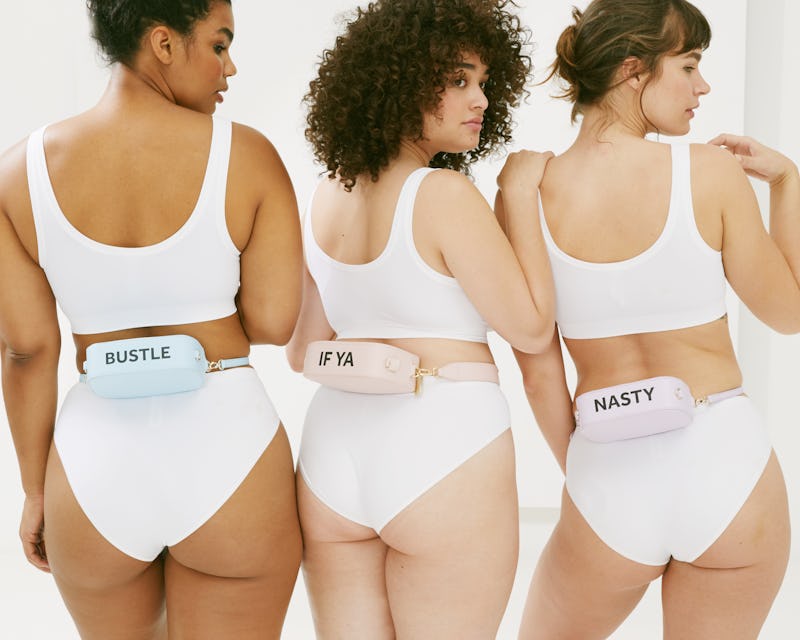 Ashley Batz/Bustle
Remember Nomination bracelets? They were the link bracelets that everyone had to have, mostly because you could deck it out in whatever charms you wanted. The best part about them was that they were customizable accessories, so no one else would have the exact bracelet you did. Flash forward 20 years and everything from our Spotify playlists and Seamless orders to manicures and foundation — hell even our Diet Cokes — are branded, marked, and made for us. And we love it. We are obsessed with the fact that something was made exclusively for us, and no one else.
It's almost commonplace now to be able to go into a store or shop online and have something customized. The new "Do you want fries with that?" is "And how would you like that customized today?" Embroidery, patches, pins, stickers, paint — you name it and it can be done, sometimes right in front of you. Customization has expanded beyond just jeans and sneakers though. Now brands across the board are making it easier for you to get your name, your cat's name, your catchphrase, etc. on everything from your beachwear to your sleepwear. So, we had some of the coolest customizable clothes Bustled out.
Morgan Lane
Morgan Lane Ruthie Top, $248, Morganlane
Morgan Lane is a luxury lifestyle brand that specializes in lingerie and sleepwear. The pajamas are comfy AF and make you feel like you're sleeping in a cocoon of silk. And for no extra cost, you can get up to 12 characters embroidered on the pocket.
Pop & Suki
Pop & Suki Camera Bag, $195, Popandsuki
Pop and Suki is an accessories line started byPoppy Jamie and Suki Waterhouse. The bags are highly Instagrammable and the customization is free!
Atelier Notify
Atelier Notify Jamie Jacket Blue Raw, $345, Atelier Notify
Atelier Notify is a luxury ready-to-wear brand with an emphasis on denim that specializes in customization. Not only can you have any denim you buy (or frankly anything you buy at Bergdorf Goodman in NY) customized right there in the store, but they do made to measure jeans so they are tailored perfectly to your body.
Madewell
Madewell The Perfect Jean Short, $40, Madewell
Madewell offers monogramming on all of their denim and on their leather bags, belts, and pouches. For $10, you can get up to 9 characters — but its free if you're a Madewell Insider.
GRLFRND
GRLFRND Cindy Customizable High Rise Jean Short, $148, Revolve
GRLFRND is revered for having the perfect vintage jeans and has quickly become one a major contender in the denim market. If you buy a pair from Revolve, you can get embroidery anywhere on the shorts for $18 per phrase.
Bruna Malucelli
Bruna Malucelli Bay My Name Swimsuit, $249, Brunamalucelli
Bruna Malucelli's first collection consisted of one-piece bathing suits that buyers could customize. Her line has expanded to include other styles and designs since then but she still offers customizable swim!
Zenni
Zenni Melrose Cat-Eye Sunglasses, $28, Zenni Optical
Zenni launched in 2003 originally to provide customers affordable eyewear without sacrificing style. They've since expanded, now offering sunglasses that can be completely customized from the frame, color, lenses, and even sayings on the temples.
Ray Ban
Ray-Ban Wayfarer Original Remix, $165, Ray-ban
Ray-Ban is best known for the ultimate cool sunglasses. Their aviators and wayfarers are legendary and have had the ability to be customized for a while now. But recently, Ray-Ban upped the ante by letting you "Wear Your Story." You can now customize the temples of your Ray-Bans with photos from your Instagram feed, which get reduced down to create a cool, striped effect.
The M Jewelers
The M Jewelers Old English Choker, $185, The M Jewelers
Specializing in custom pieces, The M Jewelers can put your name, the state you're from, or any other phrase up to eight characters on a wide range of jewelry styles. It all happens within seven business days, too!
TDE
TDE iPhone 7 Plus Case, $50, The Daily Edited
This Australian based brand specializes in leather goods and prides themselves on providing attainable luxury to customers all over the globe. Monogramming is available complimentary for up to four characters.
Bow & Drape
Bow & Drape The Vintage Tee, $48, Bow and Drape
Bow & Drape is a custom brand through and through. They allow their customers to make a statement via their clothing. Bow & Drape has an arsenal of emojis and phrases that their customers can use to be as punny as they want to be.
Koio
Koio The Capri Fiore, $248, Koio.co
Koio is a luxury leather brand that sells products which are handcrafted in Italy. Koio has both leather and canvas sneakers that can be customized. The canvas sneakers have fabric markers included with the purchase and the leather sneakers can be customized to say anything.
Vans
Vans Old Skool, $80, Vans
Vans has been offering customization since 1966 when customers would bring fabric to Paul Van Doren and he would make them sneakers. Now, Vans has made it easier with a whole customization page on their site that allows sneaker lovers to remake any Vans down to the laces.
Hair: John Ruidant using Oribe at See Management
Makeup: Rommy Najor using Glossier at See Management
Manicure: Rachel Shim using Morgan Taylor