How Writing A Funny Novel Helped Author Amulya Malladi Cope With Her Depression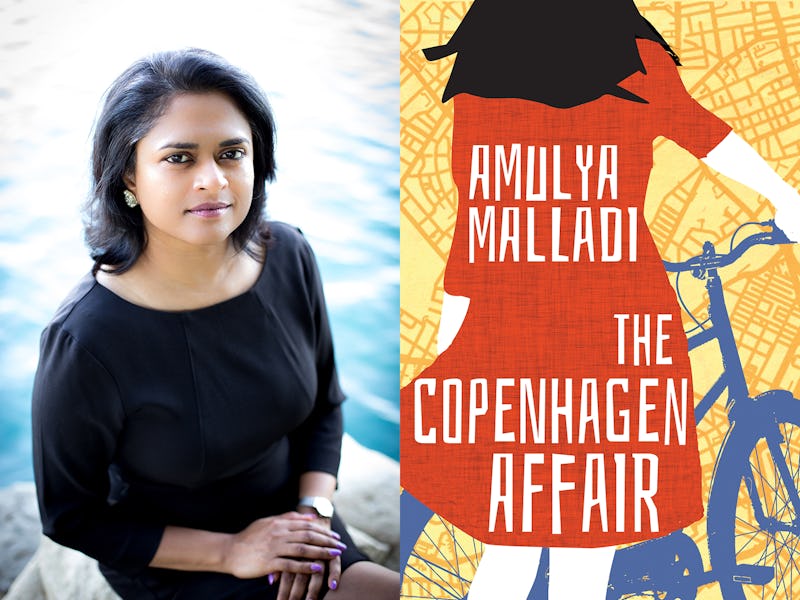 Photo: Courtesy of Amulya Malladi
More than 16.1 million Americans suffer from depression, the leading cause of disability in the United States. Along with therapy and medication, there are dozens of different ways to try and treat the symptoms of this all-too-common, far-too-stigmatized mental illness, but for author Amulya Malladi, writing is one of the best tools for coping with her own depression.
"In fact, I wrote this book when I was depressed as a way to laugh a little, as a way to start writing again," the author tells Bustle of her most recent novel, The Copenhagen Affair, out now. "In so many ways, this book helped me find my grown-up voice."
A funny yet poignant novel about depression, marriage, passion, and reinvention, The Copenhagen Affair chronicles the misadventures of Sanya, a married woman suffering from depression and in the midst of a mental breakdown. When her husband Harry proposes that they temporarily move to Copenhagen, the capital city of Denmark, one of happiest countries in the world, the couple pick up their lives and fly halfway across the world in search of a fresh start. Once on foreign soil, though, Sanya quickly realizes that emotional baggage doesn't "disappear if one changes geographies."
Back home, Sanya was the picture perfect wife, mother, and employee before her depression overwhelmed her. But in Copenhagen, her quest for happiness and meaning transforms her into an entirely different woman, a brand new version of herself. Thrust into the glitz and glamour of Denmark's elite, Sanya — a dark skinned Indian American surrounded by beautiful blonde bodies — quickly gets swept up in something unexpected: the possibility of a passionate affair a wealthy businessman involved with her husband's affairs. Throw in some shady corruption, infidelity, and good-old-fashioned high society drama, and The Copenhagen Affair takes the shape of a laugh-out-loud comedy of mental illness.
"I really had no choice but to write a comedy about depression," Malladi says about her novel. "I was depressed when I wrote The Copenhagen Affair and it made me laugh and for a while made me forget that I was in pain."
Though it handles the issue of mental illness with the tact and weight it deserves, The Copenhagen Affair is manages to entertain, amuse, delight, and even cheer up readers who will surely find beauty, hope, and humor within its pages.
"The thing is you've got to laugh," Malladi says. "Humor has power."
While she credits the novel with helping her through the darkest days of her depression, Malladi acknowledges the immense challenge creating a work of humor while struggling with mental illness presented to seasoned author whose other works include A House of Happy Mothers.
"Writing a book takes commitment. You have to stick with it. You have to go back to it time and again," she says. "So sticking with The Copenhagen Affair when I was having trouble feeling anything was a way to climb out of my depression."
Like her novel's protagonist, Malladi underwent a kind of transformation while writing The Copenhagen Affair, one that lead her to an important realization about her own mental health.
"As Sanya got better I wanted to get better," she says. "It was easier than I thought to write the book, it was easier than I thought to smile through a bad day — I think the biggest surprise or rather an epiphany was that only I can make myself happy. I was waiting for others to make me happy — particularly, my husband — and writing this book (and therapy…lots of therapy) made me understand that happiness is an inside job. "
Malladi understands the importance of opening up about mental illness, despite the fact that it is still highly stigmatized in much of the world. Although she suffers from what she calls a "high functioning depression," Malladi recognizes the many different ways mental illness rears its ugly head. It is also one of the reasons she decided to make her character suffer from depression. It is her way of combatting the taboo around mental illness.
"I want people to talk about mental illness. I want people to seek help. I want people to understand that it comes in many shapes and sizes and you can't compare one depression with ," the author says. "I used to wonder what was wrong with me and why I was being such a drama queen — because there were other people who'd actually gone through trauma who deserved to be depressed, I just needed to pick myself up and dust myself off. The guilt of feeling bad when you have no reason to drags you down even more because it prevents you from acknowledging how you feel and getting help. "
In fact, it was that icky feeling Malladi is so familiar with, that sense of aloneness, of being an other on the outside of all the happy people, was one of the motivations behind sharing The Copenhagen Affair with her readers.
"So, I hope this book helps readers, especially women (who sometimes forget to take care of themselves) to stop blaming themselves for feeling the way they feel and get help if they need it."